The Top 4 Small Cap Stocks to Buy Now
Dec 5, 2018
Editor's Note: Dear reader, today I want to offer you an opportunity to make profits that could be higher than what you're used to. You see, if you want to make big profits in the market, you need to accept a higher level of risk. This is especially true if you're investing in small cap stocks. These stocks offer the opportunity of higher returns but they come with a higher level of risk as well. I believe Richa Agarwal, our small cap expert and editor of Hidden Treasure, can guide you to those chosen few small cap stocks that could potentially double or triple in value...with an acceptable level of risk. Richa has identified 4 such stocks...
---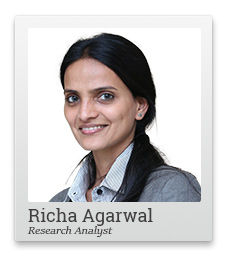 For quite some time now, you have been hearing my views on the correction in the small cap space.
Despite my reminders to not give up, to not lose hope, I won't be surprised if the widespread fear has rubbed off on you.
Even brokerages are wary of the volatility in the small cap space.
Some famous investment strategists have even formally announced stopping coverage on small caps. And I do not blame them. For a lot of them, what happens in the short term affects their prospects.
As per a recent article in the Economic Times, the share of top 50 firms (by market cap) in the overall market volumes has gone up to 58%. And the share of top 100 companies (by market cap) in the overall cash market volumes has risen to 75% now, versus 58% last year.
I want you to pause here and ponder over the above statement.
You see, none of the top 100 companies (by market cap) belongs to the small cap space.
The small cap space, which until a few months ago was chased after by big and small investors alike, is suddenly finding no takers.
What's more, most of the liquidity in the small caps has dried up. It has found its way to blue chips and big companies.
--- Advertisement ---


How 3 Simple Steps Can Tell You Which Stocks Look Marked to Boom

Most investors aren't aware of this.

But 3 simple steps can give you a list of potential multi-bagger stocks to buy.

It's easy.


Log on to a website I'll just tell you about...
Type in the name of the stock you want information on.
Download a copy of this little-known legal document that reveals Top Stocks which are Marked to Boom.
This document is only released four times a year...and the last one came out in June.

Click here to get all the answers.
------------------------------
So, what should one infer from this situation?
One, I believe there is enough overcrowding in the large cap space already. Most of the fundamental upside is likely to be already priced into the current stock price. From here, the upside is limited in most large cap companies.
And two, amid the small cap carnage, some robust small cap companies with bright futures have taken a beating.
Since fundamentals of a business are not driven by liquidity, I believe, over time, when the small cap cycle reverses and stabilizes, these select small caps will offer a very good return to investors.
That said, you must be cautious. There are enough falling knives in the small cap space that might look like bargains.
So, while you may want to ride the rebound, focus only on the stocks where business offers stability.
In response to repeated requests from my subscribers, I have come up with a list of four such actionable stocks (out of 24 actionable small cap recommendations this month) that I believe not just offer strong returns, but also protect downside in the current market.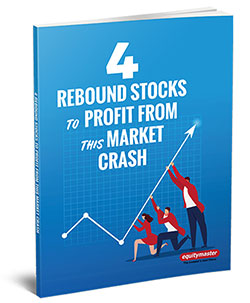 Let me tell you a little about my...
Four rebound stocks to profit from the current small cap crash
The first rebound stock: is a potential beneficiary of the growth in food and FMCG and discretionary consumption. It's the only company in the world to have a unique backward integration in its niche segment. The stock is down 32% from its 52 week high levels.
The second rebound stock: is the domestic market leader in a niche product that is used across industries. The company is set to become a pioneer in India soon with the launch of a new product with strong latent demand. What I like about the promoter is that he watches margins like a hawk. He does not hesitate to say no to opportunities where sales growth does not come along with healthy profit margins, a temptation that most are not able to resist. The stock is down 33% from its 52-week high.
The third rebound stock is a company in the business of transforming other businesses with software. With zero debt on the balance sheet, positive cash flows, healthy dividend payout and return ratios, and a great management at the helm of its affairs, the stock currently is offering a great attractive point at 39% discount from its 52 week highs.
The fourth rebound stock is a textile company that is setting new standards when it comes to using technology to reinvent the business. With majority of the capex behind it, this company is set to reap rewards of the efforts the management has put in in over last few years. The stock is down 47% from 52-week high, and anyone who gets in now is in for a very good rise in my view.
One of the biggest reasons behind Buffett's success is he likes to buy quality merchandise when it is marked down.
The Indian small cap space is offering a discount season. Make sure you do not get too late - get in while you can.
Regards,



Richa Agarwal (Research Analyst)
Editor, Hidden Treasure
Recent Articles