If You're Not Looking for 'Excitement' but 'Big Returns' from Stocks, This Is for You
Dec 7, 2017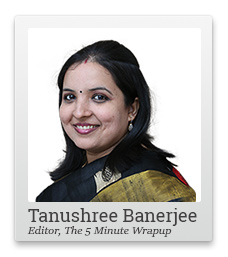 When you invest in the stock market in India, you often end up stuck choosing between two kinds of stocks:
Stocks with an 'exciting' story that can be the next potential multibagger...
Or... 'boring' stocks that will probably take a longer time to compound your wealth.
But what most investors don't know is that they don't really need to make a choice?
You can actually have the best of both worlds.
And that is by investing in blue chip stocks.
That might surprise you.
I'm guessing that is because when you hear 'blue chips' two myths automatically spring to your mind...
The Two Main Blue-Chip Myths
One, these companies are boring, stodgy, and perhaps a bit outdated, not really exciting (in the way small caps are).
Second, they don't have too many growth prospects, and so not much chance for their stock prices to really rise either.
But these are myths because they are well... simply untrue.
Think about it. It is not a coincidence that today's wealthy investors and rock-solid institutions overwhelmingly prefer to park their money in blue chip stocks.
Take mutual funds too. If you look their schemes, most of them have a fair share of blue chips in them (barring the 'theme-based' funds of course).
Because, as they acknowledge and you should too, if you want to compound your money and become a wealthy investor, blue chips are your best bet.
But here is the critical part... the part where most people make mistakes.
Most People Make This BIG Mistake
It is not enough just to invest in any blue chip. You need to be selective, and pick the best ones.
Because those best bluechips are the ones that will help you consistently compound your wealth over the years and help you retire rich.
These are bluechip companies that: have pricing power; are nimble enough to pounce on opportunities that will take their growth to the next level; have a proactive and quality seeking management; and rock-solid financials.
In other words, they are not boring. In fact, they are exciting. And yet they are safe.
And those are the kind of stocks you should be looking out for.
How do you decide which are the best ones?
By following a well-defined process that consistently picks out quality blue chips stocks.
Follow these recommendations, based on rock-solid criteria that I have established for stocks that make the cut, put your money in them, then sit back and watch them grow.
Editor's Note: Tanushree's process unearths the best blue chips out there - the kind that will help you retire wealthier. So do your future a favour, and click here.
Disinvestment to the Rescue?
India's fiscal deficit rose to 96.1% of the full-year's target at the end of October. This is on the back of lower revenue realization and a rise in expenditure. This raises concerns of slippage in the current financial year as during the same period of 2016-17, the deficit stood at 79.3% of the target.
With this, the government may clamp down on its expenses and public investment, which may slow down the growth. Alternatively, the government may allow higher fiscal deficit than the target of 3.2%. A third alternative is, higher revenue from disinvestment.
The disinvestment target for FY18 is Rs 725 billion. This is the highest target set so far for any year. The government has already collected Rs 523.9 billion so far higher than previous year collection of Rs 455 billion.
Higher Revenue from Disinvestment?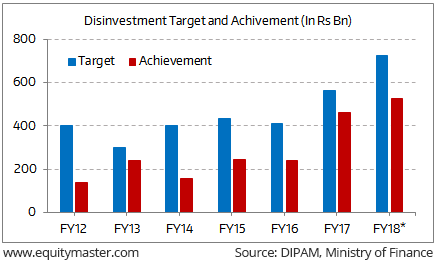 As per an article in Business Standard, the department of investment and public asset management (DIPAM) is looking to not only to achieve FY18 target, but also aiming to take disinvestment proceeds beyond Rs 900 billion. With this, any shortfall from other revenue items, including GST could be made up by disinvestment.
This optimism is mainly due mega deal of ONGC acquiring HPCL, which could get the exchequer Rs 300 billion. Similarly, there are a number of IPOs lined up which includes the likes of Ircon, Hindustan Aeronautics, Bharat Dynamics, and Mazgaon Dockyards. DIPAM is also working on OFS proposals which includes Indian Oil, Oil India, NHPC, and REC.
Not to mention, extra dividend from the PSUs in addition to disinvestment. With this, the slippage of the deficit could pretty much be negligible, provided there is no major gap in terms of GST collections. It will be interesting to see how the government approaches disinvestment in the coming months.
RBI Maintains Status Quo
The Reserve Bank of India (RBI) retained interest rates at 6%, as it anticipates upside risks to retail inflation. In the one year, since the setting up of the monetary policy committee (MPC) in October 2016, it has lowered the repo rate twice - by 25 basis points each in October 2016 and August 2017.
The MPC listed several upside risks to inflation, such as the impact of increase in house rent allowance (HRA) by the Central Government, the rising international crude prices, and upward trajectory of food and fuel inflation. It added that the farm loan waivers and likely fiscal slippage will also have implications for inflation. The MPC expects inflation to rise from its current level and range between 4.2-4.6% in the second half of this year.
The central bank maintained its neutral policy stance and the projection of real gross value added (GVA) growth for the current financial year at 6.7%.
The MPC acknowledged several significant developments in the recent period which augur well for growth prospects. This includes the likelihood of an increase in capital that's been raised from the primary market, the improvement in the ease of doing business ranking, large distressed borrowers being referenced to the insolvency and bankruptcy code (IBC), and the recapitalization of public sector banks. However, the MPC stressed on transmission of policy rate cuts of past monetary policy changes on outstanding loans.
What the Markets Look Like Today
Indian equity markets opened the day in the green. At the time of writing, BSE Sensex was trading higher by 105 points and NSE Nifty was higher by 35 points. Both the mid cap and small cap indices are trading up by 0.7% and 0.6%, respectively. Stocks from the consumer durable and capital goods are among the gainers.
Investment Mantra of the Day
"Investors making purchases in an overheated market need to recognize that it may often take an extended period for the value of even an outstanding company to catch up with the price they paid." - Warren Buffett
Recent Articles