Which Chips Do You Want to Own - Black, White or Blue?
Dec 9, 2017
Have you ever played poker?
I don't really know how to play it, but many of my investing friends just love playing poker.
And all I see is these different coloured chips... Red, white and blue. Sometimes black as well.
These different coloured chips always draw my attention. Curious about what they represent, I asked my most reliable friend, Google. I discovered that colour defines the value/price of the chip.
Typically, blue is the highest in terms of value. So, invariably every player wants to have blue chips with him.
Poker Chips - Which would you Prefer?
Interestingly, in investing, large companies are generally referred to as blue-chip stocks.
Have you ever wondered why?
Let me tell you the story...
In 1923, Oliver Gingold an employee at Dow Jones, observed that certain stocks always trade above $200 or more per share. So, taking inferences from the poker chips, he termed these group of stocks 'Blue Chip' stocks.
The name went viral and since then large companies have been called blue-chip companies.
Since the original name came from poker, all large companies got tagged as Blue-chips (because the highest value in poker is the blue-chip), irrespective of the quality of the company.
However, over the years the definition of Blue-chip stocks changed from what it originally was. Originally it was just high value/larger market cap companies. Then it broadened to include high quality businesses, in addition to higher value/market capitalisation companies.
In fact, the term 'blue-chip' is now used interchangeably with the term 'safe stocks'.
Now, every investor wants to invest in the stock market with limited downside risk. So, the first advice they get is to invest in blue-chip companies.
But when they do that, they often end up losing money.
Why?
Because an individual investor fails to understand this transition in the definition of the blue-chip ie from high-value stocks to safe stocks.
What has changed, then? What makes the new definition so different from the old?
It turns out that the blue-chip company that falls under this umbrella of safe stocks tends to command the following characteristics over other big companies:
Its products are high quality and it is generally a household name.
It dominates its market and is among the biggest three players.
Has a strong moat around it.
It's management has a long track record in terms of execution and Capital Allocation.
Strong Balance sheets.
And the capacity to suffer - survives unhurt in the industrial downturn.
If you really want to retire early and make a lot of money in blue-chip companies (safe stocks), I strongly recommend you learn to identify true blue-chip stocks - that are safe and high quality, not just high value.
This may sound a bit confusing, but there's an easier way to figure this out. I will show you a way where you can invest in actual blue-chips i.e. safe, high-quality stocks.
Once you have access to this, you can retire earlier than you thought.
My colleague Tanushree is the undisputed champion when it comes to safe stocks. Over a decade of stock analysis, she has seen multiple stock market and business cycles.
Her conservative style of stock picking helps her to pick real blue-chips over the poker blue chips.
She has a knack for rejecting large companies which may be market darlings, because her definition of blue-chip is crystal clear: Quality comes first.
She follows a well-defined process that consistently picks out quality blue chip stocks and has developed a set of rock-solid criteria that these stocks need to pass before they make the cut.
If you want to see these stocks - some of the best bluechips out there that will help you retire wealthier - you can find them here.
In the meanwhile, maybe a game of poker, so you can get your chips straight? Just make sure to keep your eye on the blue chips and you'll come out a winner.
Editor's Note: I think the best colour for my investments is green - isn't that where the money is...? So if you're looking to plan your financial future, look no further than these unbeatable retirement stocks.
Indian Domestic Carriers Take Flight in FY18
Aviation stocks have had a good run in 2017. Market returns from all three listed Indian players have been robust with Spicejet amongst the top gainers in the current year. With the September quarterly results out, it looks like the upswing might continue for few stocks, for some more time, at least.
Domestic Carriers: Q2 FY18 Year on Year (YoY) Growth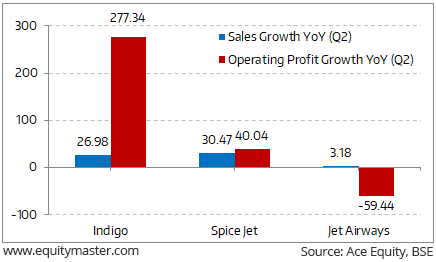 Indigo and SpiceJet have shown robust sales and operating profit growth, despite the rising crude oil prices. Meanwhile, Jet Airways has slumped because of poor growth in its international business sector.
The recent past has shown us that Indian carriers with a domestic sector focus have reaped better rewards. Jet Airways suffered due to its exposure in the Middle-East.
Lower domestic capacity addition has allowed flights to pass on the fuel price increase to flyers. The long term sustainability of this run is anyone's guess.
Over the next few years, capacity addition is expected to increase. This will limit future price hikes. Brent Crude Oil went from a high of US$115/barrel in June 2014 to a low of US$ 27/barrel in January 2016.
Then it moved higher again, and reached a high of $58 a year later by January 2017. But, it faced resistance before falling to $44 by June 2017.
This combination of higher crude oil prices and excess capacity is likely to reduce margins going forward.
Despite positives, the airlines industry back home is plagued by cutthroat competition and rock-bottom fares. As a result, in the recent past Indigo has been the only profitable airline in India, with Spicejet recently joining the ranks.
The long term prospects of the Aviation sector still seem cloudy for now though.
Has Tata Motors Flagged off the Indian Electric Vehicle Revolution?
Tata Motors rolled out its first batch of the electric version of Tigor this week. The electric version is being produced for the Energy Efficiency Services (EESL). Tata Motors received an order for 10,000 electric sedans in October.
The recent pollution crisis that cities like Delhi face has further highlighted the need of green transportation.
While Tata Motors highlighted its supply commitment to the Indian government, Mahindra and Mahindra (M&M) also announced that it will invest nearly Rs 40 billion in the next five years in EV project.
Certain challenges remain. In developed countries, demand for Electric vehicles has failed to increase as per expectation. High prices and lack of charging stations have been difficult hurdles to get around.
While the number of charging points has been rapidly increasing in developed countries, implementing this in India will pose as a challenge. As compared to countries like United States, the population density in India is ten-fold. These statistics get greatly highlighted in metros where the population concentration is very high.
A serious and committed effort would be needed from individual buyers, regulators, entrepreneurs, and environmentalists if they are to counter the challenge of switching from gasoline cars to EVs. However, like any journey, this one seems to have begun with one small step in the right direction.
What the Markets Looked Like This Week
Reversing last week's bearishness, global stock markets ended on a positive note this week. The European stocks were the biggest gainers after Britain and the European Union announced a breakthrough in Brexit negotiations.
The US markets also ended in the positive territory on a stronger than expected pick-up in the US hiring. As per the Labor Department, U.S. employers added 228,000 jobs in November, while the unemployment rate remained at 4.1%.
Barring India, majority of the Asian indices ended weak. Although a softer yen and strong economic figures lifted stock sentiments, but the Japanese index ended flat in the week gone by. The economy expanded at an annual rate of 2.5% in the three months to September. Chinese markets were down 0.8% for the week.
Even as world stock markets remain mixed, bitcoin surged by over 50% to a dizzying level of over US $ 16,000 on frenzied speculative buying. However, experts remain divided over the sustainability of the rally.
Back home, the Indian markets posted its biggest weekly gain since early November. The rally was fueled amid hopes that the ruling Bhartiya Janata Party would emerge victorious in the Gujarat state elections.
All the stocks ended in green. Telecom stocks were the biggest gainers during the week as the telecom index rose by 4.3%. Stocks in the consumer durable, FMCG and oil & gas were among the other gainers on the bourses.
Investment Mantra of the Day
"If investing is entertaining, if you're having fun, you're probably not making any money. Good investing is boring." - George Soros
Recent Articles