Seven Election-Proof Stocks to Buy Now
Dec 13, 2018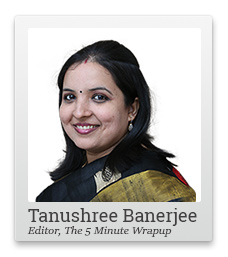 What an eventful week! It was a challenge keeping up with the news.
On Monday evening came a shocker - the resignation of Urjit Patel. The Reserve Bank of India (RBI) governor left investors stunned and confused.
Tuesday saw the power shift in big states from the BJP to the Congress. The result means the 2019 general election won't be a one-sided contest.
Tuesday also saw the government appoint Shaktikanta Das as the new governor of the RBI.
One event lost amongst all this chaos was the small matter of Vijay Mallya's extradition. The UK court ordered the extradition of Vijay Mallya to India from UK. If this happens, banks can finally see recoveries of loans amounting to around Rs 90 billion.
How can you, the investor, make sense of this barrage of information?
--- Advertisement ---


The Secrets Behind Our Most Successful Recommendations…Revealed (Claim Within 48 Hours)

Every serious investor should own a copy of this book…

Not only does it contain the lessons we've learnt in over 20 years of successful stock picking…

It also reveals the secret strategies behind some of our most successful recommendations!

And it's one of the most popular books we've ever published.

And we'd like to send you a copy…

Just confirm your address and other details, and we'll have this book delivered right to your doorstep (anywhere in India).

You don't have to pay us anything for the book – just cover postage and handling.

Here are the details.
------------------------------
Here's what I think...
The market expects tight liquidity conditions to ease with the appointment of the new governor.
Banking and financial stocks are rising in anticipation.
The impact of RBI's policies on inflation, under the new governor, could be an area of concern though.
Also, with the general election likely to be closely fought race, expect some populist measures in the near term. Farm loan waivers, subsidies, reservations are likely to make headlines soon.
What should you do in such a scenario, dear reader?
First, don't panic.
Second, with elections nearing, expect more volatility.
Third, control what can be controlled. I've written about this before. Allow me to explain.
You'll have people predicting the next election outcome and its impact on markets. This happened during the 2014 elections as well. Everyone seemed to be cautious back then too.
But look at what happened...
Markets Went Up Before the Last General Election
History has shown us that markets will almost always surprise us. Predicting their short-term direction is futile.
Check the health of businesses you own or plan to own. How dependent are they on government policies? Will they suffer if there is a change in the government next year?
There is sure to be short-term pessimism or optimism in the run up to next year election. But will this have a long-term impact on the businesses you hold?
In short, is your portfolio election proof?
Are the fundamentals of the stocks in your portfolio strong enough to tide over the short-term volatility?
If yes, then you should be confident about buying them when there is a correction in the market.
You could consider my list of the top 7 safe stocks to buy now. Their business models are strong enough to make them election-proof.
For my next StockSelect recommendation I'm looking at a stock that is safe irrespective of which government comes to power.
In fact, this is a business that has seen several governments change hands.
With its global presence, it is hardly affected by any populist policies.
Whenever the Indian economy does well, this business benefits.
In short, this is a bet on India's long-term growth story.
You can sign up for StockSelect here.
Chart of the Day
A lot of people in the market are playing the prediction game ahead of the elections these days.
A common theme is to sit on cash to escape the volatility ahead of the upcoming elections. In case there is an unexpected event, you can then get in post the correction.
But does timing the market work?
Not really, if you see the market performance in the year of the past three national elections (2004,2009 and 2014).
Remember we had all three scenarios in these elections i.e.
An unexpected change in power in 2004
Re-election of the incumbent government in 2009 and
An expected change in power in 2014.
How did the market react in these different scenarios?
Downside of Timing The Stock Market
Looking at the returns, staying out of the market to escape volatility would have been a costly affair every time.
The market gave above average returns in all three of those years.
This does not mean one can expect the same in the coming year.
But there's one thing I know for sure. Predicting short-term directions of the market is a futile and many a times a costly affair.
That's why we believe in picking safe stocks when they are actually 'safe' i.e. during such times of high pessimism and uncertainty.
Warm regards,



Tanushree Banerjee (Research Analyst)
Editor, The 5 Minute WrapUp
PS: Tanushree Banerjee is Equitymaster's co-head of research and editor of StockSelect. She has a long and illustrious track record of picking safe stocks. For over 16 years, StockSelect subscribers have received safe stock recommendations that delivered double and triple digit gains. You can receive Tanushree's safe stock recommendations by signing up here.
Recent Articles