My Blueprint for a Crorepati Stock
Dec 13, 2019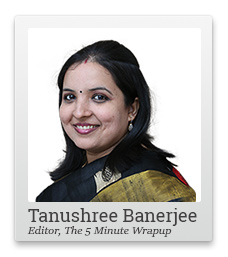 Ning Wang and his wife Ting Qian arrived in the US, from China, as foreign students in the 1980s. They earned their Master's degrees and found work in New York.
A few years later, they bought their first Macintosh computer. Then an iPod. They started loving Apple products.
They soon realised their friends and neighbours too treated their Apple products like pieces of jewellery.
The couple then bought a few thousand shares of Apple in early 2000s. They kept adding to their investment every time Apple launched a new product or opened new factories and stores worldwide.
In about a decade, the stock of Apple became a Wall Street darling. Hundreds of Apple employees made millions on their stock options.
By 2015, Wang and Qian were among the first set of investors who joined the rank of Apple millionaires.
This may sound simplistic but Wang and Qian owed their first million-dollar stock to a good deal of homework, discipline, and patience.
They lost no time in buying the stock of Apple as soon as they realised how popular the products were.
They kept a close watch on Apple's product launches and financial performance. As Apple's business kept flourishing, they kept adding to their shares consistently.
And most importantly, they did not sell the stock. Even after Steve Jobs' demise, when Wall Street wrote off the stock of Apple, Wang and Qian held onto theirs.
When CNN featured the story of the couple's million dollar riches, in 2015, viewers could hardly believe it.
But Wang and Qian are not the only one stock millionaires. Nor is Apple the only stock to have created such millionaires.
Back in India, we have had such 'crorepati stocks' too.
And their journey over the past decade has been nothing short of spectacular.
Take the case of a bicycle tyre maker. The company diversified into making tyres for off-the-road (OTR), industrial and construction vehicles by mid 1990s.
Dalal Street was focused on the largest player in the tyre market, MRF. Meanwhile, this unknown company kept steadily increasing its market share. About a decade later, the company had enough cash flow to repay all its debt. Profits kept compounding.
But Balkrishna Industries, was still a name not even many brokers were familiar with.
Like Wang and Qian, a few Indians were early investors in the stock of Balkrishna. The company's strong financial performance was just one of the reasons why they kept adding to their investment in the stock.
As expected, a decade later they found themselves amongst the first set of 'Balkrishna crorepatis'.
The benefit of buying the stock cheap and consistently adding over the years, compounded dramatically over the long term.
The Journey of a Crorepati Stock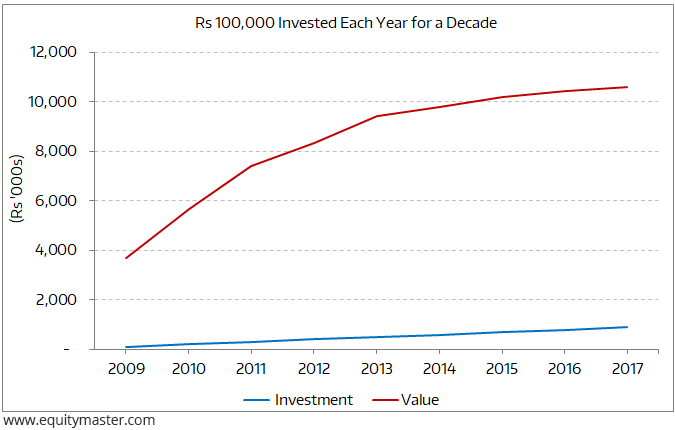 --- Advertisement ---
Replay Available: Super Smallcaps Summit

Today, we went LIVE with Richa Agarwal's Super Smallcaps Summit.

Richa revealed details about the 3 'dark horse' stocks that could potentially hand you hundreds or even thousands of percent in gains over the long term.

However, you missed the Exclusive event for some reason.

And because we don't want you to miss out on this rare opportunity, we have a replay of the event arranged for you.

Click the link below to watch the replay now.

Watch the Replay

or click here to read the transcript
------------------------------
Of course, there are lots of well known investors who have earned their crores from a single stock. Like Rakesh Jhunjhunwala did with Titan.
But there are also tons of investors out there we have never heard about, who are one stock crorepatis...and all thanks to stocks like Balkrishna Industries.
Finding such stocks is easier said than done. Also hoping that a stock will make you a crorepati in the short-term is foolish.
But like Apple, Titan, and Balkrishna Industries have shown, crorepati stocks have some key traits.
By following these traits closely, being disciplined and consistent with your investments, and being patient...you too could end up with an eight-digit bank balance!
Of course, this is just one part of the blueprint of bagging crorepati stocks.
There is more to it...
Stay tuned!
I'll write to you about finding crorepati stocks...and about the next Indian crorepati stock in the making.
I will share specific details in my One Stock Crorepati Mega Summit on Friday, 20 December.
Register for it right away. The summit is free to attend and I don't want you to miss it.
Warm regards,

Tanushree Banerjee
Editor, The 5 Minute WrapUp
Equitymaster Agora Research Private Limited (Research Analyst)
PS: More than 5,000 have already signed up for my One Stock Crorepati Mega Summit on Friday, 20 December. Do not miss this great money-making opportunity! Register for free here.
Recent Articles