These Are the Stocks to Buy Before the Market Goes Up
Dec 14, 2018
Editor's Note: Dear reader, the market seems to have stopped falling...at least for now. I've said this many times - no one can predict the short-term direction of the market but the long-term direction is predictable. As company fundamentals improve, stock prices will go up. But you can't just buy any stock. You must pick the best ones at the right price. I believe, this is a great time to buy such safe stocks and I have a list of seven you could consider buying right away...
---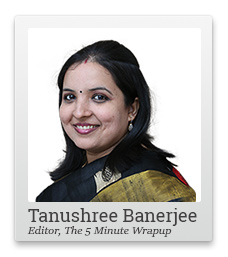 Is the market correction over? Will stocks now go up?
Investors have started asking these questions.
The election results and the government v/s RBI battle has not stopped the market from going up this week.
After a good month in November, the market has recovered from a small correction in early December.
This recovery has come after a lot of negativity this year, especially in October but the market seems to be stabilising now.
And that is the crucial point I want to make, dear reader.
It is times like these that throw up great buying opportunities in safe stocks.
Safety Beats Growth in 2018
I am a firm believer in safe stock investing.
Clearly, safe bluechips have outperformed risky mid and small caps this year.
But here's the most important thing...
If you could travel one year back in time and show yourself this chart, would you have been surprised?
I can honestly say that I wouldn't have been surprised to see this chart a year ago.
--- Advertisement ---


Last Day to Claim (Or You'll Have to Buy This From Amazon)…

Equitymaster's Secrets is our most popular book ever on stock picking…

It contains secrets and lessons from our 20 plus years of successful stock picking.

And reveals the strategies behind some of our most successful recommendations.

Now, you can get this book on Amazon for Rs 1,450 – but why spend that much?

We're prepared to send you a virtually free copy of the latest edition today – just let us know that you're in.

Here are the details…

This offer ends at 11:59 PM tonight.
------------------------------
Why?
You see, I was expecting a correction last year. I didn't know when the correction would exactly happen.
But I knew it was getting close.
So I started warning my subscribers. Here are some of the pieces I wrote...
But when the market proved me right, I didn't sit back and rest on my laurels.
We simply attempt to be fearful when others are greedy and greedy when others are fearful. - Warren Buffett
Keeping this in mind, I started recommending carefully chosen safe stocks to my subscribers.
Since February, when the market correction started, I've recommended nine safe stocks to my premium StockSelect subscribers, with a 2-3 year holding period.
My mantra is 'safety first'. I strongly believe the key to making money is to not lose it in the first place.
If the margin of safety in a stock is not high enough, I don't recommend it. As simple as that.
This principle is the cornerstone of the 74% success rate of StockSelect.
My premium subscribers know that on the last Friday of every month, they will receive a safe blue-chip stock recommendation they can count on for the long-term...even bet their retirement on.
So why am I writing to you about this today?
I believe we're on the verge of the greatest wealth creation event in India's history.
In fact, I believe the Sensex is going to 100,000.
This may seem hard to accept today, but I believe the market has laid the foundation for Sensex 100,000.
Investing your money wisely in safe stocks could multiply your wealth over the next decade.
But you can't just buy any random stock and hope to get rich. It doesn't work that way.
I believe, in this volatile market, you need a balance of growth and safety.
Safe stocks will offer you that safety. They're the most tried and tested bluechips in the market. They have sound fundamentals and are backed by good management.
--- Advertisement ---


Don't Order This from Amazon! (Last Day to Claim a Virtually Free Copy)

Equitymaster's Secrets is one of the most popular books we've ever published!

Over 20,000 of our readers have had the opportunity to benefit from the secrets it reveals… lessons and strategies we've learnt from over 20 years of successful stock-picking.

And even though you can easily order a copy on Amazon (it costs Rs 1,450)… we'd rather you didn't.

Instead, we'll have a virtually free copy of the latest edition delivered to you (anywhere in India), if you want…

Just let us know you're in.

Important: We end this offer at 11:59 PM, tonight. Make sure you claim your book before that.
------------------------------
All you need to do is buy them at the right price and hold on.
It's really that simple.
But do you know the best part?
The Indian stock market is currently offering you a rare opportunity, to buy safe stocks right now. And you can't afford to miss out.
The last few weeks have given me the opportunity, to recommend more stocks than I had done in entire 2018.
The last time I got such an opportunity, was February 2016. Back then, I recommended the stock of Hindalco, that more than doubled in less than 6 months!
I want to guide you safely and successfully in your wealth building journey. I want to make sure that you're buying the right stocks at the right prices.
So, I've put together a special report for you, dear reader. This report contains my list of the top 7 safe stock to buy right now.
Of all the stocks that you could buy in this market, I've picked the seven best safe stocks that offer the ideal combination of safety and profit.
My premium StockSelect subscribers would be aware of this report - 7 Stocks To Profit From This Market Crash.
If you want access to this premium report, all you need to do is sign up here.
If you are a StockSelect subscriber and have not seen this report yet, just click here.
Warm regards,



Tanushree Banerjee (Research Analyst)
Editor, The 5 Minute WrapUp
PS: Dear reader, Equitymaster's Secrets is our most popular book ever on stock picking. It reveals the strategies behind some of our most successful recommendations over 20+ years. This book retails for Rs 1,450 on Amazon. Buy just for today, you can get it virtually free. Full details here.
Recent Articles