A Sure-Shot Way to Make Money in the Markets
Dec 16, 2019
This happened on Friday...
I was perusing some insightful research reports when my phone started flashing, signaling the arrival of some messages on my WhatsApp.
And though I've been telling myself not to get too distracted by the phone, I find my mind salivating at the flash of every notification.
Just like the Pavlovian dog!
It amazes me, and also amuses me, how much our behaviour is driven by impulses and emotions.
I keep reminding myself this because with all our suits and boots, gadgets and gizmos, we tend to forget our humble animal kingdom roots.
Coming back to the message on my phone...
A gentleman who is a close acquaintance sent me a flurry of messages regarding several upcoming IPOs.
Later that day, when I bumped into another friend, the hot topic of discussion was again IPOs.
If you recall, earlier this month I wrote to you about the euphoria building up in the IPO market.
Several IPOs this year have been such fantastic money-makers.
All you had to do was apply for every IPO and book profits on listing.
Or even better, you simply had to hold on to the shares post listing. And your gains would've been more than 3x of the listing gains.
As more and more people noticed the kind of money people made on IPOs such as IRCTC, Affle India, IndiaMART InterMESH, Polycab India, Neogen Chemicals, and others, the enthusiasm in the IPO market grew by leaps and bounds.
Now, I've been closely watching this behavioural pattern in the market and recommending my subscribers to ride it profitably.
When IRCTC listed two months ago, I recommended my readers at Insider to continue holding the stock for the long-term, despite the stellar listing-day gains.
And my bet paid off handsomely.
But you don't have to blindly follow a pattern if you see something working in the recent past.
For instance, the recent IPO of CSB Bank.
The demand for the IPO had turned out to be phenomenal. It had gotten subscribed nearly 87 times.
The IPO received Rs 19,587 crore worth of bids for shares worth just Rs 225 crore.
So, it was evident that the listing on the bourses would be quite eventful.
And indeed, eventful it was!
That very same day I sent a note to my premium subscribers on the way forward after the debut:
The stock of CSB Bank closed today with gains of 54% from the issue price.

At the closing price of about Rs 300 per share, the stock is now valued at 3.4 times its book value as on 30 September 2019.

CSB Bank has been around for nearly a century. And right now, it's in the middle of a makeover. The bank is undergoing a strategic shift in its business model, shedding its old, inefficient ways, and aiming to emerge as a full-service new age private sector bank.

To its advantage, it has the backing of the Canadian billionaire Prem Watsa's Fairfax India Holdings Corporation.

The arrival of the new promoter and its massive capital infusion has certainly proved to be a shot in the arm for the struggling bank. With a strong balance sheet and improving financial ratios, the bank is in a much stronger position to chalk out its future growth path.

Nonetheless, the journey forward is going to be a challenging, uphill task. So, from a purely long-term point of view, I would take a wait-and-watch approach and see how the bank's growth trajectory evolves here onward and look for a lower price tag to make an entry.

Moreover, some of its peers are trading at cheaper valuations.

Taking all of this into consideration, I believe you could book profits on this IPO either at current levels or in the near term, to cash in on the market enthusiasm.
The way some of the hugely subscribed IPOs performed even post-listing, many expected CSB Bank to keep scaling higher even after its debut.
But here's what transpired...
After a solid debut on the stock exchanges, the share price kept sliding lower and lower. In just six trading sessions after listing, the share price of CSB Bank shed 26% and closed at Rs 223 per share last Thursday, before rebounding 5.7% on Friday.
Isn't it baffling that on the listing day, many market participants were scrambling to get a pie of the company, and then the excitement just evaporated suddenly?
Sure, the share price is still above the issue price of Rs 195.
But the euphoria around it has clearly waned. Investors are probably realizing they had gone a bit too overboard with their expectations.
--- Advertisement ---
Automobile Sector's Colossal Disruption Could Make You a Fortune

During any major disruption in a sector, fortunes are created.

And now, we are at the cusp of a major disruption that the automotive sector will experience.

It is the electric vehicles gold rush.

At Equitymaster, we have unearthed a hidden way to ride the 15x EV opportunity so that you could take home potentially life-changing gains in the long run.

You can get all details of the hidden way in our upcoming special online event.

YES, Register Me for FREE
------------------------------
What happens often is that people notice a certain trend...a quick money-making scheme, and they all want to jump onto it. And they expect the merry ride to go on endlessly.
During such times, people stop noticing the actual fundamentals. They don't seem concerned about the company's future. They're just seeking to replicate a trend they noticed and want to lock in some quick profits.
Nothing wrong with making quick profits. In fact, I recommended applying for the CSB Bank IPO from a purely behavioural perspective. And I asked my readers to cash out after the bumper listing.
It's important to remember that even as we take advantage of the IPO market frenzy, we must not lose sight of the ground realities.
There are many IPOs coming out soon (see Chart of the Day). And I'm going to watch them very closely and make recommendations to my readers at Insider.
Chart of the Day
One of the IPOs hitting the Indian primary markets this week is that of Prince Pipes and Fittings, which operates in the high potential Indian plastic pipes and fittings industry.
As a long-term investor, you must remember two things...
You don't have to wait for the economy to turn around to invest and make money in stocks. The two do not move in tandem.
Even when the overall economy is in a slowdown, there are always pockets of the economy that are doing much better than others. So, be on the lookout for such opportunities.
For instance, the Indian plastic pipes and fittings industry rose at a healthy 10-12% CAGR between FY2014 and FY2019 to about Rs 290-300 billion.
CRISIL Research forecasts the industry to grow at 12-14% to Rs 500-550 billion over the five-year period from FY19 to FY24.
The chart reveals one of the biggest reasons why the industry has a long growth story ahead...
A Big Opportunity Beyond the Current Slowdown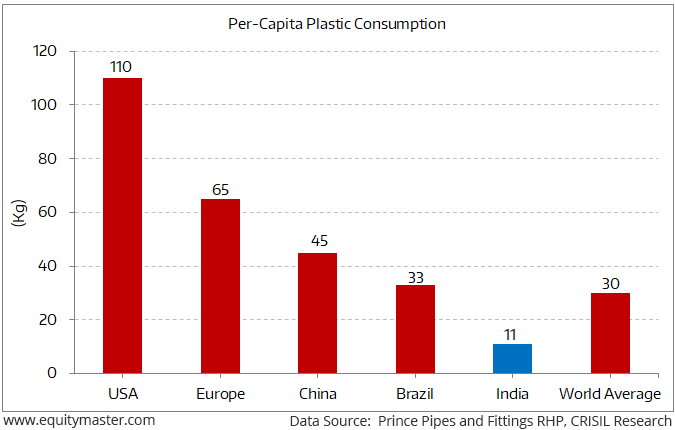 India has very low per-capita plastic consumption of about 11 kg, compared with the global average of 30 kg. Traditional materials dominate the application areas of plastic.
However, over the past three to four years, low crude oil prices and superior properties of plastic have increased the usage of plastic in India. Hence, India's per-capita consumption is expected to increase towards the global average.
Given this background, the IPO of Prince Pipes and Fittings looks interesting to me. I'm going to analyse this IPO and recommend my Insider readers whether to apply for it or not.
Warm regards,



Ankit Shah
Editor, Equitymaster Insider
Equitymaster Agora Research Private Limited (Research Analyst)
PS: On Friday 20 December, Equitymaster's co-head of research, Tanushree Banerjee, will reveal the Greatest Money-Making Opportunity of 2020 and beyond! Get the details of this event here.
Recent Articles