How Kotak Bank and HUL Became Crorepati Stocks
Dec 17, 2019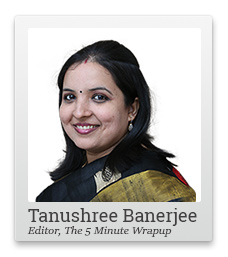 Onions having been making headlines for weeks now.
Newlyweds are getting themselves photographed with onion garlands. Film stars are sporting onion earrings. So much so that a benevolent father left some kilos of onions in his will.
But a particular farmer has recently been in the news for reaping an onion harvest that made him a crorepati.
Call it overnight fortunes.
The skyrocketing prices brought huge windfall to a onion grower in Chitradurga district of Bengaluru. Debt laden Mallikarjuna became a crorepati in a month's time. And the change of his fortunes was neither planned nor expected.
Of course, such crorepati stories are one off. And rare.
But there are few other crorepati stories that keep occurring on a fairly regular basis in the stock markets. And neither are they overnight, like in the case of the onion farmer. Nor are they unplanned.
But some shrewd investors follow few key traits to buy stocks that are destined to make them crorepatis over the years.
The story of Coca Cola millionaires is quite popular. Legendary Buffett was one of the earliest ones. You must have also heard of Apple and Google millionaires.
Back home Infosys created a bunch of crorepatis within few years of listing.
But there are plenty of other such stocks and unnamed investors who can join the ranks of the one stock crorepatis.
Like I explained earlier, the blueprint for crorepati stock involves:
Following key traits closely
Being disciplined and consistent with your investments and
Being patient
But that's not all.
What differentiates a good stock from a potentially crorepati one is the latter's sudden ability to compound its reach and customer base.
Believe it or not, stocks like HUL and Kotak Bank almost did not become crorepati stocks. For their earlier business models did not allow it.
Until 2013, HUL had products and categories customized for Indian market. That made it difficult for the company to sell its overseas products in the country. Nor could it reach out enough to a global customer base with Indian products. A change of strategy suddenly opened up Unilever's global markets to HUL for both sourcing and selling. The result was evident in profit growth and stock price over the next few years.
Stock of HUL Had the Crorepati Trigger in 2013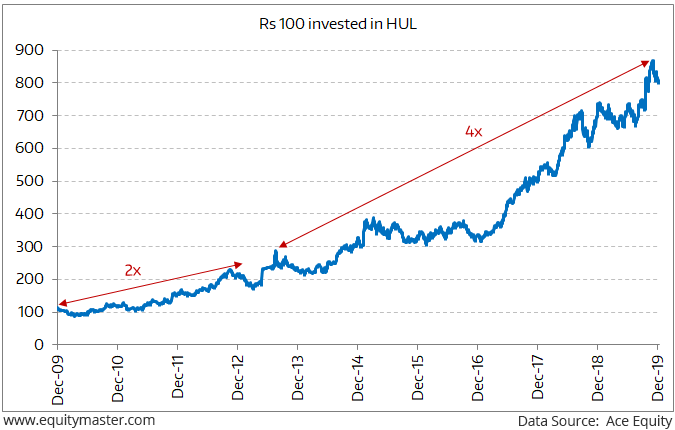 Kotak Bank derived most of its revenues from online broking until 2011. The focus on the banking business meant a dramatic shift in the company's risk profile, products and customer base. As the private bank's reach and profits multiplied so did its valuations.
Stock of Kotak Bank Had the Crorepati Trigger in 2011
In the past, companies like Titan and Balkrishna Industries have also shown that crorepati stocks have such triggers.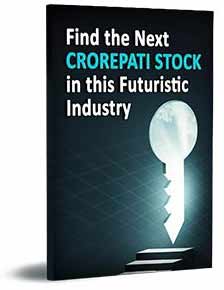 By following these triggers closely and being patient...you too could end up with an eight-digit bank balance!
Which is the next Indian crorepati stock with such a trigger?
Stay tuned!
I will share specific details in my One Stock Crorepati Mega Summit on Friday, 20 December.
Register for it right away and download a copy my free guide - Find the Next CROREPATI STOCK in this Futuristic Industry
The summit is free to attend and I don't want you to miss it.
Warm regards,

Tanushree Banerjee
Editor, The 5 Minute WrapUp
Equitymaster Agora Research Private Limited (Research Analyst)
PS: More than 9,000 have already signed up for my One Stock Crorepati Mega Summit on Friday, 20 December. Do not miss this great money-making opportunity! Register for free here.
Recent Articles