The Fed Rate Hike Won't Impact This Stock
Dec 20, 2018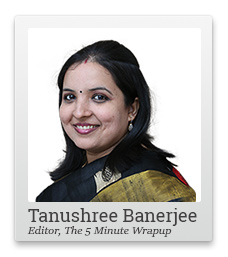 Last week, I wrote to you about why I think the market could go up despite the upcoming national elections.
As if the year 2018 wasn't volatile enough, the fear factor has just gone global.
In almost a mirror image of India's government and RBI tussle, the US is facing a battle of its own.
The Trump government and the US Fed are at loggerheads with respect to interest rate hikes.
While the US government is against the idea of a rate hike, the US Fed has not changed its stance yet.
So how does this event affect you, dear reader?
Rising US interest rates mean that liquidity that came to Indian stock markets in search of higher returns may now make its way back to the US.
FII outflows in the past 12 months have been close to Rs 300 billion. With further rate hikes, we can expect this number to go up further.
For India specifically, the uncertainty increases with our national elections coming up. All the more reason for FIIs to stay away in the near term.
--- Advertisement ---


What Your Fellow Readers Are Snapping Up Right Now…And We Recommend YOU Do Too!

This is your chance to get our high-potential small cap recommendations FREE for a year.

Yes, your fellow readers are snapping this opportunity up like never before. And for a good reason…

Our small cap service, Hidden Treasure, is one of our most popular services whose recommendations have generated double, triple and even four-digit gains in the long run.

And, the recent market crashed has made several solid small companies available for cheap now.

But this offer will expire very shortly and may NEVER be available again.

So don't delay, click here to claim your free year of Hidden Treasure now!
------------------------------
Should you do the same, dear reader?
Should these near-term uncertainties have an impact on how you buy stocks?
I don't think so.
In fact, in the near term, opportunities to buy safe, high quality stocks might increase.
But to take advantage of these opportunities you must ignore the noise that will go up in the coming months.
Words like 'recession', 'volatility', and 'correction' will be constantly fed to you by the mainstream media.
Your interpretation of this situation as 'sell and run' or as 'a great buying opportunity' will decide how much money you will make in the long term.
I belong to the latter category.
What about you? Take a good look at your portfolio.
Have the businesses you have invested in seen up and down cycles over years? The answer should be yes.
Do they have sound fundamentals? Again the answer should be yes.
Are they heavily dependent on debt for their growth? The answer to this question should be NO.
I believe companies with heavy debt get killed during such uncertain times.
Rising interest rates increase the borrowing cost of such companies. The money that was supposed to come to you would go into servicing the loans they have taken.
--- Advertisement ---


WE Really Care About YOU… (Here's Proof!)

Unlike most other businesses that only care about your money, WE really care about YOU.

And to prove that, we're going to give you access to our small cap recommendation service, Hidden Treasure, FREE of charge for a year.

It's true! But this opportunity will be open for a short time only, and we may NEVER do this again.

So act right away to take advantage of this opportunity.

But this offer will expire shortly. So click here to claim your free year now!
------------------------------
For my latest StockSelect recommendation, I looked for stocks that have seen uncertain times like these and I found a niche player which has been in business for three decades.
It has seen off multiple recessions, rate hikes, it has grown to become the second largest player in India.
To top it off, it has been constantly reducing its debt levels with its strong cash flows from the business.
There might be short-term fluctuations in the stock price due to uncertain global events.
Such events will provide great buying opportunities in this safe stock.
Chart of the Day
How has the Fed rate hike impacted Indian stock markets in the past?
The past decade has seen Fed rates at historical lows but it wasn't always the case.
The period from 2003-2006 saw Fed rates increase from 1% to 5.25%.
How did the Indian stock market fare during this time?
Well, if you are a long-term investor, you have nothing to worry about.
Do US Interest Rate Hikes Impact Indian Markets?
The Sensex went up by almost 3 times from 3,500 to more than 10,000 during the same period.
The rise was supported by strong earnings growth during the same period.
It further emphasises the importance of fundamentals in the long run.
Look out for quality stocks with a history of strong earnings growth and sound fundamentals.
The noise surrounding the decisions of the US Fed might just present the right opportunity for you to buy safe stocks.
Warm regards,



Tanushree Banerjee (Research Analyst)
Editor, The 5 Minute WrapUp
PS: Dear reader, Richa Agarwal, our small cap stock expert, stays ahead of the curve when it comes to stocks that are on the cutting-edge - stocks that can potentially offer high returns. In fact, you can make the most of these opportunities right now by signing up for Richa's premium small cap stock recommendation service, Hidden Treasure. Do not miss this chance - sign up for Hidden Treasure now.
Recent Articles