The Most Powerful Screener for Best Stocks of 2020
Dec 20, 2019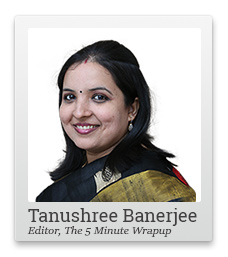 My refrigerator will order fresh vegetables.

My car will get itself refueled.

My home assistant will coordinate devices for cleanliness and maintenance.

My phone will handle the rest.
These are some of the futuristic predictions I often hear from my 10-year-old daughter.
Her replies never cease to amuse me. Especially when I plead her to get more responsible about household chores. She firmly believes that in a few decades technology will come to her rescue in ways I can't even imagine.
But to think of it, my own mother would have had hearty laugh if I had told her of a television you can talk back to, three decades back.
Yes, technology has the power to change lives over time.
There was a time when digital cameras, computers and smart phones never existed. But when they came into existence, these technologies brought about a tectonic shift to multiple business.
And something similar could happen with a technology called IoT (Internet of Things).
Internet of Things (IoT) allows physical things embedded with sensors, software, electronics, and connectivity, to exchange information with other connected devices.
Imagine a world in the future where an autonomous vehicle picks you up for work. It plays your favourite playlist. And it makes a quick stop for your morning coffee. All this, without you having to reach your wallet or your phone. This is how devices enabled with Internet of Things (IoT), could transform our everyday lives.
The reason this technology is so important is because it could transform the future growth rates of multiple business. When I say that I mean businesses as diverse as healthcare, automobiles, financial services, retail and agriculture.
Now, as an investor looking for exponential profits over next few decades, you cannot settle for the usual stock screener. You cannot just look for tried and tested businesses. Or the most popular brands.
Rather your stock screener should tell you that the price to earnings growth (PEG) of your favourite stock could be a fraction of what it is today.
Think about it. If you could accurately predict their earnings growth, companies like L&T, Titan, HDFC Bank, Asian Paints and Pidilite would have seemed dirt cheap two decades back. The PEG of each of these stocks was well below 1 then. But they would have seemed mouthwatering if one could foresee their consistent and high double-digit profit growth.
In fact, if you consider the PEG of BSE 200 stocks a decade back, ones which were below PEG of 1 have had formidable returns.
Price to Earnings Growth Proved to be a Powerful Screener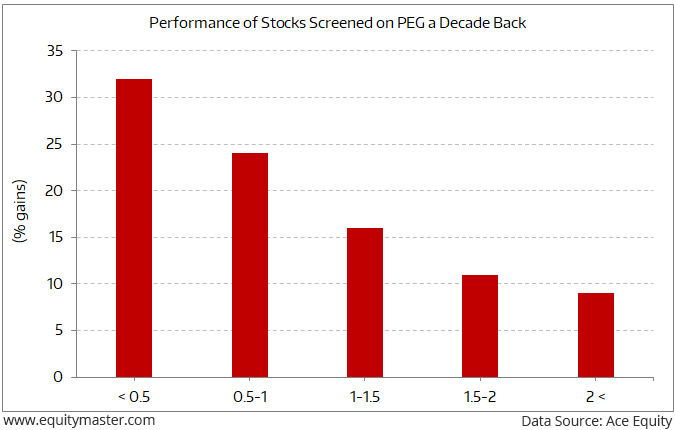 The risk here, of course, is overestimating the earnings growth and over paying for the stock.
Buying stocks that are currently valued below PEG of 1 reduces the risk of overpaying to quite an extent.
But buying business that are currently below PEG of 1 and where earnings could compound at faster rates, for decades, can be a jackpot.
Of course, such stocks would be the rarest of rare.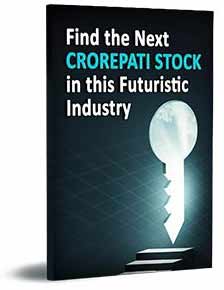 But I believe IoT could offer such an opportunity to few businesses. I have already identified one such business that has the potential to make one stock crorepatis out of ordinary investors.
I will share specific details in my One Stock Crorepati Mega Summit today.
So, don't lose time. Register for it right away and download a copy my free guide - Find the Next CROREPATI STOCK in this Futuristic Industry
The summit is free to attend and I don't want you to miss it.
Warm regards,

Tanushree Banerjee
Editor, The 5 Minute WrapUp
Equitymaster Agora Research Private Limited (Research Analyst)
PS: More than 16,000 have already signed up for my One Stock Crorepati Mega Summit Today. Do not miss this great money-making opportunity! Register for free here.
Recent Articles