You Should Ignore the Media and Focus on What You Can Control
Dec 26, 2019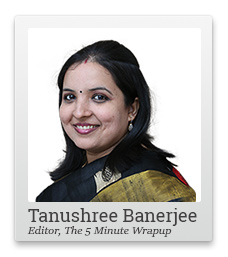 Have you ever started the day on a bad note?
Maybe picked up an argument on your way to work early morning?
This is how your day would have panned out...
You carry the same foul mood while working. You are still angry about the earlier argument. You are not able to focus on work. The work gets delayed or is not up to the mark. Your boss is angry at you now.
You open your mobile phone. There is a post on Facebook or a WhatsApp message in one of your groups. You remove your earlier frustration online by arguing with a random person.
The day keeps getting worse. You carry your foul mood home. Without realizing, you have allowed your small early morning tiff to carry on and spoil your whole day.
The current media environment is designed to make you focus on things that are not under your control. It is meant to outrage the population. Create a polarized set of views. Because that is what sells. You now have two sets of people arguing about things that are not in their control at all.
All this while, making you lose focus on things you can control. Your focus is always on short-term events rather than the long-term. You are angry and thinking about the argument that happened today morning. All this while losing sight of things that will help you in the long-term i.e. your work or career.
Look at the recent media headlines. GDP growth at multi-year lows. India downgraded by rating agencies. A certain perception of doom and gloom created all round.
What should you do in such a situation, dear reader?
Focus on things that you can control. It will help you a great deal in your stock picking process.
I would suggest, think on the following lines...
Does India have a demographic advantage? At a median age of 28 years, India has the largest young population in the world.
37% of India's population falls under the working age. These are people that will have a huge amount to spend. Smartphone users have increased from 250 million to 340 million in a span of two years.
India's long-term consumption trend is here to stay.
Can you pick businesses that will be a big part of this trend? Most certainly yes.
That is what I always try to do. I focus on things under my control...on the long-term story and ignore short-term noise.
The 7 stocks I have picked are all based on this underlying theme.
Themes that won't make daily headline news. But ones that will play out in a big way over the next decade.
Chart of the Day
Combine India's young demographic with a large population base and we have huge future consumption potential.
The youth of today is increasing spending on discretionary items much more than non-discretionary items.
Rising Discretionary Spending by India's Young Population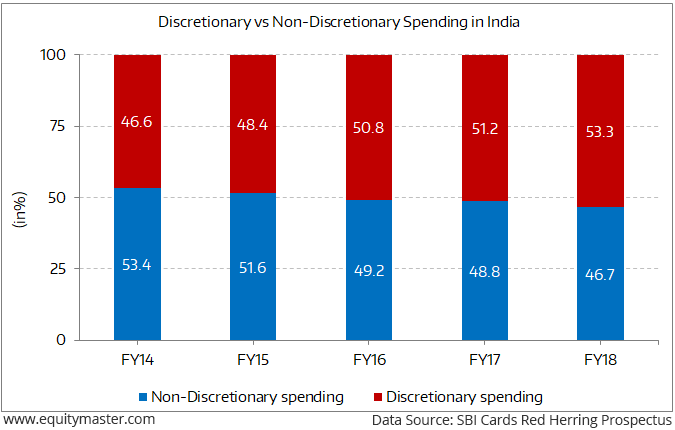 Discretionary items relate to impulse purchases like dining, entertainment, vacations, luxury goods etc.
On the other hand, spend on non-discretionary items like shelter, education has grown at a slower rate.
Rising per capita income, urbanization, rise in aspiring and affluent households has increased discretionary spends.
With India's median population age of 28 years, this megatrend is here to stay for long.
Warm regards,

Tanushree Banerjee
Editor, The 5 Minute WrapUp
Equitymaster Agora Research Private Limited (Research Analyst)
PS: Dear reader, I strongly recommend you ignore the short-term negative news about India's economy. Instead, consider buying my top 7 stock picks for 2020 and beyond. Read more about these 7 recommendations here...
Recent Articles