2019 Was a Big Success for IPOs. Will the Trend Continue in 2020?
Dec 30, 2019
At my premium newsletter Insider, my topmost priority is to help my readers identify long-term wealth compounding investments. So, much of my focus is on cherry-picking the best long-term investing ideas.
But the thing with serious long-term investing is that it doesn't really require you to do much. It doesn't need you to be hyperactive all the time.
On the contrary, too much impulsive buying and selling is the biggest reason many market participants don't make the kind of wealth that is possible to build in the stock markets.
However, do not confuse "doing less" with being passive. Some investors make this mistake and end up burning their fingers. You can't t sit on any investment for the long-term and expect it to reward you simply for being sincere and patient.
What to do then?
A truly successful investor is like a warrior...like a yogi...like a martial artist.
He is ever alert and discerning, but he doesn't waste his energy and attention on mindless activity. Even in his stillness, he is fully alert and ready to move if the situation demands.
The key is to find that balance between action and stillness. Neither being overactive, nor being too passive.
Why I Closely Watch IPOs
So, while I stay focused on the bigger opportunities to create wealth, I don't believe we must ignore all the other opportunities that come our way.
Why IPOs, you may ask? Do IPOs really help in achieving long-term financial goals?
I think we must not look at any opportunity - small or big - through a very narrow lens.
In fact, 2019 was a very unusual year for IPOs. There were just a limited number of IPOs, many of which had solid business models and promising growth prospects. And a majority did very well post listing.
That's the kind of investing success I envision for you. Less quantity, more quality, and handsome returns.
--- Advertisement ---
Replay Available: Super Smallcaps Summit

Today, we went LIVE with Richa Agarwal's Super Smallcaps Summit.

Richa revealed details about the 3 'dark horse' stocks that could potentially hand you hundreds or even thousands of percent in gains over the long term.

However, you missed the Exclusive event for some reason.

And because we don't want you to miss out on this rare opportunity, we have a replay of the event arranged for you.

Click the link below to watch the replay now.

Watch the Replay

or click here to read the transcript
------------------------------
Here are three reasons why I believe keeping a tab on the IPO market is vital to your overall investing goals:
IPOs for Spotting Good Stocks Early On



I believe IPOs offer the opportunity to spot quality companies early on. Think about any stock that has gone on to multiply investor wealth by a huge factor. How would it have been had you spotted that opportunity when the company went public with its IPO?

The year 2019 gave some fantastic opportunities to make an early entry into solid businesses like Affle India, IndiaMART InterMESH, Polycab India, IRCTC, Ujjivan Small Finance Bank, among others.

Even if you get the minimum allotment in an IPO, and it is very miniscule to move the needle for your overall portfolio, I believe it's still worth it.

Once you enter a stock, even with a small amount, you become "mentally invested" in that idea and have the incentive to track that company closely. A lot of times, great investing opportunities are lost simply because people weren't paying attention.

IPOs Are Reliable Market Barometers



Why does a company launch an IPO? It is either because it seeks to raise capital from the market, or existing investors want to exit or sell a portion of their stake. Like any seller, the promoters or other shareholders selling their stake would want the highest possible price for their shares. And the best time to do that is during a bull market, when markets are brimming with optimism and liquidity.

This is the reason we either see few or no IPOs during bearish market conditions. When there is pessimism in the market and liquidity is dry, the selling shareholders may not only have to compromise with a lower price tag, but sometimes even run the risk of the IPO not getting fully subscribed.

What do IPOs of 2019 tell us about the overall market sentiments?

First, let's look at some data...

In all, the IPOs raised about Rs 12,362 crore in 2019. That's sharply lower than Rs 30,959 crore collected via IPOs in 2018.

In fact, as per a recent article in ET, about 47 companies looking to raise over Rs 51,000 crore let their Sebi approvals lapse.

So, there weren't many IPOs this year. Just 16 so far on the main board. And most of these IPOs were small and mid-sized. Not a single mega IPO. Sterling and Wilson Solar was the biggest of the lot with a ticket size of Rs 3,125 crore. Most others were in the range of Rs 500-1,000 crore.

What does this mean?

As I explained earlier, very few companies come out with IPOs during bearish market conditions. So, when the IPO market is sluggish, you must take that as an indicator of market sentiment and liquidity conditions.

Only companies that were sure they would be able to raise money amid weak market conditions hit the primary markets. Many of them had solid fundamentals and promising growth prospects.

And because the markets were not in a bullish frenzy - the kind we saw in 2017, the pricing of the IPOs was reasonable.

And guess what, many IPOs made fantastic double and triple-digit gains for investors.

So, IPOs not only help you sense the pulse of the markets, but also offer you opportunities for attractive gains.

IPOs for Listing Gains



At my very core, I'm all for long-term value investing. But I think your core investing philosophy shouldn't stop you from picking low-hanging fruits for some quick short-term gains.

When there is substantial demand for a certain IPO, it increases the chances of some quick listing gains. With just a small investment and no effort, the potential for quick gains is not worth ignoring.

As I explained, most IPOs in 2019 have not been too large. The median IPO size has been close to Rs 500 crore.

If the IPO size of a quality company is relatively small, it tends to create a big demand-supply gap. On one hand, the supply of shares is limited. On the other hand, the demand from various categories tends to be huge.

In the ensuing euphoric scramble to grab a small pie of a quality company, the share price zooms higher post listing.

This is exactly what has happened.

And we took full advantage of it.

For instance, I was not all gung-ho about the CSB Bank IPO. But I recommended my Insider subscribers to apply for it and book handsome listing gains.

But we didn't blindly apply for every IPO. I recently asked my readers to avoid the IPO of Prince Pipes and Fittings. We'll see if we did the right thing by avoiding it, or not.
So, I'm going to closely watch the IPOs in 2020. And while I'll look at them as market barometers, I'm also going to scour for money-making opportunities from time to time.
Chart of the Day
The year 2019 hasn't seen much activity in the IPO market. Since the start of the year, there have been just 16 IPOs on the BSE main board.
Even the ones that hit the primary markets were mostly small to mid-sized IPOs. And no mega IPOs.
As I explained earlier, very few companies come out with IPOs during bearish market conditions. So, when the IPO market is sluggish, you must take that as an indicator of market sentiment and liquidity conditions.
It is interesting to note that despite the tepid market conditions, most of the companies gave positive listing day gains.
In fact, if you had invested in each one of them and held them till now, your gains would have been even better.
The chart of the day shows the top five performing IPOs of 2019.
Top 5 Winning IPOs of 2019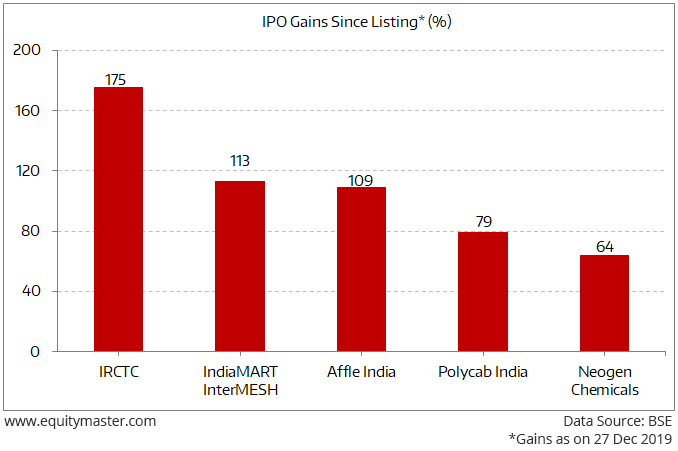 Warm regards,



Ankit Shah
Editor, Equitymaster Insider
Equitymaster Agora Research Private Limited (Research Analyst)
PS: At 5 pm today, Equitymaster's small-cap stocks guru, Richa Agarwal, will be live at the Rebound Riches Mega Summit. Get details of Richa's top 3 stocks to profit from the rebound in smallcaps. Register for free here.
Recent Articles