A Safe Stock for the Next Decade
Dec 31, 2019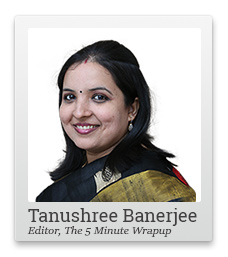 It's that time of the year.
It's a time when people start making plans or resolutions for the new year.
This year-end is special though. It also marks the end of the decade (2010-2019).
I am also seeing a lot of decade themed articles floating around. The best entrepreneur, sportsperson, team of this decade etc. All acknowledging the best in the field for this decade.
What's so special about a decade though? How is it different from 1 year or 5 years?
I believe a decade truly signifies longevity and removes the element of luck.
You can get lucky for a year or two. Someone who's been the best for a decade has truly been consistent, persistent and is that extra bit special.
Naturally, I looked for the best stocks of the next decade.
I believe the best long-term stocks truly have that something special. Be it in their business model or the quality of the management. These businesses have seen up and down cycles and have overcome them. The management knows what it takes to get the business to the next level. I wanted to see what made these businesses special.
When looking at the list of these best performing stocks, I noticed a common pattern. Most of these were selling directly to end-users i.e. were B2C businesses. Their products were a part of the daily life of a consumer.
And once you enter the customer's daily life, you stay there for a long time. Think 'Jockey' in innerwear, 'Royal Enfield' in motorcycles, or 'Parachute' in hair oil. They have been part of their customers' daily life style for decades now.
The managements running these companies have ensured these brands maintained their leadership for years.
These are the kind of safe stocks I look for. Ones with safety in the business model and safety in the management.
--- Advertisement ---

FREE Report: 7 Overlooked Multibagger Opportunities amidst the Coronavirus Scare...

Our Senior Research Analyst and Co-Head of Research, Tanushree Banerjee, has identified 7 stocks set to climb sharply in the coming years riding on a rare economic phenomenon in progress right now.

These 7 stocks are being overlooked right now amidst the Coronavirus Scare.

But Tanushree believes they could rise and enable one to potentially build wealth lasting generations from them in the coming years.

And the best part - till 11:59pm TOMORROW only...you can get Tanushree's special report with details of these 7 stocks virtually FREE.

To find out how, just click here...
------------------------------
My StockSelect recommendation for this month ticks both these boxes. The business has multiple brands and is a part of the daily life of the consumer. These brands have a high recall and are leaders in multiple categories.
Another interesting thing is the opportunity size. India's young demographic offers huge potential for consumption. Discretionary spending contributes 53% of total spending in India. With higher disposable incomes and urbanisation, this number is likely to rise.
Normally, such businesses trade at a premium in the stock market most of the time. On rare occasions, you get these quality businesses at reasonable valuations.
The specific stock I am talking about is currently trading at almost 30% discount to its 5-year average .
It's a safe business at attractive valuations. A rare and ideal choice.
It has similar characteristics to what I've seen in the multibagger stocks of the past decade.
I strongly believe this safe stock can be one of the best performers in the next decade.
If you've subscribed to StockSelect, here's the link to the report.
If you're aren't a member, sign up for StockSelect here.
Chart of the Day
What is common among the multibagger large cap stocks of the previous decade.
Most of them are your household businesses.
A Common Trait of Long-term Multibaggers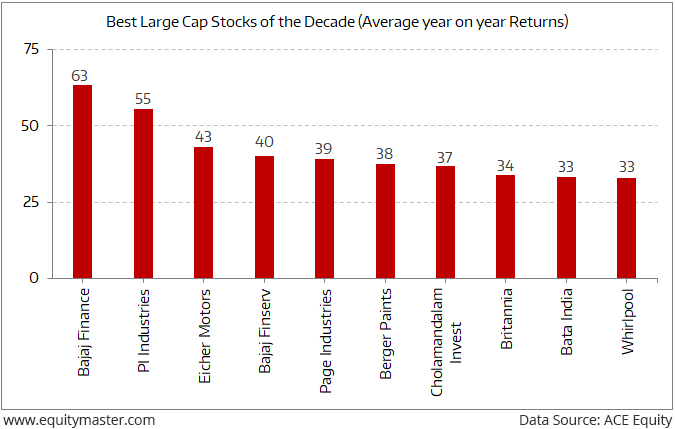 Simple and easy to understand consumption businesses that are a part of the average Indian's daily life.
Why do these businesses perform well?
For one, creating a brand is no easy thing to do. It takes decades to develop that trust with the customer. But once you develop that, it becomes very difficult for competitors to take your place.
Brands like Nestle, Asian Paints, and Bata have created that relationship with customers. These brands have been able to fend off competitors for decades now.
My recent StockSelect recommendation is a similar brand. It is an integral part of the daily life of the average Indian consumer.
The strong brand built over decades means it will most likely be a leader in the coming decade too.
Warm regards,

Tanushree Banerjee
Editor, The 5 Minute WrapUp
Equitymaster Agora Research Private Limited (Research Analyst)
PS: My latest safe stock recommendation is now available to StockSelect subscribers. If you don't have access to StockSelect, you can sign up here.
Recent Articles