On This Day - 23 JANUARY 2019
2 Reasons Why Rebirth of India Will Drive the Sensex to 100,000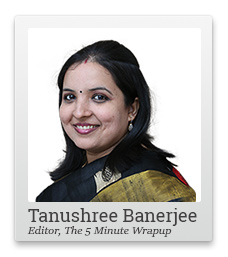 'Nothing is certain except for death and taxes.' - Benjamin Franklin
Nobody likes it.
But taxes are an integral part of nation-building.
For any nation's progress, taxation plays a vital role.
If any country is to accelerate its growth rate, tax collection must go up.
This is measured by a very simple number: the tax-to-GDP ratio.
For many years, India's tax-to-GDP ratio remained way below global standards.
In 2016, India's tax-to-GDP ratio was 16.6%.
This was much lower than the average for emerging market economies of 21% and well below the average for developed nations of 34%.
Since then, things have changed for the better. Demonetisation and GST have completely turned things around.
The argument about whether demonetisation was good or bad for the economy refuses to die down.
But there's one thing I know for sure. More people are paying taxes than ever before.
In FY17, due to demonetisation, about 9.1 million new taxpayers were added to the official numbers. The government's revenue increased by 14.6%.
In FY18, the tax collection increased by 17%.
IT Returns Filing Increased Substantially After Demonetisation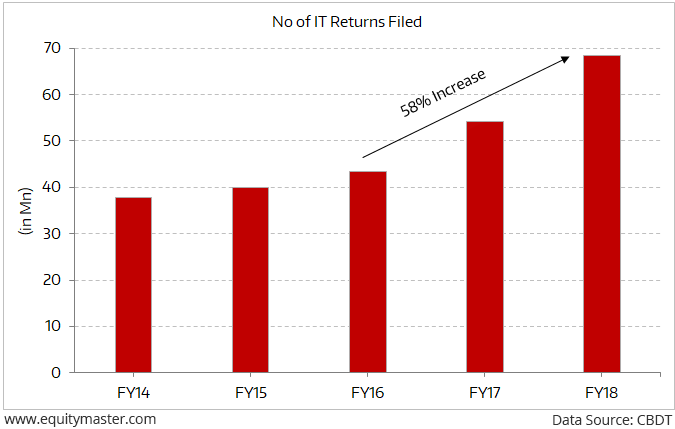 By the way, income tax rates have largely stayed put in the last couple of years.
But why stop at direct taxes?
Even on the indirect tax front, GST led to an increase in taxpayers by more than 50%. 3.4 million businesses have become part of the taxpayer base.
So it's not surprising that India's tax-to GDP ratio has improved considerably.
In FY18, it touched 18%. In FY19, it is expected to reach 18.5%.
Demonetisation + GST = Improvement in Tax to GDP Ratio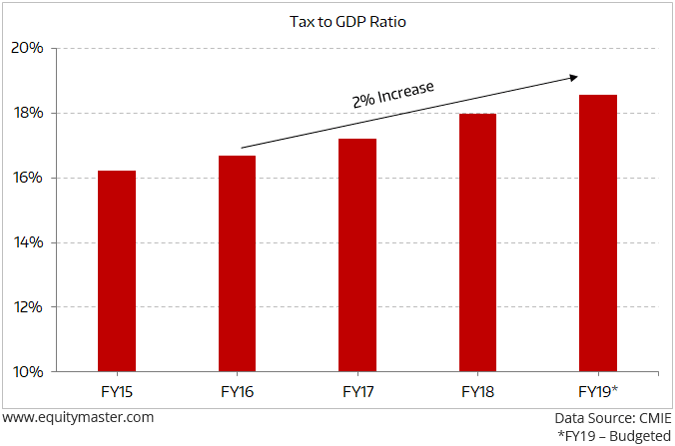 But that's not all, dear reader.
Here's something equally interesting.
India's per capita GDP is about to cross a vital threshold of US$ 2,000.
As per the World Bank, a huge transformation takes place once a country reaches this threshold.
--- Advertisement ---


4 Stocks Flashing a "BUY" Right Now

While most stock analysts do all their research from a stuffy office, the editor of our small cap service, Richa Agarwal, goes the extra mile...

She's travels hundreds of thousands of kilometres in search of new investment ideas for Equitymaster subscribers.

This is one of the reasons Richa's recommendations from Hidden Treasure have generated double, triple and even four-digit gains in the long run.

And her 'boots-on-the-ground' research has recently uncovered 4 lesser-known small companies you could consider investing in right now.

Click here to know about these 4 companies now…
------------------------------
Basically, countries become more competitive. Productivity and wages rise along with advancing development.
India has now reached this sweet spot.
With this, along with the improvement in the tax-to-GDP ratio, I see several benefits:
The government can invest in infrastructure projects such as roads, affordable housing, ports, airports, etc. This will give a big boost to economic growth.
It will provide good support to the government's GDP growth target of 8%+.
It will help lower the burden on the government's fiscal deficit. Similarly, it would reduce the dependence on disinvestment.
It would also help to strengthen the social security net in our country by giving the government more spending power in areas like education and health care.
I believe, India is clearly on the right path.
This will go a long way in creating a new India.
But these are only 2 points. How can I be so sure of such a big transformation in our economy?
Well, that's because I've uncovered not 2 points but 50!
That's right, dear reader. Over the last few months, I've found 50 irreversible trends that are changing India for the better.
Put together, these changes will result in what I'm calling - Rebirth of India.
The Rebirth of India is at the heart of my big prediction: Sensex 100,000.
I believe, this is a once in a lifetime opportunity to buy multibagger stocks. This great transformation in our economy will happen only once...and you must make the most of it.
To help you take your first step, I've prepared a special report for you - Rebirth of India.
I urge you to read this report and join me on Thursday 31 January for a free online summit where I'll tell you exactly how you can profit from the Rebirth of India.
Register for the Rebirth of India summit here.
Warm regards,



Tanushree Banerjee (Research Analyst)
Editor, The 5 Minute WrapUp
PS: The Rebirth of India summit is only 8 days away! Join Tanushree as she shows you how to amass life-changing wealth from India's rise as an economic superpower. As a patriotic Indian, you should not miss this dear reader. Register now for the FREE online summit here.
Copyright © Equitymaster Agora Research Private Limited. All rights reserved.
Any act of copying, reproducing or distributing this newsletter whether wholly or in part, for any purpose without the permission of Equitymaster is strictly prohibited and shall be deemed to be copyright infringement
Disclosure & Disclaimer:
Equitymaster Agora Research Private Limited (Research Analyst) bearing Registration No. INH000000537 (hereinafter referred as 'Equitymaster') is an independent equity research Company. The Author does not hold any shares in the company/ies discussed in this document. Equitymaster may hold shares in the company/ies discussed in this document under any of its other services.
This document is confidential and is supplied to you for information purposes only. It should not (directly or indirectly) be reproduced, further distributed to any person or published, in whole or in part, for any purpose whatsoever, without the consent of Equitymaster.
This document is not directed to, or intended for display, downloading, printing, reproducing or for distribution to or use by, any person or entity, who is a citizen or resident or located in any locality, state, country or other jurisdiction, where such distribution, publication, reproduction, availability or use would be contrary to law or regulation or what would subject Equitymaster or its affiliates to any registration or licensing requirement within such jurisdiction. If this document is sent or has reached any individual in such country, especially, USA, Canada or the European Union countries, the same may be ignored.
This document does not constitute a personal recommendation or take into account the particular investment objectives, financial situations, or needs of individual subscribers. Our research recommendations are general in nature and available electronically to all kind of subscribers irrespective of subscribers' investment objectives and financial situation/risk profile. Before acting on any recommendation in this document, subscribers should consider whether it is suitable for their particular circumstances and, if necessary, seek professional advice. The price and value of the securities referred to in this material and the income from them may go down as well as up, and subscribers may realize losses on any investments. Past performance is not a guide for future performance, future returns are not guaranteed and a loss of original capital may occur. Information herein is believed to be reliable but Equitymaster and its affiliates do not warrant its completeness or accuracy. The views/opinions expressed are our current opinions as of the date appearing in the material and may be subject to change from time to time without notice. This document should not be construed as an offer to sell or solicitation of an offer to buy any security or asset in any jurisdiction. Equitymaster and its affiliates, its directors, analyst and employees will not be responsible for any loss or liability incurred to any person as a consequence of his or any other person on his behalf taking any decisions based on this document.
As a condition to accessing Equitymaster content and website, you agree to our
Terms and Conditions of Use
, available here. The performance data quoted represents past performance and does not guarantee future results.
SEBI (Research Analysts) Regulations 2014, Registration No. INH000000537.

Equitymaster Agora Research Private Limited (Research Analyst) 103, Regent Chambers, Above Status Restaurant, Nariman Point, Mumbai - 400 021. India.
Telephone: +91-22-61434055. Fax: +91-22-22028550. Email: info@equitymaster.com. Website: www.equitymaster.com. CIN:U74999MH2007PTC175407