On This Day - 6 FEBRUARY 2018
Here's What You Should Do in this Market Crash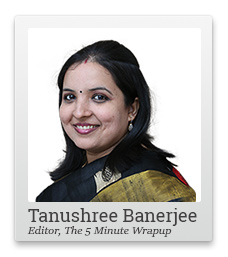 "During such scary periods, you should never forget two things: First, widespread fear is your friend as an investor, because it serves up bargain purchases. Second, personal fear is your enemy. It will also be unwarranted." - Warren Buffett
Before the Budget, Indian stock markets were on a roll. Markets gained an impressive 28% in the past one year. The Sensex closed above 36,200 on 29 January. It seemed nothing could halt this juggernaut.
Then all hell broke loose. Clearly the long-term capital gains tax did not go down well.
But there is a much simpler explanation at hand.
What Goes Up Must Come Down
Markets have never moved only in one direction. In raging bull markets, often a single negative trigger can reverse the direction. In our case, it turned out to be the Budget.
But Don't Be Afraid
Market crashes are nothing to be afraid of.
Crashes are necessary, from time to time, for the healthy functioning of markets. A big loss on any one day does not mean a bull market has changed to a bear market.
It means that a much-needed correction is finally happening.
The world's richest investor, Warren Buffett, loves market crashes. In his 2017 letter to shareholders, he wrote:
"The years ahead will occasionally deliver major market declines -- even panics -- that will affect virtually all stocks. No one can tell you when these traumas will occur."
Indeed. No one could have predicted this correction.
We had reached a stage where the market had become very expensive. A correction was badly needed to bring valuations down to reasonable levels.
What Should You Do Now?
Market corrections like this one, are a great opportunity to accumulate high-quality stocks at sensible prices.
In fact, the 840-point fall on Friday gave me an opportunity to recommend not one, not two but five safe stocks.
This is what I wrote...
"The 800-point crash in the Sensex, today, was not an over-reaction to the Budget. As much as the business papers and talking heads would like you to believe so, that's not true. Rather such a correction was in the offing for long. And it is something I have been warning you about for a while.

For a safety-first investor, such corrections, should ideally be the period of maximum activity. In fact, some of you would remember me sending six StockSelect recommendation in the month of February 2016.

And I and my team are all geared to do that again, if and when the opportunity presents itself."
I believe, the opportunity is in front of you right now.
You can access this premium update here.
Also, If the market keeps falling... stay tuned for more recommendations.
In conclusion, here's what I believe you should do.
Do not give in to fear.
Know that the market will recover.
Focus your efforts to identify the highest quality stocks.
Check if their prices have fallen to attractive levels.
If yes, buy them and hold for the long-term.
If not, be patient and wait for the right price.
Or you could consider the top five safe stocks in the market right now.
Size Matters in Tax Liability of Companies
Large companies may seem to have missed the tax concession bus this time. This is after the recent budget proposal to reduce corporate tax rate to 25%, but only for companies with annual turnover of upto Rs 2.5 billion. However, a closer look at the budget documents paints a completely different picture.
As per the documents, large companies earning big profits pay much lower taxes because of the benefits they receive from various deductions and exemptions. So, while companies with profit before tax (PBT) of upto Rs 5 billion had an effective tax rate ranging from 28.11% to 29.43% in FY17, those with PBT of more than Rs 5 billion had a much lower tax incidence at 23.94% in the same year.
This is even below the required corporate tax target of 25%. Clearly, an additional cut in corporate tax rates for companies of this size are unnecessary. On the other hand, what is worrisome is that the small companies are unable to fully utilise tax incentives and concessions and this pushes up their overall tax liability.
When Small is Not Always Beautiful
But one way of overcoming this anomaly is by moving towards the regime of lower tax rates and exemptions. But here's the twist. Accelerated depreciation accounts for half of the gross tax incentives the government gives to encourage companies to undertake capital investments. Such companies are allowed to claim higher depreciation in tax calculation resulting in lower tax liability. And by withdrawing this benefit, the government does not want to risk the hopes of revival in the investment cycle at this juncture. Therefore, the possibility of a cut across the board in corporate tax rates remains a pipe dream for now.
Considering that small companies are unfavourably placed to avail of exemptions and incentives, the practice of gradually increasing the ceiling limit on turnover for lower tax rates seems to be a better alternative for now.
What the Markets Looked Like Today
Indian equity markets opened the day deep in the red following a severe rout in the US. At the time of writing, BSE Sensex was trading lower by 1,075 points and NSE Nifty was lower by 301 points. Both the mid cap and small cap indices are trading lower by 4% each. Stocks from the metal and consumer durable are the biggest losers.
Regards,


Tanushree Banerjee (Research Analyst)
Editor, The 5 Minute WrapUp
PS: Over the last 15 years, Tanushree has recommended safe stocks with a nearly 75% success rate. She says, you don't need to take unnecessary risks to make solid double or triple digit gains in the stock market. She has just released a premium report recommending the top 5 safe stocks. Get it here...
Investment Mantra of the Day
"Unless you can watch your stock holding decline by 50% without becoming panic-stricken, you should not be in the stock market." - Warren Buffett
Copyright © Equitymaster Agora Research Private Limited. All rights reserved.
Any act of copying, reproducing or distributing this newsletter whether wholly or in part, for any purpose without the permission of Equitymaster is strictly prohibited and shall be deemed to be copyright infringement
Disclosure & Disclaimer:
Equitymaster Agora Research Private Limited (Research Analyst) bearing Registration No. INH000000537 (hereinafter referred as 'Equitymaster') is an independent equity research Company. The Author does not hold any shares in the company/ies discussed in this document. Equitymaster may hold shares in the company/ies discussed in this document under any of its other services.
This document is confidential and is supplied to you for information purposes only. It should not (directly or indirectly) be reproduced, further distributed to any person or published, in whole or in part, for any purpose whatsoever, without the consent of Equitymaster.
This document is not directed to, or intended for display, downloading, printing, reproducing or for distribution to or use by, any person or entity, who is a citizen or resident or located in any locality, state, country or other jurisdiction, where such distribution, publication, reproduction, availability or use would be contrary to law or regulation or what would subject Equitymaster or its affiliates to any registration or licensing requirement within such jurisdiction. If this document is sent or has reached any individual in such country, especially, USA, Canada or the European Union countries, the same may be ignored.
This document does not constitute a personal recommendation or take into account the particular investment objectives, financial situations, or needs of individual subscribers. Our research recommendations are general in nature and available electronically to all kind of subscribers irrespective of subscribers' investment objectives and financial situation/risk profile. Before acting on any recommendation in this document, subscribers should consider whether it is suitable for their particular circumstances and, if necessary, seek professional advice. The price and value of the securities referred to in this material and the income from them may go down as well as up, and subscribers may realize losses on any investments. Past performance is not a guide for future performance, future returns are not guaranteed and a loss of original capital may occur. Information herein is believed to be reliable but Equitymaster and its affiliates do not warrant its completeness or accuracy. The views/opinions expressed are our current opinions as of the date appearing in the material and may be subject to change from time to time without notice. This document should not be construed as an offer to sell or solicitation of an offer to buy any security or asset in any jurisdiction. Equitymaster and its affiliates, its directors, analyst and employees will not be responsible for any loss or liability incurred to any person as a consequence of his or any other person on his behalf taking any decisions based on this document.
As a condition to accessing Equitymaster content and website, you agree to our
Terms and Conditions of Use
, available here. The performance data quoted represents past performance and does not guarantee future results.
SEBI (Research Analysts) Regulations 2014, Registration No. INH000000537.

Equitymaster Agora Research Private Limited (Research Analyst) 103, Regent Chambers, Above Status Restaurant, Nariman Point, Mumbai - 400 021. India.
Telephone: +91-22-61434055. Fax: +91-22-22028550. Email: info@equitymaster.com. Website: www.equitymaster.com. CIN:U74999MH2007PTC175407