On This Day - 17 FEBRUARY 2018
The Foundation for Sensex 100,000 is Laid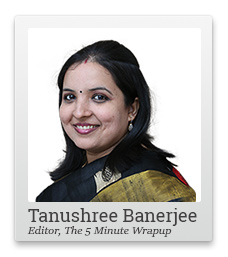 My answer cannot be a binary yes or no. I told this to most of the subscribers who I had the privilege to speak to at the recent Equitymaster Conference.
The one question on everyone's mind was - will the market correction last? Especially, after I had laid the case for a possible 30% correction in the benchmark Sensex.
My reply to the post correction scenario merits a detailed and nuanced explanation.
It also deserves some perspective on why my readers and subscribers should look forward to it.
Allow me to share that perspective with a story shared by none other than the legendary fund manager, Peter Lynch.
The story is about the native Indians of Manhattan island in the US. It dates back nearly 400 years to 1626.
The tribe sold all their real estate to a group of immigrants for US$ 24 in trinkets and beads. Yes, that's right...only US$ 24.
Since then, they have been the subject of cruel jokes because of their apparently foolish deal.
Lynch argued that the tribe should be given the benefit of doubt of having compounded the US$ 24 at 8% per annum. In which case, their net worth would be just short of US$ 30 trillion. The tax records of Manhattan at that time, showed the real estate of the island to be worth US$ 28.1 billion.
So, even after adjusting for revaluation, the Indians could be ahead by about US$ 29 trillion!
The point Peter Lynch tried to make is that compounding can have a magical effect on even the most ordinary looking returns.
Now, I must make it relevant to you, the investor in Indian stocks.
There's a lot of ground to cover. I will do it in parts, so that it's not overwhelming.
First...a Correction - Sharper if not Longer than Most of Us Expect
There were many reasons why my presentation at the Conference, was centered around a 30% correction.
First, my view on liquidity in the Indian market is not centered around mutual fund SIPs.
Second, there are sufficient global cues that a pullback is necessary.
Third, I think most investors are worried about the longevity of the correction rather than the intensity. It should be the other way around.
If you don't believe me, look at the chart below.
There was no correction more than 20% in Indian stocks over last 4 years. So, the intensity of corrections has been erased from investor memory.
Even worse, most new investors, who have started investing in recent years, believe that such corrections are impossible.
These investors are likely to be the worst hit if the correction is of a high intensity.
But how long could it last?
That's anybody's guess. But the longevity of the correction cannot be the reason for worry.
Why?
A prolonged market correction will lay the groundwork for a subsequent rally.
Base Case Scenario
When I say that my view on the correction is not centered around mutual fund SIPs, I mean I am not looking at short-term liquidity trends. There is certainly a chance of a pullback in liquidity, at least for a few months, in the event of a correction.
But you must consider the low penetration of equities as an asset class, in India. Even at the current volume of mutual fund inflows, less than 5% of Indians are invested in equities. Stocks and mutual funds are, less than 10% of household savings.
With per capita incomes on the rise, inflows into equities are certain to sustain.
Retail Investor Participation
(% of Population)
Per capita GDP
(US$)
US
48.8 (2015)
57,467
Singapore
29.1 (2015)
52,961
Malaysia
26.0 (2015)
9,503
China
14.6 (2015)
8,123
India
4.5 (2017)
1,709
Source: iosjournals.org
After the Jerks and Bumps....
The question is - are Indian equity investors as well poised today as the Indians of Manhattan?
The answer?
They are better off.
But you must be prepared to act when the correction comes and stay put through the jerks and bumps that follow.
The post correction period will be the start of the all-important journey to Sensex 100,000. The rate of compounding will be much better than the 8% for the Manhattan Indians. And the wait will certainly not be for centuries!
What should you do to be part of this journey?
I will lay out the blueprint soon.
Stay tuned.
Public Sector Banks: Long Term Wealth Destroyers
The recent Punjab National Bank (PNB) scam has put the Public sector banks (PSB's) in the limelight for all the wrong reasons. The bank was defrauded to the tune of US $ 1.77 billion. That's the last thing these banks needed after the crisis they've had in the past few years.
This has reflected in their stock performance too. The returns of PSBs over the last five years have underperformed at the Sensex. Barring State Bank of India, the margin of underperformance has been huge. This is despite the recent run in their stock prices post the government's announcement of the recapitalization plan.
PSB Underperformance vis a vis Sensex
These banks have been the perfect example of a value trap. Even though valuations seemed inexpensive five years ago, it has failed to perform.
While their bad loans struggle has been going on since a decade, there are other issues that have recently cropped up adding to their pile of misery. Bureaucracy and a lack of autonomy have ensured the sub-optimal profitability and asset quality of these state-run banks.
That's the reason we've been wary of PSU banks since 2014. This was well before the market had caught a whiff of the NPA problem. We've recommended just two large PSU banks in StockSelect since then...and already successfully closed both of them.
What the Markets Looked Like This Week
Global financial markets rallied this week and brushed aside a rise in global borrowing costs while the dollar hit its lowest level since 2014.
The S&P 500 and the Dow Jones Industrial Average have rallied for six consecutive sessions since falling last week into correction territory as investors took in their stride the possibility of more interest rate hikes from the Federal Reserve. The indices have notched their largest five-day percentage increases since December 2011, up 4.3% and 5.6%, respectively.
European stocks ended the week higher, with most major indices showing strength in a variety of sectors as concerns about rising interest rates and inflation apparently eased. Among country benchmarks, the UK's FTSE was up 1.9% and Germany's DAX added 1.7%, while France's CAC 40 outperformed, up 2.9%.
In Asia, Japan's Nikkei rose 1.6%, with investors relieved to see the government appoint Bank of Japan Governor Haruhiko Kuroda for another term, suggesting the central bank will be in no rush to dial back its massive stimulus programme. Chinese stocks advanced in a holiday-shortened week, paring some of their big declines from the previous week's global sell-off, as the country prepared for the Lunar New Year holiday. China's Shanghai Composite was up 2.2% over the week.
Back home, the BSE Sensex closed nearly 300 points lower on Friday as bank stocks dragged after more banks disclosed their exposure in the PNB fraud case. The PSU Bank index was the biggest underperformer, ending 9% lower during the week. The BSE-Sensex ended the week on a flat note. Meanwhile, the BSE MidCap was down 0.2% and Smallcap fell 0.8% this week.
Regards,


Tanushree Banerjee (Research Analyst)
Editor, The 5 Minute WrapUp
PS: You don't need to take unnecessary risks to make solid double or triple digit gains in the stock market. We have just released a premium report recommending the top 5 safe stocks. Get it here...
Investment Mantra of the Day
"If you aren't thinking about owning a stock for 10 years, don't even think about owning it for 10 minutes." - Warren Buffett
Copyright © Equitymaster Agora Research Private Limited. All rights reserved.
Any act of copying, reproducing or distributing this newsletter whether wholly or in part, for any purpose without the permission of Equitymaster is strictly prohibited and shall be deemed to be copyright infringement
Disclosure & Disclaimer:
Equitymaster Agora Research Private Limited (Research Analyst) bearing Registration No. INH000000537 (hereinafter referred as 'Equitymaster') is an independent equity research Company. The Author does not hold any shares in the company/ies discussed in this document. Equitymaster may hold shares in the company/ies discussed in this document under any of its other services.
This document is confidential and is supplied to you for information purposes only. It should not (directly or indirectly) be reproduced, further distributed to any person or published, in whole or in part, for any purpose whatsoever, without the consent of Equitymaster.
This document is not directed to, or intended for display, downloading, printing, reproducing or for distribution to or use by, any person or entity, who is a citizen or resident or located in any locality, state, country or other jurisdiction, where such distribution, publication, reproduction, availability or use would be contrary to law or regulation or what would subject Equitymaster or its affiliates to any registration or licensing requirement within such jurisdiction. If this document is sent or has reached any individual in such country, especially, USA, Canada or the European Union countries, the same may be ignored.
This document does not constitute a personal recommendation or take into account the particular investment objectives, financial situations, or needs of individual subscribers. Our research recommendations are general in nature and available electronically to all kind of subscribers irrespective of subscribers' investment objectives and financial situation/risk profile. Before acting on any recommendation in this document, subscribers should consider whether it is suitable for their particular circumstances and, if necessary, seek professional advice. The price and value of the securities referred to in this material and the income from them may go down as well as up, and subscribers may realize losses on any investments. Past performance is not a guide for future performance, future returns are not guaranteed and a loss of original capital may occur. Information herein is believed to be reliable but Equitymaster and its affiliates do not warrant its completeness or accuracy. The views/opinions expressed are our current opinions as of the date appearing in the material and may be subject to change from time to time without notice. This document should not be construed as an offer to sell or solicitation of an offer to buy any security or asset in any jurisdiction. Equitymaster and its affiliates, its directors, analyst and employees will not be responsible for any loss or liability incurred to any person as a consequence of his or any other person on his behalf taking any decisions based on this document.
As a condition to accessing Equitymaster content and website, you agree to our
Terms and Conditions of Use
, available here. The performance data quoted represents past performance and does not guarantee future results.
SEBI (Research Analysts) Regulations 2014, Registration No. INH000000537.

Equitymaster Agora Research Private Limited (Research Analyst) 103, Regent Chambers, Above Status Restaurant, Nariman Point, Mumbai - 400 021. India.
Telephone: +91-22-61434055. Fax: +91-22-22028550. Email: info@equitymaster.com. Website: www.equitymaster.com. CIN:U74999MH2007PTC175407