On This Day - 19 FEBRUARY 2019
These Are the Stocks to Buy When the World's Largest Fund Bets Big on India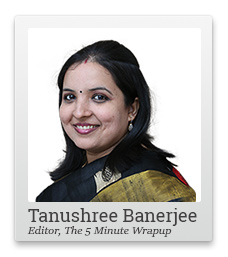 US$ 472 billion.
That's the assets under management of Blackstone. The US private equity giant has the largest alternative investment fund globally.
Th fund is bigger than the economies of Singapore, Hong Kong, South Africa, and UAE.
But in India, it has so far been largely known for some big real estate deals.
It has been in the news recently for acquiring controlling stake in some high growth Indian businesses.
In an interview to The Economic Times, Blackstone's President and COO, Jonathan Gray, said they're 'a big believer in India'.
Blackstone finds some Indian businesses compelling.
Why?
It has a lot to do with the strong macroeconomic tailwind that India will enjoy over the next few decades.
Blackstone is among the largest and earliest foreign investors to recognise the Rebirth of India opportunity.
It is the same opportunity that will accelerate India's GDP to US$ 10 trillion.
It is the same opportunity, the biggest pension and sovereign wealth funds have set their eyes on.
And it is the same opportunity that Raghuram Rajan and Infosys founder Narayana Murthy are talking about.
Rebirth of India has been at the core of my research for past many months.
I will be speaking on it at the Equitymaster Conference on Saturday 23 February.
Like Blackstone's, my analysis also leaned on bold structural reforms like Jandhan, GST, and the Insolvency and Bankruptcy Code.
But the only area I differ with Mr Gray is the pace at which India's young population will ride the Rebirth of India opportunity.
I believe areas like quality of education and job creation are, currently, the toxins in India's Rebirth. Apart from strong political will, corporate participation will be necessary to find the permanent cure to these problems.
Corporates looking to create jobs could partner with government and private sector educational bodies to create the desired work force.
They should not only focus on building and hiring quality workforce. They must also ensure their capacity expansion creates sufficient number of jobs.
I am sure Blackstone is on the lookout for such companies.
Imagine what a difference even a small investment by Blackstone would mean for existing shareholders!
But keep this in mind...
Only select companies will make the most of the Rebirth of India. These will the most lucrative stocks to have in your portfolio.
To that end, I recently recommended to my premium subscribers, seven stocks to profit from this once in a lifetime opportunity.
Chart of the Day
In recent times, various private equity funds have joined hands to increase their controlling stakes in Indian investments.
Here are some examples...
A joint venture between Brookfield Asset Management Inc. and State Bank of India for distressed assets.
The acquisition of a stake in Mankind Pharma by ChrysCapital, GIC and the Canada Pension Plan Investment Board.
Resurgent Power Ventures Pvt. Ltd, a platform created by Tata Power and ICICI Venture, raising capital from Kuwait Investment Authority and State General Reserve Fund of Oman.
Enticed by their long-term prospects, these funds are losing no time to enhance stake in their Indian investments.
India Focused Global Funds Raising Top Dollar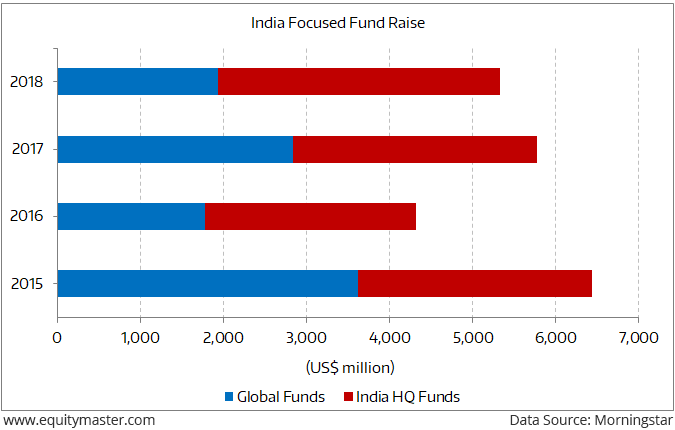 And this is possibly just the start.
According to OECD, the 20 largest pension funds together hold about 43.2% of total global pension assets. Even if India receives a 5% allocation, it will mean a boom in the stock market.
In last three years, these funds have consolidated because of stronger growth among the bigger pension players.
These players are likely to focus on countries offering strong returns apart from relative safety, like India.
Warm regards,



Tanushree Banerjee (Research Analyst)
Editor, The 5 Minute WrapUp
PS: Dear reader, the first ever Power Profits Summit has been 15 years in the making! It goes live at 5 PM on 26 February. Join Prasheel Vartak in conversation with one of our best analysts, Radhika Pandit. She will show you how to potentially amass extreme wealth in just 1-2 years without taking unnecessary risks using her proprietary system. Register for free here.
Copyright © Equitymaster Agora Research Private Limited. All rights reserved.
Any act of copying, reproducing or distributing this newsletter whether wholly or in part, for any purpose without the permission of Equitymaster is strictly prohibited and shall be deemed to be copyright infringement
Disclosure & Disclaimer:
Equitymaster Agora Research Private Limited (Research Analyst) bearing Registration No. INH000000537 (hereinafter referred as 'Equitymaster') is an independent equity research Company. The Author does not hold any shares in the company/ies discussed in this document. Equitymaster may hold shares in the company/ies discussed in this document under any of its other services.
This document is confidential and is supplied to you for information purposes only. It should not (directly or indirectly) be reproduced, further distributed to any person or published, in whole or in part, for any purpose whatsoever, without the consent of Equitymaster.
This document is not directed to, or intended for display, downloading, printing, reproducing or for distribution to or use by, any person or entity, who is a citizen or resident or located in any locality, state, country or other jurisdiction, where such distribution, publication, reproduction, availability or use would be contrary to law or regulation or what would subject Equitymaster or its affiliates to any registration or licensing requirement within such jurisdiction. If this document is sent or has reached any individual in such country, especially, USA, Canada or the European Union countries, the same may be ignored.
This document does not constitute a personal recommendation or take into account the particular investment objectives, financial situations, or needs of individual subscribers. Our research recommendations are general in nature and available electronically to all kind of subscribers irrespective of subscribers' investment objectives and financial situation/risk profile. Before acting on any recommendation in this document, subscribers should consider whether it is suitable for their particular circumstances and, if necessary, seek professional advice. The price and value of the securities referred to in this material and the income from them may go down as well as up, and subscribers may realize losses on any investments. Past performance is not a guide for future performance, future returns are not guaranteed and a loss of original capital may occur. Information herein is believed to be reliable but Equitymaster and its affiliates do not warrant its completeness or accuracy. The views/opinions expressed are our current opinions as of the date appearing in the material and may be subject to change from time to time without notice. This document should not be construed as an offer to sell or solicitation of an offer to buy any security or asset in any jurisdiction. Equitymaster and its affiliates, its directors, analyst and employees will not be responsible for any loss or liability incurred to any person as a consequence of his or any other person on his behalf taking any decisions based on this document.
As a condition to accessing Equitymaster content and website, you agree to our
Terms and Conditions of Use
, available here. The performance data quoted represents past performance and does not guarantee future results.
SEBI (Research Analysts) Regulations 2014, Registration No. INH000000537.

Equitymaster Agora Research Private Limited (Research Analyst) 103, Regent Chambers, Above Status Restaurant, Nariman Point, Mumbai - 400 021. India.
Telephone: +91-22-61434055. Fax: +91-22-22028550. Email: info@equitymaster.com. Website: www.equitymaster.com. CIN:U74999MH2007PTC175407