On This Day - 7 MARCH 2018
Donald Trump's Trade War Can't Stop Sensex 100,000 but it Can Cause a 30% Crash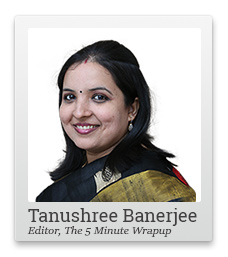 In the 54 years Charlie Munger and I have worked together, we have never forgone an attractive purchase because of the macro or political environment, or the views of other people. In fact, these subjects never come up when we make decisions. - Warren Buffett
The BSE Sensex is down about 700-points over the last two days.
News headlines are blaming Donald Trump's trade war. This along with India's banking crisis are the top two reasons for the market's fall.
Should you be concerned?
This is where the mainstream media tends to get it wrong. They report events in a binary fashion... good or bad, yes or no, right or wrong.
There's nothing wrong about this per se. However, you should know both sides of the story, if you're a cautious investor and are looking for solid long-term gains from Safe Stocks.
That's where things become tricky. Allow me to explain.
--- Advertisement ---
5 Safe Stocks to Stay Protected During These Uncertain Times...

Research analyst Tanushree Banerjee, recently predicted that we are at the brink of a steep 30% market crash.

And while everyone else in the market is panicking...

She remains calm.

Why?

Because she has used her 13 years of experience to identify 5 Super Safe Stocks that have the potential to not only survive, but thrive in these conditions.

And today is your chance to get access to these stocks.

Click here for full details...
------------------------------
Here's the 'true and false' of this narrative.
True
Trump has started a trade war. He has imposed tariffs on the two US industries worst hit by globalisation, steel and aluminium.
It's a very serious matter, no doubt about it. It could be the first step to the reversal of globalisation.
It will affect India negatively. So far, the damage is limited. But Trump could widen the scope of the tariffs to other industries if countries like China hit back with their own tariffs.
India can't do anything about this. We're just not strong enough in international trade.
Now, having said all this...
False
It's the end of the bull market.
Commodity stocks will be hammered and won't recover.
India's long-term economic growth story is over.
I've learnt to take macro events in my stride whenever they move stock markets.
Yes, it can cause short-term pain.
But it can't change the long-term trend of the market. Only earnings can do that.
If you don't believe me, here's what the world's best investor Warren Buffett had to say about it.
In the 20th century, the United States endured two world wars and other traumatic and expensive military conflicts; the Depression; a dozen or so recessions and financial panics; oil shocks; a flu epidemic; and the resignation of a disgraced president. Yet the Dow rose from 66 to 11,497.
Now here's the interesting thing. The Dow rose from 66 to 11,497 in 100 years but that's just 5.3% annualised!
This is about the same rate as the growth in US corporate earnings during the last century.
Back home, we too have suffered a lot; wars, droughts, riots, terrorism, corruption, corporate frauds, political assassinations, multiple government changes, failed economic policies...
But corporate earnings have grown by about 15% annually and the BSE Sensex has delivered about 15% annualised over the long-term.
That's the important thing. I'll never tire of repeating it.
In the long-term, only earnings can drive stock prices.
Here's what Prof. Ashwath Damodaran, the leading global authority on equity valuation, said in an interview in The Economic Times...
When the crisis recedes, local factors kick in and India perhaps more than any other large emerging market, has a lot of local factors kicking in. You have got banking reforms. You have got an economy that is fuelled with change right from demonetisation to the opening up of sectors to global competition to banking. You are seeing changes in India that are going to affect that market. In a sense, this might be the start of an Indian decade, just like the last 20 years had been China's. Maybe this is the start of something big.
This is why I believe the Sensex will rise to 100,000.
I say this even though I believe that in the short-term, the Sensex could fall by 30% from its recent high.
Trump may contribute to the 30% crash with his trade war but he can't stop the rise of the index to 100,000.
This correction was long overdue. During times like these, the best thing you can do is to identify stocks that can ride out the storm. I call them Safe Stocks.
Recently, I recommended my pick of the top 5 Safe Stocks in the market.
Make no mistake. When this correction is done, the Sensex will be on its way to the magical six-figure mark.
Chart of the Day
India's steel industry was just coming out of a rough patch.
Demand was picking up. Steel prices were on the rise. Buyers were lining up to pick up stressed assets. With the expected pick up in the investment cycle, the sector was on the upswing.
India's Steel exports were on a roll.
Is the Steel Sector's Recovery Under Threat?
Then Donald Trump spoiled the party. The US government plans to impose a 25% tariff on steel and a 10% tariff on aluminium.
India produces a lot of both commodities but internationally, we are not a big player. The US imports only 2.4% of steel and 2% aluminium from India.
But it's not so simple.
With the new US tariffs, major exporters like South Korea will look to sell in other countries. This would lead to a glut and as a result, lower prices.
This could threaten the nascent recovery in the industry.
ICICI and Axis Bank Involved in the NiMo Scam?
The Rs 127 billion scam is getting murkier by the day.
The Serious Fraud Investigation Office (SFIO) issued notices to the CEO of ICICI Bank, Chanda Kochhar and the Managing Director of Axis Bank, Shikha Sharma.
We're are keeping a close watch on these developments and will bring you our views about this going forward.
In our view, this is yet another reminder about the sad state of India's banking system. This also highlights Tanushree's view that simplistic binary judgements should be avoided when picking banking stocks.
Just because PSU Banks suffer from the bulk of the NPAs, it doesn't mean private banks are immune from this malaise.
Most private banking stocks cannot be called 'Safe Stocks' at all. It's crucial to adopt a stock-specific approach.
Regards,

Tanushree Banerjee (Research Analyst)
Editor, The 5 Minute WrapUp
PS: You don't need to take unnecessary risks to make solid double or triple digit gains in the stock market. Tanushree's premium report recommending the top 5 safe stocks has the answer. You can get it here...
Copyright © Equitymaster Agora Research Private Limited. All rights reserved.
Any act of copying, reproducing or distributing this newsletter whether wholly or in part, for any purpose without the permission of Equitymaster is strictly prohibited and shall be deemed to be copyright infringement
Disclosure & Disclaimer:
Equitymaster Agora Research Private Limited (Research Analyst) bearing Registration No. INH000000537 (hereinafter referred as 'Equitymaster') is an independent equity research Company. The Author does not hold any shares in the company/ies discussed in this document. Equitymaster may hold shares in the company/ies discussed in this document under any of its other services.
This document is confidential and is supplied to you for information purposes only. It should not (directly or indirectly) be reproduced, further distributed to any person or published, in whole or in part, for any purpose whatsoever, without the consent of Equitymaster.
This document is not directed to, or intended for display, downloading, printing, reproducing or for distribution to or use by, any person or entity, who is a citizen or resident or located in any locality, state, country or other jurisdiction, where such distribution, publication, reproduction, availability or use would be contrary to law or regulation or what would subject Equitymaster or its affiliates to any registration or licensing requirement within such jurisdiction. If this document is sent or has reached any individual in such country, especially, USA, Canada or the European Union countries, the same may be ignored.
This document does not constitute a personal recommendation or take into account the particular investment objectives, financial situations, or needs of individual subscribers. Our research recommendations are general in nature and available electronically to all kind of subscribers irrespective of subscribers' investment objectives and financial situation/risk profile. Before acting on any recommendation in this document, subscribers should consider whether it is suitable for their particular circumstances and, if necessary, seek professional advice. The price and value of the securities referred to in this material and the income from them may go down as well as up, and subscribers may realize losses on any investments. Past performance is not a guide for future performance, future returns are not guaranteed and a loss of original capital may occur. Information herein is believed to be reliable but Equitymaster and its affiliates do not warrant its completeness or accuracy. The views/opinions expressed are our current opinions as of the date appearing in the material and may be subject to change from time to time without notice. This document should not be construed as an offer to sell or solicitation of an offer to buy any security or asset in any jurisdiction. Equitymaster and its affiliates, its directors, analyst and employees will not be responsible for any loss or liability incurred to any person as a consequence of his or any other person on his behalf taking any decisions based on this document.
As a condition to accessing Equitymaster content and website, you agree to our
Terms and Conditions of Use
, available here. The performance data quoted represents past performance and does not guarantee future results.
SEBI (Research Analysts) Regulations 2014, Registration No. INH000000537.

Equitymaster Agora Research Private Limited (Research Analyst) 103, Regent Chambers, Above Status Restaurant, Nariman Point, Mumbai - 400 021. India.
Telephone: +91-22-61434055. Fax: +91-22-22028550. Email: info@equitymaster.com. Website: www.equitymaster.com. CIN:U74999MH2007PTC175407