On This Day - 8 MARCH 2019
Is Your Stock Portfolio War-Ready?

I'm usually quite skeptical of government-run companies.
More often than not, they tend to be highly inefficient. They must follow the diktats of babus and netas in the government.
Often, the interests of minority shareholders are sacrificed on the altar of politics and populism.
I'm also usually wary of companies that do business predominantly with the government. From my experience, the government can be a very difficult, lousy client.
Too much bureaucracy.
Late payments.
Very limited pricing power.
So, most of the times, I stay away from companies controlled by the government or the ones that do business predominantly with the government.
This is the reason why I have been skeptical of the defense sector. It is too close to the government for my comfort.
The defense space tends to be quite opaque given national security reasons.
Approvals can be slow.
And like you've seen in the case of the Rafale deal, they can be the subject of prolonged political controversies.
I usually don't pay too much attention to this sector.
That was until Tanushree drew my attention to some big shifts in the defense sector. These developments have created a big business opportunity for Indian corporates.
'But what about all the opaqueness, complexity, and bureaucracy in the defense sector?' I asked Tanushree.
Her response: 'The opportunity is simply too big to ignore. It can more than make up for your reservations.'
At this juncture, I must tell you that Tanushree is a complete bottom-up stock picker at heart. This means she looks at the ground-level business fundamentals of each company she recommends.
But over the years, she has also developed a keen interest in spotting big, structural shifts and megatrends.
More recently, she published her first book 'Rebirth of India'.
In the book, Tanushree proposes that the Indian economy is currently in the midst of a gigantic transformation.
Her biggest finding is that several big, irreversible trends are underway in the Indian economy. These trends are set to catapult India into the big league of the global economy.
It will also provide serious long-term investors a rare, once-in-a-lifetime opportunity to build massive wealth.
According to her, sometimes you just need to ride one big megatrend to create a lifetime of wealth for yourself.
So, when she presented her working thesis on the defense sector some months ago, I knew she was seeing something much more than regular business.
Her starting words were, 'Do you know India imports around 60% of its defense requirements? Some see that as a perpetual problem, but I see that as a big opportunity now, because that number is destined to drop.'
And the drop will be compensated by the Indian private sector.
She has been keenly observing major changes in the government's defense policy for a while now.
These policies have opened big opportunities for the Indian private sector.
Tanushree believes the Indian defense sector is at an inflection point.
But before arriving at this conclusion, Tanushree did her bit of research on the world's leading defense companies as well.
The results were indeed impressive.
I don't want to reveal too much here. I'll leave that to Tanushree.
I just want to let you know, Tanushree will soon reveal some really big opportunities in the Indian defense sector.
Watch this space...
Chart of the Day
In one of my earlier editorials, I had shown how the Sensex price to earnings ratio has moved over the last five years...
It has mostly been in a rising trend, except some intermittent declines.
But as I've mentioned time and again, the Sensex tells a very a selective, skewed story of just the 30 largest companies.
So, I thought it would be worth seeing the valuation trend of a much broader index.
I picked the NSE 500 for my latest study.
Market Valuations - 2014 to 2019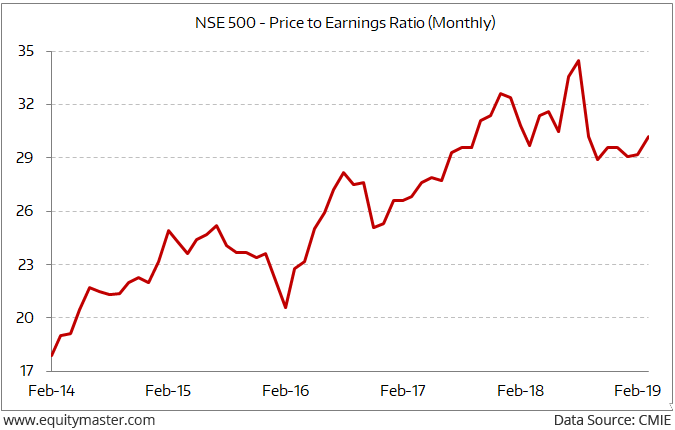 As you can see, the NSE 500 index was trading cheap before the BJP came to power at the Centre in 2014. Since then, the price to earnings ratio of the index has been trending higher, like the Sensex.
It is interesting to note that the NSE 500 index has almost doubled between February 2014 and now. The price to earnings multiple of the index has gone up almost 70% during the same period.
What this means is that the gains have mostly come from valuation multiple expansion and only about 30% from earnings growth.
While the NSE 500 P/E ratio is down 12% from its August 2018 high of 34.5, it's still quite on the higher side. As such, I believe the key to the next bull run would be a good growth in earnings of listed Indian companies.
Happy Investing,



Ankit Shah (Research Analyst)
Editor, Equitymaster Insider
PS: Tanushree Banerjee, editor of StockSelect, has uncovered the 3 stocks that are best placed to ride the boom in India's defense industry. Watch this space for more...
Copyright © Equitymaster Agora Research Private Limited. All rights reserved.
Any act of copying, reproducing or distributing this newsletter whether wholly or in part, for any purpose without the permission of Equitymaster is strictly prohibited and shall be deemed to be copyright infringement
Disclosure & Disclaimer:
Equitymaster Agora Research Private Limited (Research Analyst) bearing Registration No. INH000000537 (hereinafter referred as 'Equitymaster') is an independent equity research Company. The Author does not hold any shares in the company/ies discussed in this document. Equitymaster may hold shares in the company/ies discussed in this document under any of its other services.
This document is confidential and is supplied to you for information purposes only. It should not (directly or indirectly) be reproduced, further distributed to any person or published, in whole or in part, for any purpose whatsoever, without the consent of Equitymaster.
This document is not directed to, or intended for display, downloading, printing, reproducing or for distribution to or use by, any person or entity, who is a citizen or resident or located in any locality, state, country or other jurisdiction, where such distribution, publication, reproduction, availability or use would be contrary to law or regulation or what would subject Equitymaster or its affiliates to any registration or licensing requirement within such jurisdiction. If this document is sent or has reached any individual in such country, especially, USA, Canada or the European Union countries, the same may be ignored.
This document does not constitute a personal recommendation or take into account the particular investment objectives, financial situations, or needs of individual subscribers. Our research recommendations are general in nature and available electronically to all kind of subscribers irrespective of subscribers' investment objectives and financial situation/risk profile. Before acting on any recommendation in this document, subscribers should consider whether it is suitable for their particular circumstances and, if necessary, seek professional advice. The price and value of the securities referred to in this material and the income from them may go down as well as up, and subscribers may realize losses on any investments. Past performance is not a guide for future performance, future returns are not guaranteed and a loss of original capital may occur. Information herein is believed to be reliable but Equitymaster and its affiliates do not warrant its completeness or accuracy. The views/opinions expressed are our current opinions as of the date appearing in the material and may be subject to change from time to time without notice. This document should not be construed as an offer to sell or solicitation of an offer to buy any security or asset in any jurisdiction. Equitymaster and its affiliates, its directors, analyst and employees will not be responsible for any loss or liability incurred to any person as a consequence of his or any other person on his behalf taking any decisions based on this document.
As a condition to accessing Equitymaster content and website, you agree to our
Terms and Conditions of Use
, available here. The performance data quoted represents past performance and does not guarantee future results.
SEBI (Research Analysts) Regulations 2014, Registration No. INH000000537.

Equitymaster Agora Research Private Limited (Research Analyst) 103, Regent Chambers, Above Status Restaurant, Nariman Point, Mumbai - 400 021. India.
Telephone: +91-22-61434055. Fax: +91-22-22028550. Email: info@equitymaster.com. Website: www.equitymaster.com. CIN:U74999MH2007PTC175407