On This Day - 12 MARCH 2019
How This Strategic Super Investor Led to This Month's Recommendation

Last year, my colleagues and I attended the investor conference of Kajaria Ceramics.
We were interacting with the management for the first time. We were excited to meet them as the company regularly showed up on our screeners.
We were pleased with the fact that the management was very transparent.
They gave us a good overall picture of the industry.
They explained the challenges they faced post - demonetisation and GST.
They described their growth outlook for the industry and how Kajaria was geared up to meet several opportunities and challenges.
Unfortunately, we couldn't recommend the stock at that time due to the lack of margin of safety.
However, there was one moment in the conference that caught my attention.
It was when the management gave credit to a private equity fund - WestBridge Capital
Why?
Before I answer that, let me tell you, WestBridge Capital is one of the 40-odd super investors we track in Smart Money Secrets.
Our list of super investors includes individuals and also fund managers like Rajeev Thakkar of PPFAS Mutual Fund.
WestBridge Capital doesn't fall into either category.
They are an example of a PIPE (Private Investment in Public Equity) Fund.
We believe, tracking diverse investment philosophies and stock-picking styles gives up an edge in picking winning stocks for our subscribers.
Coming back to WestBridge Capital. It is a prominent private equity firm. It invests via its investment arm - Jwalamukhi Investments.
WestBridge manages over US$ 2 billion. It invests mainly in midcaps and smallcaps. They focus on industries such as consumer, financial services, building materials, and light industrials.
They also seek to partner with companies run by outstanding managements.
This is why the management if Kajaria gave credit to WestBridge.
You see, WestBridge helped the company in branding and marketing. A strong brand and good product recall, helped the company expand across India.
Kajaria's Increasing Ad Spend Post WestBridge Investment
| | FY12 | FY13 | FY14 | FY15 | FY16 | FY17 |
| --- | --- | --- | --- | --- | --- | --- |
| Advertising as % of Net Sales | 1.7% | 1.7% | 1.7% | 2.5% | 2.4% | 3.1% |
Data source: ACE Equity
Today, Kajaria Ceramics is the market leader in ceramic/vitrified tiles.
In 2017, WestBridge successfully exited from Kajaria Ceramics. See today's Chart of the Day for more.
It was a win-win partnership.
Our upcoming Smart Money Secrets recommendation is inspired from this theme.
WestBridge owns a stake in the company. We see a pattern similar to Kajaria in this company too.
With the recent market correction, the stock available at decent valuations.
If you've subscribed to Smart Money Secrets, expect my recommendation report in a few days.
If you haven't subscribed to Smart Money Secrets, you can sign up here.
Chart of the Day
In 2013, Kajaria Ceramics issued 2 million shares on preferential basis to WestBridge. Further, in 2014, 3.9 million warrants were converted to equity shares by WestBridge.
The average acquisition price was about Rs 255 per share. WestBridge invested about Rs 1.5 billion in the company.
WestBridge Investments in Kajaria Ceramics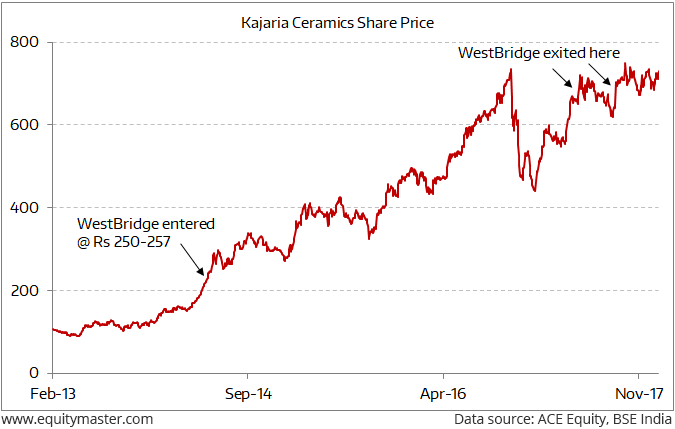 In 2017, WestBridge sold all its holdings at an average price of Rs 710.
That's more than 275% in 4 years.
During this period, Kajaria Ceramics focused extensively on brand-building and expanding its dealership network throughout India under the guidance of WestBridge.
The company cemented its leadership in ceramic/vitrified tiles.
Indeed, this is a great example of a win-win partnership.
We believe, the story of our upcoming Smart Money Secrets recommendation will play out along similar lines.
Regards,


Sarvajeet Bodas (Research Analyst)
Co-editor, Smart Money Secrets
PS: Radhika Pandit and Sarvajeet Bodas, co-editors of Smart Money Secrets, are ready to recommend their next stock. If you haven't subscribed to Smart Money Secrets yet... you can do so here.
Copyright © Equitymaster Agora Research Private Limited. All rights reserved.
Any act of copying, reproducing or distributing this newsletter whether wholly or in part, for any purpose without the permission of Equitymaster is strictly prohibited and shall be deemed to be copyright infringement
Disclosure & Disclaimer:
Equitymaster Agora Research Private Limited (Research Analyst) bearing Registration No. INH000000537 (hereinafter referred as 'Equitymaster') is an independent equity research Company. The Author does not hold any shares in the company/ies discussed in this document. Equitymaster may hold shares in the company/ies discussed in this document under any of its other services.
This document is confidential and is supplied to you for information purposes only. It should not (directly or indirectly) be reproduced, further distributed to any person or published, in whole or in part, for any purpose whatsoever, without the consent of Equitymaster.
This document is not directed to, or intended for display, downloading, printing, reproducing or for distribution to or use by, any person or entity, who is a citizen or resident or located in any locality, state, country or other jurisdiction, where such distribution, publication, reproduction, availability or use would be contrary to law or regulation or what would subject Equitymaster or its affiliates to any registration or licensing requirement within such jurisdiction. If this document is sent or has reached any individual in such country, especially, USA, Canada or the European Union countries, the same may be ignored.
This document does not constitute a personal recommendation or take into account the particular investment objectives, financial situations, or needs of individual subscribers. Our research recommendations are general in nature and available electronically to all kind of subscribers irrespective of subscribers' investment objectives and financial situation/risk profile. Before acting on any recommendation in this document, subscribers should consider whether it is suitable for their particular circumstances and, if necessary, seek professional advice. The price and value of the securities referred to in this material and the income from them may go down as well as up, and subscribers may realize losses on any investments. Past performance is not a guide for future performance, future returns are not guaranteed and a loss of original capital may occur. Information herein is believed to be reliable but Equitymaster and its affiliates do not warrant its completeness or accuracy. The views/opinions expressed are our current opinions as of the date appearing in the material and may be subject to change from time to time without notice. This document should not be construed as an offer to sell or solicitation of an offer to buy any security or asset in any jurisdiction. Equitymaster and its affiliates, its directors, analyst and employees will not be responsible for any loss or liability incurred to any person as a consequence of his or any other person on his behalf taking any decisions based on this document.
As a condition to accessing Equitymaster content and website, you agree to our
Terms and Conditions of Use
, available here. The performance data quoted represents past performance and does not guarantee future results.
SEBI (Research Analysts) Regulations 2014, Registration No. INH000000537.

Equitymaster Agora Research Private Limited (Research Analyst) 103, Regent Chambers, Above Status Restaurant, Nariman Point, Mumbai - 400 021. India.
Telephone: +91-22-61434055. Fax: +91-22-22028550. Email: info@equitymaster.com. Website: www.equitymaster.com. CIN:U74999MH2007PTC175407