On This Day - 13 MARCH 2019
Two Growth Stocks that Doubled in a Little Over 12 Months!

Recently, I wrote to you about the money-making potential of growth stocks. But it was important to differentiate good growth stocks from ones that don't add value.
Two classic examples of growth stocks that have enhanced shareholder value are Page Industries and Eicher Motors.
They have logged in superlative compounded annual growth rates of more than 20% in the last five years.
Both stocks have rewarded shareholders immensely in the same period.
But what are the factors that propel growth or take it to the next level?
There are many.
For Page Industries and Eicher Motors, it was largely the strength of their respective brands.
But there are many other elements that can influence growth.
One is none other than process efficiencies.
Let's take the case of Vinati Organics.
Vinati Organics is a specialty chemical company. The management, after a lot of research, concluded there was a huge opportunity in IBB. IBB is a key raw material used to manufacture a widely used painkiller, Ibuprofen.
There were many players from China at the time. Vinati tied up with a French company for technology.
More importantly, the company consistently improved its processes.
It kept costs under control. As a result, it could supply IBB at rates below the market and still make money.
Between FY09 and FY15, barring one year, Vinati's profit growth was at a healthy 20% plus each year.
Not surprisingly, the stock rewarded shareholders by nearly doubling in the two years.
So Vinati Organics is a good example of growth being driven by what I call process efficiencies.
Another element that propels growth is a company's presence in a niche segment.
Consider Solar Industries.
This company is in the business of manufacturing industrial explosives.
Now, this is a niche segment with barely 2-3 players present. This is because manufacturing explosives requires industry licenses from the government.
This puts up a huge entry barrier for any new competitors.
The company has a 30% share of the domestic explosives market.
Between FY09 and FY12, Solar Industries grew its profits by 20% plus.
The stock almost doubled in a year.
Clearly, shareholders can make big gains from growth stocks.
That is why I developed my new system to identify high growth stocks - Power Profits.
With my Power Profits system I aim to regularly pick high-quality, high growth stocks. These are stocks that can potentially deliver 100%+ returns in as little as 12 months.
I have already identified 3 extremely lucrative growth stocks for my subscribers.
I believe, these 3 stocks have the potential to deliver gains of 100% or more over the next 12 months.
Chart of the Day
Let me tell you a bit about Vinati Organics.
The major growth driver for the company was its focus on consistently improving efficiencies.
It costs in check. As a result, it could sell its product IBB at competitive rates and that too profitably.
The healthy growth in profits that the company reported between FY09 and FY15 did not go unnoticed in the markets.
The stock nearly doubled in two years.
Stellar Profit Growth Leading to Strong Returns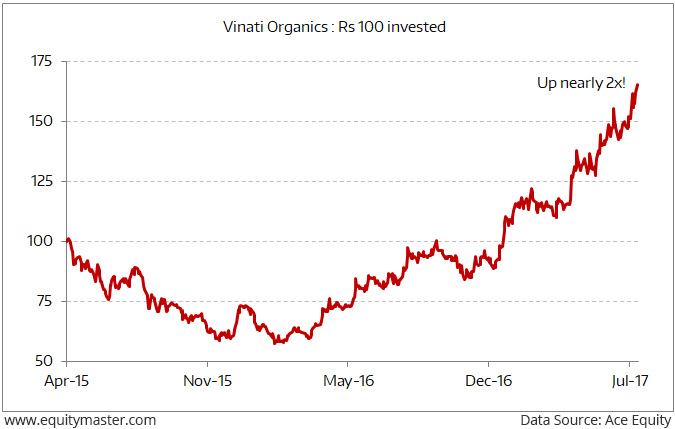 Warm regards,



Radhika Pandit (Research Analyst)
Editor, Power Profits
PS: Radhika Pandit and Sarvajeet Bodas, co-editors of Smart Money Secrets, are ready to recommend their next stock. If you haven't subscribed to Smart Money Secrets yet... you can do so here.
Copyright © Equitymaster Agora Research Private Limited. All rights reserved.
Any act of copying, reproducing or distributing this newsletter whether wholly or in part, for any purpose without the permission of Equitymaster is strictly prohibited and shall be deemed to be copyright infringement
Disclosure & Disclaimer:
Equitymaster Agora Research Private Limited (Research Analyst) bearing Registration No. INH000000537 (hereinafter referred as 'Equitymaster') is an independent equity research Company. The Author does not hold any shares in the company/ies discussed in this document. Equitymaster may hold shares in the company/ies discussed in this document under any of its other services.
This document is confidential and is supplied to you for information purposes only. It should not (directly or indirectly) be reproduced, further distributed to any person or published, in whole or in part, for any purpose whatsoever, without the consent of Equitymaster.
This document is not directed to, or intended for display, downloading, printing, reproducing or for distribution to or use by, any person or entity, who is a citizen or resident or located in any locality, state, country or other jurisdiction, where such distribution, publication, reproduction, availability or use would be contrary to law or regulation or what would subject Equitymaster or its affiliates to any registration or licensing requirement within such jurisdiction. If this document is sent or has reached any individual in such country, especially, USA, Canada or the European Union countries, the same may be ignored.
This document does not constitute a personal recommendation or take into account the particular investment objectives, financial situations, or needs of individual subscribers. Our research recommendations are general in nature and available electronically to all kind of subscribers irrespective of subscribers' investment objectives and financial situation/risk profile. Before acting on any recommendation in this document, subscribers should consider whether it is suitable for their particular circumstances and, if necessary, seek professional advice. The price and value of the securities referred to in this material and the income from them may go down as well as up, and subscribers may realize losses on any investments. Past performance is not a guide for future performance, future returns are not guaranteed and a loss of original capital may occur. Information herein is believed to be reliable but Equitymaster and its affiliates do not warrant its completeness or accuracy. The views/opinions expressed are our current opinions as of the date appearing in the material and may be subject to change from time to time without notice. This document should not be construed as an offer to sell or solicitation of an offer to buy any security or asset in any jurisdiction. Equitymaster and its affiliates, its directors, analyst and employees will not be responsible for any loss or liability incurred to any person as a consequence of his or any other person on his behalf taking any decisions based on this document.
As a condition to accessing Equitymaster content and website, you agree to our
Terms and Conditions of Use
, available here. The performance data quoted represents past performance and does not guarantee future results.
SEBI (Research Analysts) Regulations 2014, Registration No. INH000000537.

Equitymaster Agora Research Private Limited (Research Analyst) 103, Regent Chambers, Above Status Restaurant, Nariman Point, Mumbai - 400 021. India.
Telephone: +91-22-61434055. Fax: +91-22-22028550. Email: info@equitymaster.com. Website: www.equitymaster.com. CIN:U74999MH2007PTC175407