On This Day - 18 MARCH 2019
Get Ready to Make Big Profits in India's Defense Sector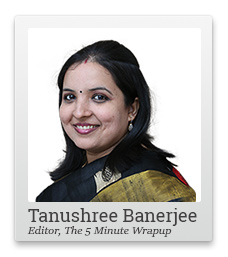 How do you rate a product that you've bought as' money well spent'?
For me, it's being able use it smoothly most of the time.
If I buy a mobile phone and if it works smoothly for years, I think of it as money well spent. The same applies to food, clothes etc.
But there are things you buy but don't ever want to use.
Like Insurance, for example.
You buy it for your peace of mind.
But always hope that you never have to use it.
Buying it provides a sense of comfort for you and your near and dear ones.
What is true for an individual is true for a country as well.
Think about this...
Does India spend tons of money on her military every year with thought of waging a war?
In fact, quite the opposite.
The goal of our military spending is to defend ourselves from external foes, in the event they unwisely choose to attack us.
There are other economic benefits too - employment, strategic deals with other countries, etc.
After all, a country that is perceived to be safe is a better country to do business with than one that is not.
So how does India fare in this regard?
Well we have the fourth largest military in the world. We are also the fifth largest spender on defence.
But how does it compare with other military superpowers?
As of 2017, India's spend on military was 10% of the US and 28% of China.
That's right. The US spends 10 times as much on its military that we do on ours!
Not a favorable stat for the country with the world's second biggest population.
Worse still, as per recent findings, about 50% of our defence equipment is obsolete. Further, about 65% is imported.
The government's recent policies are aimed at rectifying two major issues.
Reducing India's over dependence on imports.
Expanding the defence budget to modernise existing equipment.
The Make in India initiative in areas like defence, electric vehicles, railways, aerospace and mining is a step in this direction.
I believe, the recent tensions with Pakistan will only accelerate this initiative.
India is on its way to being a 10 trillion dollar economy. I'm sure you don't need convincing of the huge money-making opportunities in this sector.
You see, military spending as a percentage of our country's gross domestic product (GDP) is 2.5%.
For countries like Russia and the US, it is 4.3% and 3.1% of their GDP respectively.
Even Pakistan spends 3.5% of its GDP of defence.
Companies involved in this sector will benefit immensely from this trend over the long-term. You must not overlook the opportunities here.
I strongly believe this sector can be one of biggest wealth creators of India's long-term growth story.
I've been looking for the best stocks in this sector for the last few months.
I'm happy to report that I've shortlisted 3 stocks I believe will benefit the most from this boom.
You can expect to hear the details very soon...
Chart of the Day
For long, India has been known as a military power.
But much of it is due to India's military personnel rather than the arsenal they have at hand.
Issues related to obsolete aircrafts and other military equipment is commonly in the news.
On per capita basis, India's military spending is quite low.
Scope for Increase in India's Defence Spending?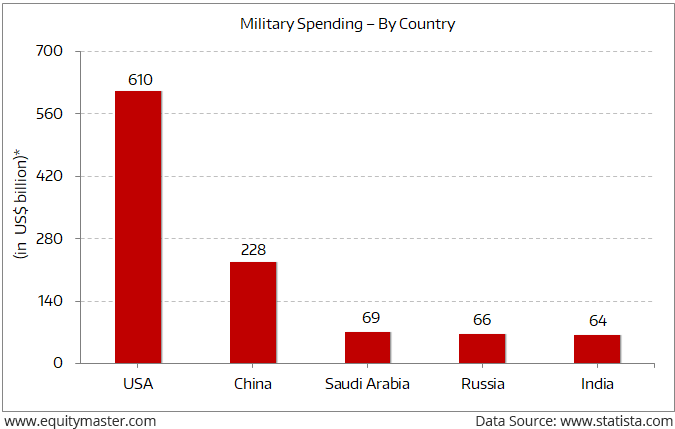 China with a comparable population, spends almost 3.5 times as much as India does on their military.
China is also spending five times as much on R&D as we do. It's also now exporting twice the amount it was just five years ago.
Will India follow a similar pattern to China in terms of increasing R&D and exports?
With India's big policy push in defence, I believe this difference between India and China is bound to reduce with time.
For investors, this means a big opportunity to benefit from privatisation and increased government spending in this sector.
Warm regards,



Tanushree Banerjee
Editor and Research Analyst, The 5 Minute WrapUp
PS: Tanushree Banerjee, editor of StockSelect, has uncovered the 3 stocks that are best placed to ride the boom in India's defense industry. She is ready to reveal the names very soon!
Copyright © Equitymaster Agora Research Private Limited. All rights reserved.
Any act of copying, reproducing or distributing this newsletter whether wholly or in part, for any purpose without the permission of Equitymaster is strictly prohibited and shall be deemed to be copyright infringement
Disclosure & Disclaimer:
Equitymaster Agora Research Private Limited (Research Analyst) bearing Registration No. INH000000537 (hereinafter referred as 'Equitymaster') is an independent equity research Company. The Author does not hold any shares in the company/ies discussed in this document. Equitymaster may hold shares in the company/ies discussed in this document under any of its other services.
This document is confidential and is supplied to you for information purposes only. It should not (directly or indirectly) be reproduced, further distributed to any person or published, in whole or in part, for any purpose whatsoever, without the consent of Equitymaster.
This document is not directed to, or intended for display, downloading, printing, reproducing or for distribution to or use by, any person or entity, who is a citizen or resident or located in any locality, state, country or other jurisdiction, where such distribution, publication, reproduction, availability or use would be contrary to law or regulation or what would subject Equitymaster or its affiliates to any registration or licensing requirement within such jurisdiction. If this document is sent or has reached any individual in such country, especially, USA, Canada or the European Union countries, the same may be ignored.
This document does not constitute a personal recommendation or take into account the particular investment objectives, financial situations, or needs of individual subscribers. Our research recommendations are general in nature and available electronically to all kind of subscribers irrespective of subscribers' investment objectives and financial situation/risk profile. Before acting on any recommendation in this document, subscribers should consider whether it is suitable for their particular circumstances and, if necessary, seek professional advice. The price and value of the securities referred to in this material and the income from them may go down as well as up, and subscribers may realize losses on any investments. Past performance is not a guide for future performance, future returns are not guaranteed and a loss of original capital may occur. Information herein is believed to be reliable but Equitymaster and its affiliates do not warrant its completeness or accuracy. The views/opinions expressed are our current opinions as of the date appearing in the material and may be subject to change from time to time without notice. This document should not be construed as an offer to sell or solicitation of an offer to buy any security or asset in any jurisdiction. Equitymaster and its affiliates, its directors, analyst and employees will not be responsible for any loss or liability incurred to any person as a consequence of his or any other person on his behalf taking any decisions based on this document.
As a condition to accessing Equitymaster content and website, you agree to our
Terms and Conditions of Use
, available here. The performance data quoted represents past performance and does not guarantee future results.
SEBI (Research Analysts) Regulations 2014, Registration No. INH000000537.

Equitymaster Agora Research Private Limited (Research Analyst) 103, Regent Chambers, Above Status Restaurant, Nariman Point, Mumbai - 400 021. India.
Telephone: +91-22-61434055. Fax: +91-22-22028550. Email: info@equitymaster.com. Website: www.equitymaster.com. CIN:U74999MH2007PTC175407