On This Day - 26 MARCH 2019
World's Cheapest Stock Set to Become a Money Spinner?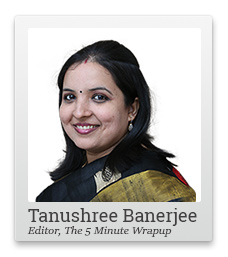 India has the world's cheapest stocks in some sectors.
Don't believe me?
Just compare the valuations of stocks like Coal India and Bharat Electronics with their global peers.
Global mining and defence majors trade at substantial premiums to these Indian PSUs.
Coal India has the largest number of captive coal fields in the world. But the stock has shed 50% of its value over past 4 years.
The company is inefficient. The government's policy making is slow. These are just two reasons why Coal India's fate has worsened.
And the world is getting environmentally conscious too. Thus, coal as an energy source is unlikely to find an important place in the future.
So, I can understand Coal India's poor run in the stock market.
Bharat Electronics, on the other hand, is a very different story. It belongs to a sector that is at an inflection point.
--- Advertisement ---


The Only Stock to Score 9.5/10 on the Smart Money Score

The Smart Money Score Rates This Stock 9.5/10!

Solid brand name, excellent management, strong cash flow...this stock seems to have it all!

It's the only company ever to have a scored a 9.5 on Sarvajeet and Radhika's Smart Money Score.

One of our favorite super investors owns a huge stake in this company...

Promoters are increasing their stake...

And what's more - the current market correction has pushed its share price down by 30%!

Making it a strong BUY on Sarvajeet's list of top stocks for 2019.

Read more about it here...
------------------------------
Just look at China's military modernisation.
Look at all the capacity it has built and is still building.
Look at all the infrastructure it has developed in Tibet.
Look at its moves in the Indian Ocean.
All this poses a serious challenge to India's security.
The alleged 'String of Pearls' is an attempt by China to bring India's peripheral states into its circle of influence.
This only adds to India's geo-political concerns.
India's defence sector, therefore, has taken centerstage in both economic and political decision making.
India's defence industry, in fact, today mirrors its Chinese counterpart in 1998.
Back then, China's defence R&D and manufacturing units were separately managed.
When the R&D division developed a product, the defence industrial ministry would assign a factory to build the equipment.
But when the factory got the blueprints, there was usually confusion.
Why?
Because they had not been involved in the design!
One of China's first defence reforms was to overturn the power of the defence industrial ministry. Its official name was the Commission for Science, Technology and Industry for National Defence (COSTIN).
Without COSTIN, the defence R&D division played a central role in China's defence manufacturing industry.
The result?
Surging growth in the innovativeness of Chinese defence industry.
In 1998, China's defence industry filed for 313 patents.
In 2008, it had gone up to 11,000 patents.
In 2010, the number went up to 15,000.
What's more, after having been an arms importer for much of its existence, Chinese defence industry is now the world's fifth largest arms exporter. Of course, it still imports a lot. But China has been a net arms exporter for much of this decade.
Out of the top 20 defence firms in 2018, seven were Chinese!
The biggest reason for this is that these companies have been helped by a captive domestic market.
India's defence behemoth, Bharat Electronics, has little access to Defence Research and Development Organisation (DRDO).
And much of India's arms requirements are imported instead of being locally sourced from companies like Bharat Electronics.
It's fundamentals are improving.
It has a debt free balance sheet.
Yet, Bharat Electronics currently trades cheaper than any other defence manufacturing firm globally.
Contrast Between Bharat Electronics' Fundamentals and Valuations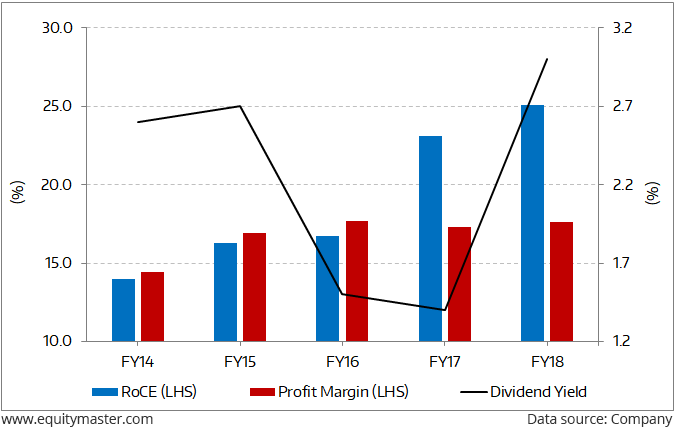 RoCE or return on capital employed is a profitability ratio that measures how efficiently a company
can generate profits from its capital employed by comparing net operating profit to capital employed.
But a lot could change hereon.
Will India's defence sector rise from this inflection point?
Will Bharat Electronics get much better valuations?
Well, I believe India is set to ride the defence wave that countries like US and China have seen in past few decades.
And I have just published a premium report with details of 3 Bullet Proof Stocks that are all set to ride India's defence boom.
If you've subscribed to my premium stock recommendation service StockSelect, click here for the report.
Warm regards,



Tanushree Banerjee
Editor and Research Analyst, The 5 Minute WrapUp
PS: Tanushree Banerjee, editor of StockSelect, has uncovered the 3 stocks that are best placed to ride the boom in India's defense industry. click here to know more...
Copyright © Equitymaster Agora Research Private Limited. All rights reserved.
Any act of copying, reproducing or distributing this newsletter whether wholly or in part, for any purpose without the permission of Equitymaster is strictly prohibited and shall be deemed to be copyright infringement
Disclosure & Disclaimer:
Equitymaster Agora Research Private Limited (Research Analyst) bearing Registration No. INH000000537 (hereinafter referred as 'Equitymaster') is an independent equity research Company. The Author does not hold any shares in the company/ies discussed in this document. Equitymaster may hold shares in the company/ies discussed in this document under any of its other services.
This document is confidential and is supplied to you for information purposes only. It should not (directly or indirectly) be reproduced, further distributed to any person or published, in whole or in part, for any purpose whatsoever, without the consent of Equitymaster.
This document is not directed to, or intended for display, downloading, printing, reproducing or for distribution to or use by, any person or entity, who is a citizen or resident or located in any locality, state, country or other jurisdiction, where such distribution, publication, reproduction, availability or use would be contrary to law or regulation or what would subject Equitymaster or its affiliates to any registration or licensing requirement within such jurisdiction. If this document is sent or has reached any individual in such country, especially, USA, Canada or the European Union countries, the same may be ignored.
This document does not constitute a personal recommendation or take into account the particular investment objectives, financial situations, or needs of individual subscribers. Our research recommendations are general in nature and available electronically to all kind of subscribers irrespective of subscribers' investment objectives and financial situation/risk profile. Before acting on any recommendation in this document, subscribers should consider whether it is suitable for their particular circumstances and, if necessary, seek professional advice. The price and value of the securities referred to in this material and the income from them may go down as well as up, and subscribers may realize losses on any investments. Past performance is not a guide for future performance, future returns are not guaranteed and a loss of original capital may occur. Information herein is believed to be reliable but Equitymaster and its affiliates do not warrant its completeness or accuracy. The views/opinions expressed are our current opinions as of the date appearing in the material and may be subject to change from time to time without notice. This document should not be construed as an offer to sell or solicitation of an offer to buy any security or asset in any jurisdiction. Equitymaster and its affiliates, its directors, analyst and employees will not be responsible for any loss or liability incurred to any person as a consequence of his or any other person on his behalf taking any decisions based on this document.
As a condition to accessing Equitymaster content and website, you agree to our
Terms and Conditions of Use
, available here. The performance data quoted represents past performance and does not guarantee future results.
SEBI (Research Analysts) Regulations 2014, Registration No. INH000000537.

Equitymaster Agora Research Private Limited (Research Analyst) 103, Regent Chambers, Above Status Restaurant, Nariman Point, Mumbai - 400 021. India.
Telephone: +91-22-61434055. Fax: +91-22-22028550. Email: info@equitymaster.com. Website: www.equitymaster.com. CIN:U74999MH2007PTC175407