On This Day - 1 APRIL 2017
An Unusually Good Year for Small Caps

In the Issue

» Time to Buy GST Stocks by the Fistful?
» Money is Made When You Buy, Not When You Sell
» Weekly market roundup
» And more...
Have the 'get-rich-quick' rubber and paper small caps caught your fancy yet?
Little-known companies selling nothing more than commodities - rubber and paper - are the newest rock stars in the small-cap space. Many of them have become mutibaggers in the past few weeks. And as many as fifteen paper stocks have offered 100%-plus returns in the past twelve months.
So don't be surprised if you hear investors and brokers talking about huge upside in these little-known businesses. The stocks may continue to act like Pied Piper to gullible investors for a while. At least, until the commodities show their true colours.
Small caps have indeed had a stellar run in the past twelve months. They trumped the performance of their larger peers hands down. What is more, a huge proportion of small caps offered reasonable and positive returns. Among the 775 stocks in the index, 86 surged more than 100%, 167 gained 50-100%, and 312 stocks gained up to 50%. This means almost seven out of ten small caps made money in the past year. It's fair to say financial year 2016-17 was an unusually good year for small caps.
Almost two decades ago, Warren Buffett expressed his regret at not being able to buy small caps...
If I was running $1 million today, or $10 million for that matter, I'd be fully invested. Anyone who says that size does not hurt investment performance is selling. The highest rates of return I've ever achieved were in the 1950s. I killed the Dow. You ought to see the numbers. But I was investing peanuts then.

It's a huge structural advantage not to have a lot of money. I think I could make you 50% a year on $1 million. No, I know I could. I guarantee that.

The universe I can't play in has become more attractive than the universe I can play in. I have to look for elephants. It may be that the elephants are not as attractive as the mosquitoes. But that is the universe I must live in.
And trust me, despite his stellar track record, Buffett would love to be in your shoes today. After all, not just Buffett, but Peter Lynch, Joel Greenblatt, and many others started their careers investing in small caps.
When I asked my colleague Richa the one advice she would like to give to small-cap investors today, she had a firm warning...
If you are relying on the so-called bull rally to make your millions, you could be heading for trouble. Sooner or later, investors will come back to their senses and dump companies that don't offer value. I have seen small caps skyrocket in a matter of weeks. And I have seen them tumble in a matter of days. So if your small cap stock is not backed by a solid business, then you should be worried.
Richa has analysed small caps for almost eight years. She knows that views on small caps are prone to mistakes and misjudgments. Not all stocks can be rewarding. Some will be value traps. Some will be outright value destroyers. But some will be winners. And they will be your real wealth creators.
As long as you buy small caps that pass through a rigorous checklist, or you buy with the discipline of a deep value investor, every year could be a great year to buy small caps.
--- Advertisement ---
REVEALED: Equitymaster's Biggest Secrets...

Last year, we published a 220-Page hardbound book - Equitymaster's Secrets that revealed some of the Biggest Lessons from our entire 20-Year stock picking journey.

Since launch, over 13,000 readers have already claimed their copy of this exclusive book...Virtually Free!

And now, you have the same opportunity.

So, hurry...Claim your copy today, and we will have it delivered to any address in India.

Interested? Click here for full details...
------------------------------
02:30

Chart of the Day

For the third time in the past five years, smallcap stocks outperformed their larger peers by a wide margin. Now, one year is too short a time frame to measure the true return potential from small caps. More often than not, these quick gains are backed by speculation and aren't sustainable. We typically recommend to buy small caps with at least a three to five-year perspective.

But having said that, the proportion of solid small caps with massive fundamental upside is about 14-15% of the index. Zeroing-in on them requires skill in valuing the businesses, experience in judging small-cap managements, and the guts to say 'no' 85% of the time.

Hidden Treasure owes its massive outperformance to the smallcap index to these.
Yet Another Stellar Year For Smallcaps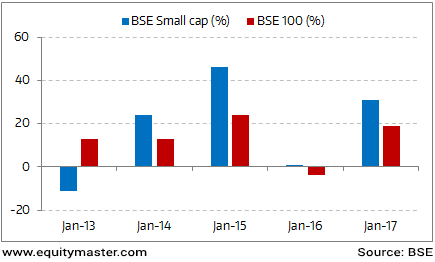 Apurva, our charting specialist and editor of Swing Trader, made an interesting point couple of days back...
In the stock market, buyers and sellers are in a constant battle. Neither side is completely informed about the intrinsic value the stocks they're haggling over.

Sometimes you may find sellers facing a situation that motivates them to sell stocks below their intrinsic values.

This usually happens during bear markets or when a stock (or a sector) is under a lot of uncertainty or negative sentiment. Such situations are priceless.

A shrewd buyer can make big money by moving quickly into stocks where sellers are highly motivated...to the point of desperation, in some cases.

Then they wait for Mr Market to revert to a degree of normalcy and they exit with a hefty profit.

As they say...money is made when you buy, not when you sell.
Over the past few months, Apurva backtested a robust system, based on nine key indicators, which can give a huge advantage in buying stocks.
And finally, his SCOREFASTTM system has thrown up its first recommendation.
On Tuesday 28 March, Rahul Shah had warned readers about the sentiment around GST.
We believe, GST can give a boost GDP growth by removing inter-state barriers and turning India into single market.

While some minor details remain to be ironed out, we don't foresee any problems in the roll-out now. What is more important is the implementation of this landmark legislation.

Now, this doesn't mean that investors should get carried away and buy 'GST stocks'. Your broker will no doubt try to sell you some. We see no reason why investors should change their strategy when GST becomes a law.
We knew that stock brokers, the media, the so-called experts on business TV, would all jump on the bandwagon and start recommending 'GST stocks'. We were right.
We believe, the intensity of the GST related headlines will get only go up in the days and weeks to come. The valuations of the so-called 'GST stocks' would be sky high when sold to gullible investors.
It's important to remember that the more irrational investors behave in the market, the more rational we should be.
No doubt GST is a landmark legislation. It's beneficial for business. But that doesn't mean investors can pay any valuation for stocks.
For some perspective on this issue, I recommend our 4th August 2016 edition of The 5 Minute WrapUp - GST Approved: Time to Buy Stocks by the Fistful?
The United Kingdom formally notified the European Union (EU) of its intention to withdraw from the bloc. This starts a two year clock of negotiations with the EU on trade and other important global economic issues. The UK contributes a sixth of the economic value generated by the European Union. UK markets ended lower by 0.3% as compared to last week.
It's easy to see how Brexit could impact India and the global economy with the rising economic uncertainties. Risk aversion will be on the rise. Capital flows will be pushed away from the emerging markets and toward key safe-haven markets including the U.S. - especially treasuries - and to Japan. This will further lower market interest rates and raise relative currency values. The higher U.S dollar also triggers additional pressure on China to float the yuan lower, as it is caught in the divergence between its two largest export markets - the EU and the US.
Back home, Indian stock markets closed higher by 0.7% over the last week. The benchmark Sensex gained 16% between April 2016 and March 2017. The euphoria in the markets in on the back of the GST Bill being tabled in Lok Sabha. The Lok Sabha signed off on the last batch of bills on the GST paving a path for unified tax across the country. Market participants expect GST to be the key game changer to bring about a structural change in the Indian economy.
Performance During the Week Ended 01st April, 2017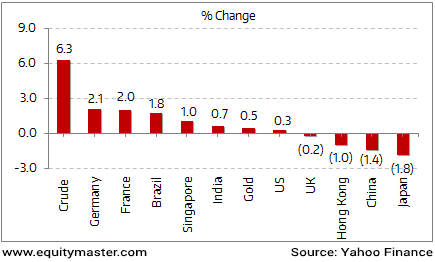 04:45

Weekend Investing Mantra

Opportunities come infrequently. When it rains gold, put out the bucket, not the thimble. - Warren Buffett

Copyright © Equitymaster Agora Research Private Limited. All rights reserved.

Any act of copying, reproducing or distributing this newsletter whether wholly or in part, for any purpose without the permission of Equitymaster is strictly prohibited and shall be deemed to be copyright infringement

Disclosure & Disclaimer:

Equitymaster Agora Research Private Limited (Research Analyst) bearing Registration No. INH000000537 (hereinafter referred as 'Equitymaster') is an independent equity research Company. The Author does not hold any shares in the company/ies discussed in this document. Equitymaster may hold shares in the company/ies discussed in this document under any of its other services.

This document is confidential and is supplied to you for information purposes only. It should not (directly or indirectly) be reproduced, further distributed to any person or published, in whole or in part, for any purpose whatsoever, without the consent of Equitymaster.

This document is not directed to, or intended for display, downloading, printing, reproducing or for distribution to or use by, any person or entity, who is a citizen or resident or located in any locality, state, country or other jurisdiction, where such distribution, publication, reproduction, availability or use would be contrary to law or regulation or what would subject Equitymaster or its affiliates to any registration or licensing requirement within such jurisdiction. If this document is sent or has reached any individual in such country, especially, USA, Canada or the European Union countries, the same may be ignored.

This document does not constitute a personal recommendation or take into account the particular investment objectives, financial situations, or needs of individual subscribers. Our research recommendations are general in nature and available electronically to all kind of subscribers irrespective of subscribers' investment objectives and financial situation/risk profile. Before acting on any recommendation in this document, subscribers should consider whether it is suitable for their particular circumstances and, if necessary, seek professional advice. The price and value of the securities referred to in this material and the income from them may go down as well as up, and subscribers may realize losses on any investments. Past performance is not a guide for future performance, future returns are not guaranteed and a loss of original capital may occur. Information herein is believed to be reliable but Equitymaster and its affiliates do not warrant its completeness or accuracy. The views/opinions expressed are our current opinions as of the date appearing in the material and may be subject to change from time to time without notice. This document should not be construed as an offer to sell or solicitation of an offer to buy any security or asset in any jurisdiction. Equitymaster and its affiliates, its directors, analyst and employees will not be responsible for any loss or liability incurred to any person as a consequence of his or any other person on his behalf taking any decisions based on this document.

As a condition to accessing Equitymaster content and website, you agree to our

Terms and Conditions of Use

, available here. The performance data quoted represents past performance and does not guarantee future results.

SEBI (Research Analysts) Regulations 2014, Registration No. INH000000537.

Equitymaster Agora Research Private Limited (Research Analyst) 103, Regent Chambers, Above Status Restaurant, Nariman Point, Mumbai - 400 021. India.
Telephone: +91-22-61434055. Fax: +91-22-22028550. Email: info@equitymaster.com. Website: www.equitymaster.com. CIN:U74999MH2007PTC175407