On This Day - 8 APRIL 2019
New-Age Investing Mantra: I Love You, But I'm NOT Taking You Home

As a little boy growing up in the early nineties, I was fascinated by cars.
Back then, owning a car was a luxury.
I remember fantasizing and discussing about my dream car with my school mates, and secretly hoping that dad would soon replace the ugly-looking Premier Padmini with a fancy car.
My enthusiasm to be behind the steering wheel was so strong, that when I was around 15 - well before the legal age to drive, I would sneakily take the car keys and go on a drive with my friends in the bylanes near my home.
It is no surprise that when I turned 18, I rushed to get my driving license.
By then, we already owned a Santro. Owning a car which once seemed like a luxury, now felt like a necessity. And I loved being in charge of the steering wheel.
But something changed as I grew up, and as the city went from being crowded to crazy.
My enthusiasm to own and drive a car went on a rapid decline, just like the share prices of Anil Dhirubhai Ambani Group (ADAG) companies. 😊
So much so that after we sold off our aged Santro two years ago, I was adamant about not replacing it with another vehicle.
I would say, 'Papa, Ola hai na, why do you want to buy a car? Parking ka tension... Maintenance ka tension... Why bother to own a car when you have so many easy, convenient options at the click-of-a-button?'
My dad was not easily convinced. He comes from the old school of thought that celebrates possession and ownership of everything. Everything he uses, he likes to own.
The youngsters of my generation, on the other hand, are relatively much more comfortable renting things.
Recently, my sister-in-law was in Mumbai for a short vacation.
Before she left, she wanted to visit some famous temples of south Mumbai.
A few years ago, I had taken her on this little intra-city pilgrimage in our Santro.
But this time, having no four-wheeler of our own, my wife insisted we rent a self-drive car for a day.
With a few taps on my smartphone, I booked a Hyundai i20 Elite from one of the leading self-drive car rental company.
In less than two hours, the car was delivered at my location...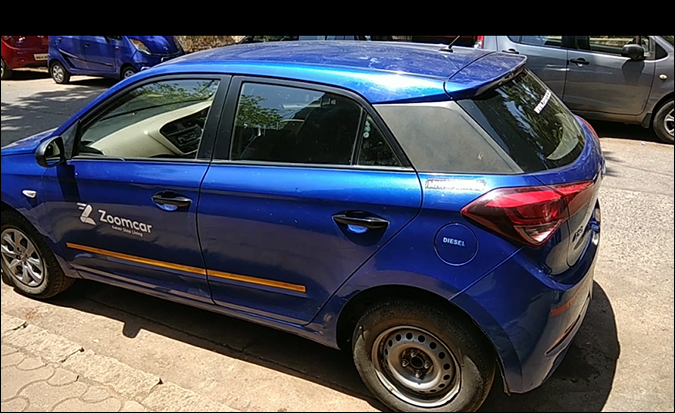 Ever since the Hyundai i20 was launched, I've been an admirer; at one point even flirting with the idea of buying it.
And now finally, I had the opportunity to ride the elegant beauty.
But as I labored around city at a snail's pace, it struck me how the vehicular population in the city had gone way off limits. There were simply too many vehicles competing for the dismal road infrastructure of Mumbai. And the biggest challenge of all was to find a place to park.
Just before returning the dazzling i20, I said to her, 'Baby, I love you, but I'm not going to take you home.' 😉
For the first time since we sold our car, even my dad agreed that we could do without owning a car. What a big shift!
Possessing a car was once seen as a luxury. Then a necessity. And now, slowly, it seems redundant.
I wonder how many more people are having these same thoughts and renouncing the idea of owning a car.
What is compelling is that this revolution is not just happening at the consumer's end. Even the business landscape is rapidly moving in the same direction.
Many of the most successful businesses are growing their businesses without owning much. In financial lingo, we call them asset-light businesses.
Some of the smartest businesses are doing away with the old-school practice of owning every piece of asset by blocking a hell lot of capital and getting bogged down by heavy debt burdens. Instead, they're choosing to be lean, nimble, and agile in a rapidly changing business and technological environment.
This approach helps them sail through sectoral headwinds, external shocks, and adverse business cycles with relative ease. At the same time, they are able to stay ahead of the curve and channelise their resources in areas where they can create maximum value.
In fact, my colleagues Sarvajeet Bodas and Radhika Pandit, who are co-editors of Smart Money Secrets, strongly believe in the philosophy of 'less is more'.
Here's what Sarvajeet wrote in a recent editorial:
'Traditionally, companies believed that owning more was equal to being more. With these companies, it was more plants and machinery, properties, equipment and so on.

To achieve global scale, these companies needed tremendous amount of capital. It was an 'asset-heavy' approach.

Back then, it was counterintuitive to have an asset-light business model.

No wonder, in 2006, Microsoft was the only asset-light company among the top five companies in the world by market capitalisation. The other four were Exxon Mobil, GE, TOTAL, and Citi Bank.

Fast forward to 2019.

Four out of five companies - Apple, Alphabet, Amazon, and Microsoft are asset-light.

Surely, there has been a huge transformation in the way business is done globally and India is no exception.

In the digital age, physical assets are burdensome.

Digital technology gives us newer, faster, cheaper, and more convenient options.

Now, asset-light is the new way to go.'
I couldn't agree more. Asset-light is the new success mantra.
This is the reason why Sarvajeet and Radhika are often on the lookout for businesses that don't own too much.
From what I hear, they've uncovered 3 lucrative asset-light stocks you could buy now.
Chart of the Day
After the dream bull market of 2017, 2018 turned out to be a wet blanket.
Small and mid-cap stocks were the first ones in the line of fire, and also the worst hit.
The benchmark indices, however, managed to hold on longer. The Sensex even went on to hit an all-time high around the end of August. But the Indian markets fell sharply during September, triggered by the unfolding of the IL&FS crisis. The market correction got worse in October as the US-China trade-war tensions and liquidity tightness in the domestic NBFC sector severely dented market sentiment.
In November 2018, the markets attempted a short-lived turnaround, but it wasn't enough to bring back the bulls.
Subsequently, the markets treaded in an indecisive zone.
But since March 2019, the Indian markets have rallied sharply. As a result, India managed to outperform most of the other major economies during the second half of the financial year 2018-19 (H2: 2018-19).
The chart of the day shows the performance of the some of the major world economies during H2: 2018-19 in dollar terms.
Indian Stock Markets Outperform Most Peers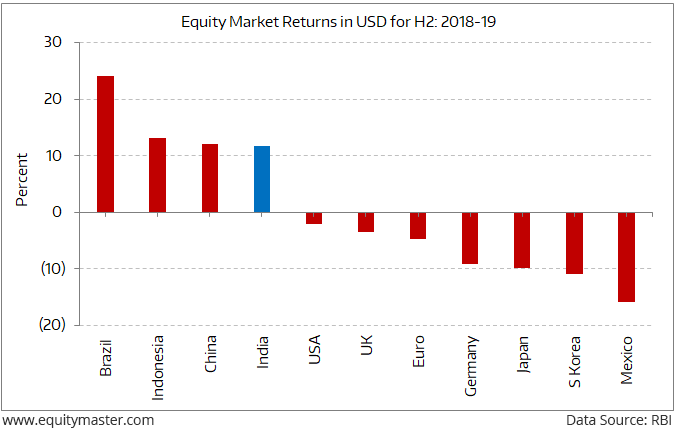 From October 2018 to March 2019, the BSE Sensex increased by 6.8% in rupee terms and 11.7% in dollar terms.
Brazil, Indonesia and China are the only other major economies that did better than India during this period.
Will the trend continue going forward? Let's wait and watch...
Warm regards,



Ankit Shah
Editor and Research Analyst, Equitymaster Insider
PS: Radhika and Sarvajeet, co-editors of Smart Money Secrets, have uncovered the 3 stocks with massive wealth building potential in the long-term. Click here to know more...
Copyright © Equitymaster Agora Research Private Limited. All rights reserved.
Any act of copying, reproducing or distributing this newsletter whether wholly or in part, for any purpose without the permission of Equitymaster is strictly prohibited and shall be deemed to be copyright infringement
Disclosure & Disclaimer:
Equitymaster Agora Research Private Limited (Research Analyst) bearing Registration No. INH000000537 (hereinafter referred as 'Equitymaster') is an independent equity research Company. The Author does not hold any shares in the company/ies discussed in this document. Equitymaster may hold shares in the company/ies discussed in this document under any of its other services.
This document is confidential and is supplied to you for information purposes only. It should not (directly or indirectly) be reproduced, further distributed to any person or published, in whole or in part, for any purpose whatsoever, without the consent of Equitymaster.
This document is not directed to, or intended for display, downloading, printing, reproducing or for distribution to or use by, any person or entity, who is a citizen or resident or located in any locality, state, country or other jurisdiction, where such distribution, publication, reproduction, availability or use would be contrary to law or regulation or what would subject Equitymaster or its affiliates to any registration or licensing requirement within such jurisdiction. If this document is sent or has reached any individual in such country, especially, USA, Canada or the European Union countries, the same may be ignored.
This document does not constitute a personal recommendation or take into account the particular investment objectives, financial situations, or needs of individual subscribers. Our research recommendations are general in nature and available electronically to all kind of subscribers irrespective of subscribers' investment objectives and financial situation/risk profile. Before acting on any recommendation in this document, subscribers should consider whether it is suitable for their particular circumstances and, if necessary, seek professional advice. The price and value of the securities referred to in this material and the income from them may go down as well as up, and subscribers may realize losses on any investments. Past performance is not a guide for future performance, future returns are not guaranteed and a loss of original capital may occur. Information herein is believed to be reliable but Equitymaster and its affiliates do not warrant its completeness or accuracy. The views/opinions expressed are our current opinions as of the date appearing in the material and may be subject to change from time to time without notice. This document should not be construed as an offer to sell or solicitation of an offer to buy any security or asset in any jurisdiction. Equitymaster and its affiliates, its directors, analyst and employees will not be responsible for any loss or liability incurred to any person as a consequence of his or any other person on his behalf taking any decisions based on this document.
As a condition to accessing Equitymaster content and website, you agree to our
Terms and Conditions of Use
, available here. The performance data quoted represents past performance and does not guarantee future results.
SEBI (Research Analysts) Regulations 2014, Registration No. INH000000537.

Equitymaster Agora Research Private Limited (Research Analyst) 103, Regent Chambers, Above Status Restaurant, Nariman Point, Mumbai - 400 021. India.
Telephone: +91-22-61434055. Fax: +91-22-22028550. Email: info@equitymaster.com. Website: www.equitymaster.com. CIN:U74999MH2007PTC175407