On This Day - 26 JUNE 2019
Our Latest Recommendation: A High-Quality MNC Pharma Stock

In Smart Money Secrets, Radhika and I aim to recommend only the highest-quality companies.
For this, we keep a hawk-eye on the investments of India's top 40+ super investors.
It's an illustrious list of exceptional fund managers, investing gurus, PIPE (Private Investment in Public Equity) funds, and global super investors.
They invest for the long-term.
They pick companies with strong financials, robust cash flows, and healthy balance sheets.
They also focus on the quality of the management.
For us, all this is just the starting point. Basically, this is our first level filter.
In addition to all this, we use our proprietary tool Smart Money ScoreTM. It helps us reject companies with cooked books of accounts and questionable management.
With this, we get a limited number of good quality companies to choose from.
---

Advertisement

---
Nearly 2,000 Copies Claimed So Far…Virtually For FREE!
Nearly 2,000 copies of Tanushree's new hardbound book have been claimed so far.

It's selling on Amazon for Rs 1,950 right now.

But you could claim your copy now…virtually FREE!

Click here to find out how…
------------------------------
This is why, you won't find even a single Smart Money Secrets stock with a corporate governance issue.
This month's stock recommendation is the same. We are recommending an MNC Pharma stock.
This is our second pharma recommendation. Both have one thing in common.
They both focus on the Indian domestic pharma market.
Why the domestic market?
Many of the leading pharma companies have reported a double-digit growth in their domestic sales. Going forward, we expect the domestic market to continue its double-digit growth rate.
This is on the back of better access to healthcare, new product launches, more hospitals, e-pharmacies, and more insurance coverage.
Whereas companies that are export-focused, particularly to the US market, are on the back foot.
Why?
There is price erosion is the US. This is due to the consolidation among distributors.
Earlier, there were eight distributors in the US. This came down to just three. So now, the distributors have better bargaining power.
Also, the USFDA has improved its pace of grating approvals.
This has resulted in rising competition as well as pressure on pricing.
Apart from all this, the regulatory issues and currency movements have negatively impacted the short-term outlook for export-oriented pharma players.
Coming to the MNC pharma space, these companies have under gone a transformation.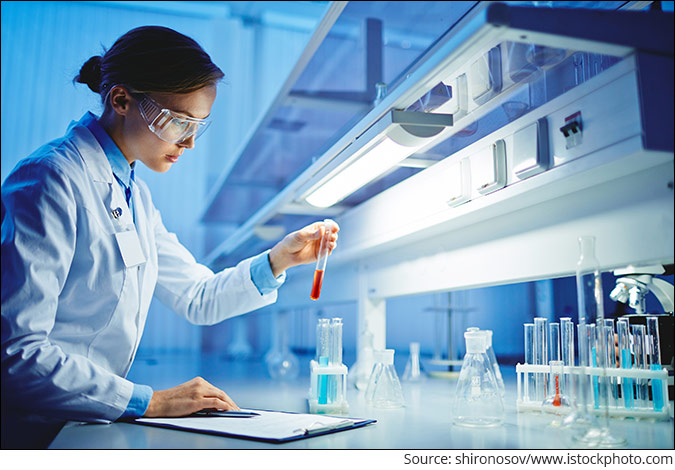 Earlier they were just marketing arms for their parent's patented drugs.
Now, they are expanding their presence in India. They are adding to their sales force and rolling out new products.
What's more, in the MNC pharma space, there is only a limited impact of foreign regulations. Also, these companies have a strong portfolio of brands with market leadership.
They have a strong balance sheet with zero debt. The high dividend payout is the icing on the cake.
The only thing that remains is to buy them at the right price. We are recommending one such MNC pharma company this month.
Strong product brands, a cash cow OTC business, and a robust distribution network, are just some of its highlights.
It manufactures most products in-house. This allows for better margins, due to lower costs, compared to its MNC peers.
We recommended the stock on Monday to our Smart Money Secrets subscribers.
Subscribers can click here to view the recommendation report.
And if you haven't signed up for Smart Money Secrets, you can do so here.
Happy Quality Investing!
Chart of the Day
When it comes to stock market performance, MNCs have outperformed the broader market.
The Nifty has a MNC index. This index comprises 15 listed companies. The foreign shareholding in them is over 50% and/or the management control is vested in the foreign company.
This Nifty MNC Index has outperformed the Nifty 50 index in the last five years.
Nifty MNC Index Outperforms the Benchmark Index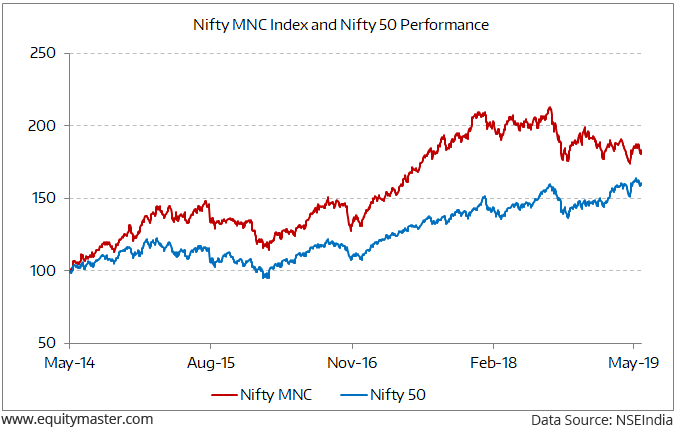 Why the outperformance?
Generally, MNCs have a vast global experience. These companies have weathered the competition in many markets across the world.
Also, MNCs generally have strong parentage. This helps create strong brands and gain market share.
Not to mention MNCs have strong balance sheets. This brings stability during times of market volatility.
Similarly, in the past, MNCs have demonstrated good capital allocation. Hence they, consistently delivered high returns on capital.
Finally, MNCs typically have high standards when it comes to board composition, corporate governance, and operational efficiency. All this helps to maximise shareholder wealth.
In Smart Money Secrets, we recommended such a company from the MNC space.
If you've subscribed to Smart Money Secrets, please click here to view the recommendation report.
If you haven't subscribed to Smart Money Secrets yet, you can access the report by signing up here.
Warm regards,


Sarvajeet Bodas ,
Co-editor and Research Analyst, Smart Money Secrets
PS: Sarvajeet Bodas and Radhika Pandit, co-editors of Smart Money Secrets, have recommended a great MNC pharma stock with significant upside. If you haven't subscribed to Smart Money Secrets yet... you can do so here.
Copyright © Equitymaster Agora Research Private Limited. All rights reserved.
Any act of copying, reproducing or distributing this newsletter whether wholly or in part, for any purpose without the permission of Equitymaster is strictly prohibited and shall be deemed to be copyright infringement
Disclosure & Disclaimer:
Equitymaster Agora Research Private Limited (Research Analyst) bearing Registration No. INH000000537 (hereinafter referred as 'Equitymaster') is an independent equity research Company. The Author does not hold any shares in the company/ies discussed in this document. Equitymaster may hold shares in the company/ies discussed in this document under any of its other services.
This document is confidential and is supplied to you for information purposes only. It should not (directly or indirectly) be reproduced, further distributed to any person or published, in whole or in part, for any purpose whatsoever, without the consent of Equitymaster.
This document is not directed to, or intended for display, downloading, printing, reproducing or for distribution to or use by, any person or entity, who is a citizen or resident or located in any locality, state, country or other jurisdiction, where such distribution, publication, reproduction, availability or use would be contrary to law or regulation or what would subject Equitymaster or its affiliates to any registration or licensing requirement within such jurisdiction. If this document is sent or has reached any individual in such country, especially, USA, Canada or the European Union countries, the same may be ignored.
This document does not constitute a personal recommendation or take into account the particular investment objectives, financial situations, or needs of individual subscribers. Our research recommendations are general in nature and available electronically to all kind of subscribers irrespective of subscribers' investment objectives and financial situation/risk profile. Before acting on any recommendation in this document, subscribers should consider whether it is suitable for their particular circumstances and, if necessary, seek professional advice. The price and value of the securities referred to in this material and the income from them may go down as well as up, and subscribers may realize losses on any investments. Past performance is not a guide for future performance, future returns are not guaranteed and a loss of original capital may occur. Information herein is believed to be reliable but Equitymaster and its affiliates do not warrant its completeness or accuracy. The views/opinions expressed are our current opinions as of the date appearing in the material and may be subject to change from time to time without notice. This document should not be construed as an offer to sell or solicitation of an offer to buy any security or asset in any jurisdiction. Equitymaster and its affiliates, its directors, analyst and employees will not be responsible for any loss or liability incurred to any person as a consequence of his or any other person on his behalf taking any decisions based on this document.
As a condition to accessing Equitymaster content and website, you agree to our
Terms and Conditions of Use
, available here. The performance data quoted represents past performance and does not guarantee future results.
SEBI (Research Analysts) Regulations 2014, Registration No. INH000000537.

Equitymaster Agora Research Private Limited (Research Analyst) 103, Regent Chambers, Above Status Restaurant, Nariman Point, Mumbai - 400 021. India.
Telephone: +91-22-61434055. Fax: +91-22-22028550. Email: info@equitymaster.com. Website: www.equitymaster.com. CIN:U74999MH2007PTC175407