On This Day - 28 JUNE 2018
If Your Stocks Are Falling What Should You Do Now?


Editor's note: Dear reader, we are celebrating 500,000 downloads of the Equitymaster Android App! Thank you for your support. To show our appreciation, we have a great offer for you today. If you download the Equitymaster Android App... you will be immediately eligible to receive our premium report - How to Pick Money-Spinning Stocks Like Warren Buffett (worth Rs 950) for FREE! You will also be eligible for exclusive 'App Only' offers...the latest offer will be available tomorrow!

All this is in addition to the complete Equitymaster experience on your Android smartphone. All our recommendations, two e-newsletters - The 5 Minute WrapUp and Profit Hunter - Chart of the Day, Intelligent Portfolio Tracker, the daily market commentary and more. If you're reading this on your mobile, head over to Google Play Store and download the app right away!
---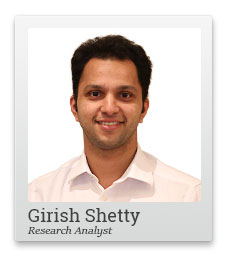 The Sensex is close to its all-time highs. In fact, it's just 2.2% from its lifetime high made in January this year.
So is everything good? Why are people not happy?
Many investors have seen a fall of 20-30% in their portfolios.
Mainly because mid and small caps have taken a huge beating.
The mid-cap index and small-cap index are down by 14.2% and 18.7% respectively from their 52-week highs.
These were the fancied stocks of the 2017 bull run.
Why the difference between large caps and mid/small caps?
It is because the run up was spectacular. In 2017, the Sensex was up 28% while mid caps and small caps returned 47% and 58% respectively.
But what has caused this sudden correction in mid caps and small caps?
Apart from their steep valuations, corporate governance issues have dented investor's confidence.
Cases like Vakrangee, Manpasand Beverages, Shilpi Cables have cast a shadow of suspicion over the entire mid and small cap space.
--- Advertisement ---


Grab Reliable Small Companies Before Others Find Out About Them

Did you ever find yourself thinking, "We wish we had invested in Titan while it was still young?" Or even in Pidilite for that matter?

These were once-unknown-small companies that have grown rapidly in the last decade to become household names in India today. But there was no way you could have known that sooner… until now…

Through our Hidden Treasure service, we're providing opportunities like that today.

Click here to know all about Hidden Treasure…
------------------------------
Corporate governance is an issue that you should never compromise on. A business will have its ups and downs.
But corporate governance problems will eventually bring the company down.
So what should you do?
First, take a good look at your portfolio. Are any of your stocks going through these issues? Or have they just fallen with the rest of the market?
In the first case, it's better to sell and move on rather than hope for a revival. Management with corporate governance issues seldom change their ways. Even if the current issue is resolved, rest assured, there'll be more coming your way in the future.
But if it's the latter...then the negative sentiment in the market can be a blessing in disguise. Corrections like this give you a good entry point into high-quality stocks.
Fortunately, that seems to be the case with the upcoming ValuePro recommendation.
I had recently written to you about how a meeting I had with the management of a pharma company.
Apart from a clean track record, its track record of execution gives me confidence. A new-generation has taken this family-owned business to greater heights. Everything they've done in the past has set them apart from the herd.
Such a dedicated focus on the business has ensured the highest gross margins for the company in its sector. The company ticks the right boxes in almost all the important criteria.
And the results have been impressive. See the Chart of the Day below.
The correction in the market has provided a good entry point.
In these times of increasing corporate governance issues mainly in small and mid caps, it's quality that matters.
Chart of the Day
In ValuePro, we look at stocks which you can buy and forget for the next 7 to 10 years.
These stocks should typically have a big margin of safety, be fundamentally sound, and can generate a 3-5x return over a 10-year period.
The recent correction in mid and small caps has presented such an opportunity. The stock has all the fundamentals in place that we need in a ValuePro stock.
A Company with an Impressive Track Record
Run by an able management, this company has an impressive track record.
With its recent entry into a new lucrative geography, we believe it has a long runway for growth ahead of it.
Regards,



Girish Shetty
Research Analyst, ValuePro
PS: For over 16 years, members of the exclusive Bombay Investing Society have received safe stock recommendations. These stocks went on to deliver double and triple digit returns with a success rate of 74%. The Bombay Investing Society is accepting new members. You can sign up right away here.
Copyright © Equitymaster Agora Research Private Limited. All rights reserved.
Any act of copying, reproducing or distributing this newsletter whether wholly or in part, for any purpose without the permission of Equitymaster is strictly prohibited and shall be deemed to be copyright infringement
Disclosure & Disclaimer:
Equitymaster Agora Research Private Limited (Research Analyst) bearing Registration No. INH000000537 (hereinafter referred as 'Equitymaster') is an independent equity research Company. The Author does not hold any shares in the company/ies discussed in this document. Equitymaster may hold shares in the company/ies discussed in this document under any of its other services.
This document is confidential and is supplied to you for information purposes only. It should not (directly or indirectly) be reproduced, further distributed to any person or published, in whole or in part, for any purpose whatsoever, without the consent of Equitymaster.
This document is not directed to, or intended for display, downloading, printing, reproducing or for distribution to or use by, any person or entity, who is a citizen or resident or located in any locality, state, country or other jurisdiction, where such distribution, publication, reproduction, availability or use would be contrary to law or regulation or what would subject Equitymaster or its affiliates to any registration or licensing requirement within such jurisdiction. If this document is sent or has reached any individual in such country, especially, USA, Canada or the European Union countries, the same may be ignored.
This document does not constitute a personal recommendation or take into account the particular investment objectives, financial situations, or needs of individual subscribers. Our research recommendations are general in nature and available electronically to all kind of subscribers irrespective of subscribers' investment objectives and financial situation/risk profile. Before acting on any recommendation in this document, subscribers should consider whether it is suitable for their particular circumstances and, if necessary, seek professional advice. The price and value of the securities referred to in this material and the income from them may go down as well as up, and subscribers may realize losses on any investments. Past performance is not a guide for future performance, future returns are not guaranteed and a loss of original capital may occur. Information herein is believed to be reliable but Equitymaster and its affiliates do not warrant its completeness or accuracy. The views/opinions expressed are our current opinions as of the date appearing in the material and may be subject to change from time to time without notice. This document should not be construed as an offer to sell or solicitation of an offer to buy any security or asset in any jurisdiction. Equitymaster and its affiliates, its directors, analyst and employees will not be responsible for any loss or liability incurred to any person as a consequence of his or any other person on his behalf taking any decisions based on this document.
As a condition to accessing Equitymaster content and website, you agree to our
Terms and Conditions of Use
, available here. The performance data quoted represents past performance and does not guarantee future results.
SEBI (Research Analysts) Regulations 2014, Registration No. INH000000537.

Equitymaster Agora Research Private Limited (Research Analyst) 103, Regent Chambers, Above Status Restaurant, Nariman Point, Mumbai - 400 021. India.
Telephone: +91-22-61434055. Fax: +91-22-22028550. Email: info@equitymaster.com. Website: www.equitymaster.com. CIN:U74999MH2007PTC175407