On This Day - 9 AUGUST 2018
The Virat Kohli Effect in the Sensex is Throwing Up Buying Opportunities Now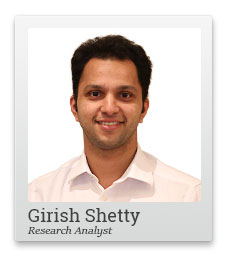 Watching India's recent test match, I felt a sense of déjà vu.
It was the 90's all over again. Then there was Sachin Tendulkar who was the lone man fighting. Today it is Virat Kohli.
In the recently concluded test match, while Virat Kohli scored 200 runs, the other 10 players managed a total of 214.
If he was looking for support, there wasn't any. Despite his heroics, India lost the match.
The stock market these days is going the same way. Sensex is at an all-time high.
But something seems amiss. There is no euphoria celebrating these historic highs.
The Sensex is up but no one seems happy.
You dear reader might also be having the same question as everyone - 'Why aren't my stocks performing even when the market is high?'
I assure you, you are not the only one who's confused.
A closer look at the index and you'll see the Virat Kohli effect. There are 10-12 stocks which have outperformed the rest comfortably.
Returns from the Top 12 Sensex Stocks - 2018
| Name | Share Price - 1st Jan 2018 | Share Price - 8th Aug 2018 | YTD Return |
| --- | --- | --- | --- |
| TCS | 1,327.33 | 1,968.1 | 48% |
| Infosys | 1,034.55 | 1,369.4 | 32% |
| Reliance | 911.55 | 1,183.55 | 30% |
| HUL | 1,347.25 | 1,730.4 | 28% |
| Kotak Bank | 1,001.65 | 1,283.5 | 28% |
| M&M | 745.5 | 926.3 | 24% |
| Asian Paints | 1,146.5 | 1,419.6 | 24% |
| IndusInd | 1,626.25 | 1,995.2 | 23% |
| Yes Bank | 313.2 | 381.3 | 22% |
| HDFC | 1,687.35 | 1,972 | 17% |
| HDFC Bank | 1,857 | 2,132.15 | 15% |
| ITC | 262.95 | 301.2 | 15% |
Since the start of the year, the top 12 performing stocks of the Sensex have given a return of 25%. The rest have declined by 12% on an average.
The mid and small cap indices are down by 9% and 14% respectively since the start of the year.
--- Advertisement ---


Do You Invest Like Burger King or Like McDonald's?

Did you know McDonald's often spends a great deal of time, effort, and money in selecting the location for their restaurants.

But do you know what Burger King does instead?

Burger King simply sets up its outlets right across the street from every McDonald's - thus getting the benefits of its rival's research for free!

This famous investor, follows the 'Burger King' approach to investing - 'borrowing' ideas from the likes of Warren Buffet, Charlie Munger and others.

Kunal Thanvi (Research Analyst) has figured out a way to track this 'Burger King' investor, along with over 40 others.

Find out how.
------------------------------
With the constant flow of money coming in, mutual funds have also taken the safer option and resorted to large caps. As a result, a part of the Index is constantly on the way up.
Even among these 12 stocks, there is a heavy concentration among a few sectors. Most of these stocks belong to the Banking, IT and consumer facing sectors.
Imagine if the banking sector faces a roadblock? What happens if Trump's protectionist policies affect IT companies? Where would fund managers go then in that case?
It is foolhardy to expect these 12 companies to do well forever. But with the bubble slowly but surely building up, if they don't meet the market's expectations, the fall might be hard and fast.
What should you do in such a situation?
You might be tempted to follow the herd into these top 10-12 Sensex stocks.
But this where the small retail investor loses out. Fear of Missing Out (FOMO) is too real. Valuations go for a toss. We start looking for opportunities to make up money quickly.
Unfortunately, more money is lost when we try to recover lost ground.
You might enter a stock at the peak and face the brunt of the market correction that follows.
I wrote to you about doing nothing in the markets.
The difficulty in staying put - and constantly feeling the need to do something - is a commonly-felt human experience.

We are conditioned to be busy, look busy.

People associate doing nothing with being lazy.

It is wired in our behavior to be doing something all the time.

We encounter this in the investing world as well.

When there is a correction, we feel the need to constantly monitor and do something with our portfolio - and end up making irrational decisions.

That's why we see people tuned into financial news channels 24/7 - waiting for updates on the stocks they hold; watching the tickers and charts and talking heads like they're lives depend on it.

Often, we tend to do the exact opposite of what we need to do.

Try going to someone for advice on a stock - just to see what happens. If the person says, 'Do nothing' almost every time, he might just be the right person to guide you. On the other hand, someone who is giving you the latest 'hot stock pick' every day of the week is just the guy to avoid.
'Doing nothing' is one of the important things to 'do' sometimes.
Sit back and evaluate your investment process. Make a note of what you've done right and where you've gone wrong.
I can tell you what we're doing. The recent correction has given us time to focus on top quality stocks without worrying about missing out.
Attending Annual General Meetings (AGMs) of various companies, evaluating their business prospects and waiting for the right time for valuations to turn in our favor.
We believe there will be opportunities to enter quality companies soon. And we will be ready to act on them.
Chart of the Day
The Indian stock market has had a hard time of it in 2018.
But a look at the Sensex would suggest just the opposite. The BSE Sensex is up by 11.4% in the current year.
The real picture can't be further from the truth. Only 12 stocks are responsible for Sensex touching their lifetime highs. TCS, Infosys, Reliance along with few other stocks have led to this outperformance.
The top 12 stocks have returned 25.5% on an average while the other 19 stocks in the Index have declined by 12% on an average.
Sensex Return Skewed by Top 12 Stocks
Corporate governance issues at mid and small cap companies have led to their corrections from sky high valuations a year ago.
Even among Sensex stocks, Tata Motors, Vedanta, and Bharti Airtel have performed poorly due to structural issues in their businesses.
What happens when the top 12 fail to meet the market's expectations?
There is a strong possibility they might take down the other 19 stocks and the index further with them. In such a situation, despite the recent correction, mid and small caps won't be safe either.
Regards,



Girish Shetty
Research Analyst, ValuePro
PS: For over 16 years, tens of thousands of members of Tanushree Banerjee's StockSelect have received safe stock recommendations that generated double and triple digit returns...with a success rate of 74%. You too can receive these recommendations directly in your inbox. Sign up for StockSelect right away...
Copyright © Equitymaster Agora Research Private Limited. All rights reserved.
Any act of copying, reproducing or distributing this newsletter whether wholly or in part, for any purpose without the permission of Equitymaster is strictly prohibited and shall be deemed to be copyright infringement
Disclosure & Disclaimer:
Equitymaster Agora Research Private Limited (Research Analyst) bearing Registration No. INH000000537 (hereinafter referred as 'Equitymaster') is an independent equity research Company. The Author does not hold any shares in the company/ies discussed in this document. Equitymaster may hold shares in the company/ies discussed in this document under any of its other services.
This document is confidential and is supplied to you for information purposes only. It should not (directly or indirectly) be reproduced, further distributed to any person or published, in whole or in part, for any purpose whatsoever, without the consent of Equitymaster.
This document is not directed to, or intended for display, downloading, printing, reproducing or for distribution to or use by, any person or entity, who is a citizen or resident or located in any locality, state, country or other jurisdiction, where such distribution, publication, reproduction, availability or use would be contrary to law or regulation or what would subject Equitymaster or its affiliates to any registration or licensing requirement within such jurisdiction. If this document is sent or has reached any individual in such country, especially, USA, Canada or the European Union countries, the same may be ignored.
This document does not constitute a personal recommendation or take into account the particular investment objectives, financial situations, or needs of individual subscribers. Our research recommendations are general in nature and available electronically to all kind of subscribers irrespective of subscribers' investment objectives and financial situation/risk profile. Before acting on any recommendation in this document, subscribers should consider whether it is suitable for their particular circumstances and, if necessary, seek professional advice. The price and value of the securities referred to in this material and the income from them may go down as well as up, and subscribers may realize losses on any investments. Past performance is not a guide for future performance, future returns are not guaranteed and a loss of original capital may occur. Information herein is believed to be reliable but Equitymaster and its affiliates do not warrant its completeness or accuracy. The views/opinions expressed are our current opinions as of the date appearing in the material and may be subject to change from time to time without notice. This document should not be construed as an offer to sell or solicitation of an offer to buy any security or asset in any jurisdiction. Equitymaster and its affiliates, its directors, analyst and employees will not be responsible for any loss or liability incurred to any person as a consequence of his or any other person on his behalf taking any decisions based on this document.
As a condition to accessing Equitymaster content and website, you agree to our
Terms and Conditions of Use
, available here. The performance data quoted represents past performance and does not guarantee future results.
SEBI (Research Analysts) Regulations 2014, Registration No. INH000000537.

Equitymaster Agora Research Private Limited (Research Analyst) 103, Regent Chambers, Above Status Restaurant, Nariman Point, Mumbai - 400 021. India.
Telephone: +91-22-61434055. Fax: +91-22-22028550. Email: info@equitymaster.com. Website: www.equitymaster.com. CIN:U74999MH2007PTC175407