On This Day - 2 SEPTEMBER 2017
A Stock Detective Shows You How to Pick Winners

In this issue:

» Notebandi pushes up Household Financial Savings
» Weekly market Round up
» ...and more
I want to start today with a confession...
It's one that, for some dear readers, will put me in league with a common criminal...
Ready?
I hate fiction.
I just don't like the idea of making up things. I prefer to live in the real world.
But wait a minute...
Before you go and lock me up, I do love and admire one fictional character.
He's got all the ingredients of a smart stock picker.
Consider this classic line:
'When you have eliminated the impossible, whatever remains, however improbable, must be the truth.'
Do you remember this trademark phrase from the greatest fictional detective of all time?
Sherlock Holmes practises what we'd today call mindfulness. It means focusing on only one problem at a time.
And he makes a habit of observing rather than just seeing. He seeks patterns of probable truth.
Every mystery comes with different challenges. The only thing common to each case is the 'criminal element'. But Sherlock has trained his mind to seek patterns common to all criminals.
He knows the right questions to ask and the right places to look for clues. His methods help him correlate the patterns and behaviour common to all criminals.
Let me be clear about something: Investors are detectives. Every company is a different mystery to solve. Investors need to know the right questions to ask, and they must train their minds to seek out patterns common to all companies.
Super Investor Professor Sanjay Bakshi is the financial version of Sherlock Holmes. He's a pattern seeker, and in his work as a teacher, he trains investors to spot patterns common across businesses.
For Holmes, the 'criminal element' is common across cases. For investors, the common element is 'management'.
Consider this trademark line from Professor Sanjay Bakshi:
'I am a pattern seeker. I seek success patterns and avoid failure patterns.'
For the professor, the biggest enabler for any business is the management. And he always prefers owner-operators over career managers. He believes...
'Society needs promoters or fanatics who have an ability to display qualities like persistency, who are headstrong, and dream of providing positive benefit to the society. Despite odds against them, they have an ability to distort reality and make things happen.'
The Smart Money Secrets team are also pattern seekers. The entire structure around which the service was built helps us spot patterns better than anybody in the game.
Our proprietary filtering tool, the Smart Money ScoreTM (subscription Required), is like having our own private detective always on the case looking for clues to uncover the 'management element'.
The tool not only accounts for success patterns; it takes care of failure patterns.
To give you one example how it works, one of our top recommendations of Smart Money Secrets came from identifying patterns. I read an interview of the management of the company in a business magazine.
This owner-operator was talking about prudent capital allocation, the importance of return on capital employed, and how he has created a niche for his business in an otherwise competitive market.
I got what I call the 'Holmes alert' - a little tingle in my moustache that seems to indicate a good idea.
The ideas he was talking about were clues that told me I'd spotted a success pattern.
Not surprisingly, when I checked the company in detail I found that it scored high on our Smart Money Score system.
And when I learned Super Investors Anil Kumar Goel and Vijay Kedia sensed these same patterns too, I knew we were on the trail of something big.
Smart Money Secrets is still a new service, but we've already recommended four stocks, and all four companies are run by owner-operators. And all four score highly on the Smart Money Score.
In fact, my detective work has led to this company being our next recommendation. I am releasing this recommendation ahead of schedule so our readers can get in early.
Editor's Note: When Kunal solves the mystery of the stock market, his readers reap serious profits. He has just opened his service up and will be accepting subscribers for a short time only. If you are not on the list of this stock market detective, sign up for it now.
03:00

Chart of the Day

Notebandi may have been ineffective in stemming out black money so far but the exercise had a positive impact on household savings. The exercise that invalidated 86% of currency notes in November last year has resulted in more Indian households parking their savings in financial assets. The share of household financial savings in Gross National Domestic Income (GNDI), also known as household financial savings rate, rose from 7.8% in FY16 to 8.1% in FY17.
Notebandi pushes up Household Financial Savings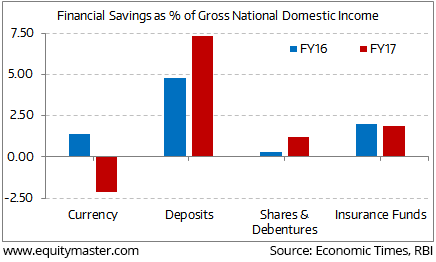 A majority of the savings were parked in deposits, mostly of banks. Among financial assets, the share of deposits in GNDI increased from 4.8% in FY16 to 7.3% in FY17 despite more than 1% fall in returns during the year. After insurance funds, stocks and debentures was the next preferred route to channelise household savings. The share of stocks and debentures in GNDI quadrupled to 1.2% in FY17 as many traditional investors in bank deposits shifted to equity and market linked instruments. Low inflation futher aided the shift towards formal channels of financial savings and this in turn will play a role in fueling growth once the economy recovers.
While demonetisation has indirectly had a positive impact, note that another of the government's demonetisation goals - promoting digital transactions - is on its way to failure. Data from the Reserve Bank of India (RBI) shows that while digital transactions (both in value and volume) spiked immediately post demonetisation, they are now back to pre-demonetisation levels.
In months after the surprise announcement in November, the government aggressively encouraged digital transactions and the volume of transactions rose from 671 million in November 2016 to 957 million in December 2016. However, the number of digital transactions dropped to 862 million in July 2017. Before notebandi, the volume of digital transactions was much higher at 1,452 million in September 2016.
In terms of value, the value of the transactions spiked to Rs 1044 trillion in December 2016 but dropped to only Rs 107.5 trillion in July 2017.
It is worth noting that demonetisation hurt every nook and corner of the economy. Industrial output crashed, services growth slowed and economic growth decelerated. RBI believes that the harmful effects of demonetisation on the economy are transitory. The government needs to ensure that its benefits are not.
Global financial markets ended the week on a positive note. This is on the back of positive economic data coming in from the US, China and the UK.
US stock indices have recovered from steep early losses triggered by fears that hostilities in the Korean Peninsula could escalate to close higher. Revised second-quarter GDP showed the economy grew 3% in that period, above the 2.6% figure previously calculated. The US benchmark index ended the week marginally higher by 0.8% as investors reacted to economic data and took cautious hope from Washington's latest promises for long-awaited details of a tax reform plan.
The stock market in the UK ended the week higher by 0.5% as support from commodities-related stocks and financials helped the blue-chip index score its second consecutive monthly gain. In the UK, the manufacturing purchasing managers' index (PMI) rose to a four-month high of 56.9 in August.
Moving on to Asian markets, China's official manufacturing PMI rose to 51.7 in August, beating the 51.3 forecast in a Reuters poll. Meanwhile, the official services PMI dropped to 53.4 in August, compared with 54.5 a month earlier. The stock market in China was up by 1.1% for the week gone by. Meanwhile, Japan's Nikkei was up by 1.3%, helped by a pullback in the yen.
The stock market in Hong Kong posted an eighth successive month of gains as China's economic recovery and continuous money inflows from the mainland sustained the bullish momentum.The stock market in Hong Kong was up by 0.4% for the week gone by.
Back home, the BSE Sensex was up 0.9% during the week. While BSE Small Cap and BSE Mid Cap index posted hefty gains of 2.8% and 3.2% during the week. Weaker-than-expected economic growth data raised hopes the central bank would cut interest rates at its next policy meeting in October. Similarly, strong August sales data unveiled by automakers and firm global cues helped investors shrug off dismal GDP data for the April-June quarter. Meanwhile, India's factory activity expanded in August, snapping back from a contraction the previous month, as disruptions stemming from confusion over GST eased. The Nikkei India Manufacturing PMI rose to 51.2 in August from a 101-month low of 47.9 in July.
Performance During the Week Ended 1st September 2017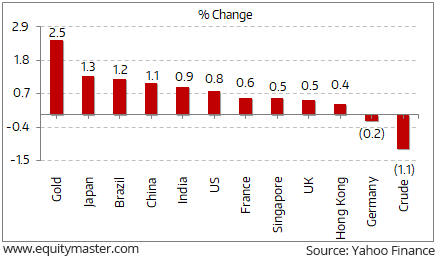 04:55

Weekend Investment Mantra

"When we own portions of outstanding businesses with outstanding managements, our favorite holding period is forever." - Warren Buffett

Copyright © Equitymaster Agora Research Private Limited. All rights reserved.

Any act of copying, reproducing or distributing this newsletter whether wholly or in part, for any purpose without the permission of Equitymaster is strictly prohibited and shall be deemed to be copyright infringement

Disclosure & Disclaimer:

Equitymaster Agora Research Private Limited (Research Analyst) bearing Registration No. INH000000537 (hereinafter referred as 'Equitymaster') is an independent equity research Company. The Author does not hold any shares in the company/ies discussed in this document. Equitymaster may hold shares in the company/ies discussed in this document under any of its other services.

This document is confidential and is supplied to you for information purposes only. It should not (directly or indirectly) be reproduced, further distributed to any person or published, in whole or in part, for any purpose whatsoever, without the consent of Equitymaster.

This document is not directed to, or intended for display, downloading, printing, reproducing or for distribution to or use by, any person or entity, who is a citizen or resident or located in any locality, state, country or other jurisdiction, where such distribution, publication, reproduction, availability or use would be contrary to law or regulation or what would subject Equitymaster or its affiliates to any registration or licensing requirement within such jurisdiction. If this document is sent or has reached any individual in such country, especially, USA, Canada or the European Union countries, the same may be ignored.

This document does not constitute a personal recommendation or take into account the particular investment objectives, financial situations, or needs of individual subscribers. Our research recommendations are general in nature and available electronically to all kind of subscribers irrespective of subscribers' investment objectives and financial situation/risk profile. Before acting on any recommendation in this document, subscribers should consider whether it is suitable for their particular circumstances and, if necessary, seek professional advice. The price and value of the securities referred to in this material and the income from them may go down as well as up, and subscribers may realize losses on any investments. Past performance is not a guide for future performance, future returns are not guaranteed and a loss of original capital may occur. Information herein is believed to be reliable but Equitymaster and its affiliates do not warrant its completeness or accuracy. The views/opinions expressed are our current opinions as of the date appearing in the material and may be subject to change from time to time without notice. This document should not be construed as an offer to sell or solicitation of an offer to buy any security or asset in any jurisdiction. Equitymaster and its affiliates, its directors, analyst and employees will not be responsible for any loss or liability incurred to any person as a consequence of his or any other person on his behalf taking any decisions based on this document.

As a condition to accessing Equitymaster content and website, you agree to our

Terms and Conditions of Use

, available here. The performance data quoted represents past performance and does not guarantee future results.

SEBI (Research Analysts) Regulations 2014, Registration No. INH000000537.

Equitymaster Agora Research Private Limited (Research Analyst) 103, Regent Chambers, Above Status Restaurant, Nariman Point, Mumbai - 400 021. India.
Telephone: +91-22-61434055. Fax: +91-22-22028550. Email: info@equitymaster.com. Website: www.equitymaster.com. CIN:U74999MH2007PTC175407