On This Day - 24 OCTOBER 2017
Another Reliance IPO Is Headed Your Way. Embrace It or Run for Cover?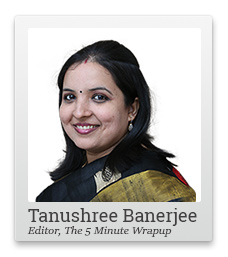 Like an eagle with the might of all the world's winds beneath its wings, the markets continue to fly higher.
And it makes me wonder whether the buoyancy we are seeing today in any way mirrors the euphoria in the markets just before they crashed in 2008.
Maybe on one level it is different. Today, the concept of money, and the financial markets in general, have become quite distorted. All of it fueled by the scale of intervention by central banks post the 2008 crisis, which was quite unprecedented in the first place. The global markets probably weren't so out of whack in the heydays of 2007, months before the crisis.
But in 2007 and early 2008, stock markets in India were on a roll to the point that the Sensex PE then was close to a dangerously high 27 times.
Today, it is somewhere around 24 times; not as high as it was then. But earnings this time around are at their lowest. This was not the case in 2007-2008. The Indian economy at that time, and consequently India Inc, was chugging along nicely.
What seems eerily similar in the two periods though is the slew of IPOs hitting the market. There were, and are, just too many. Most of them priced way too high. But that has not deterred investors from putting money into them. Sellers (i.e. company promoters) are clearly making a killing.
There is another striking similarity...
Reliance Power came out with its IPO in early 2008, when the Sensex was at its peak.
Reliance Power's IPO valuations made no sense given that the company had no business to speak of. But its purpose was clearly to cash in on the IPO euphoria at the time. We were probably in the minority to give a negative view on this IPO, and, boy, were we right! Because when the markets crashed, the stock lost 70% of its value in eight months!
And now, not wanting to miss out on the fun of the 2017 IPO party, another Reliance IPO is opening tomorrow - this time Reliance Nippon Life Asset Management Ltd.
Newspapers say that Reliance Mutual Fund will be the first of the top three players in the mutual fund industry to list its shares on the exchanges.
Well, at least Reliance Mutual Fund does have a business to speak of.
But does this Reliance IPO also mean we will see a market crash in the coming months?
If India Inc earnings start picking up, given they are at an all-time low currently, a crash may not be in the offing.
But more importantly, how should you think about this IPO? Are its valuations worth it? Will it be the opportunity of a lifetime or the dud of the decade?
These are questions that will require much more contemplation. Don't worry - my research team is on it.
Editor's Note: We will be releasing a detailed note on this IPO tomorrow - keep your eye out for it. If you are on the Equitymaster Insider's list you will see it in your email. If not, get on the list by clicking here.
Huge Scope for the Mutual Fund Industry
Indian households have traditionally favoured real estate and gold as means of investments. However, growing financial awareness has led to a rise in financial savings. Among financial assets, mutual funds still have a lot of catching up to do. The share of mutual funds in financial savings remains abysmally low at 2.9%. Currency and deposits, on the other hand, have a lion's share of 40% whereas insurance and pension contribute a quarter each to overall financial savings.
No wonder, India has the lowest mutual fund penetration globally. The total Assets under Management (AUM) to GDP ratio of India stands at a mere 10%, way below the global average of 55%. Countries like Australia and the US have AUM to GDP ratios of over 100%. So, the mutual fund industry in the country provides huge scope for growth and development. Real estate and gold have become less attractive forms of investments post notebandi. Even the reduction in bank deposit rates in the past year has led to a shift in investment to mutual funds and the stock markets.
India Fares Poorly in Mutual Fund Penetration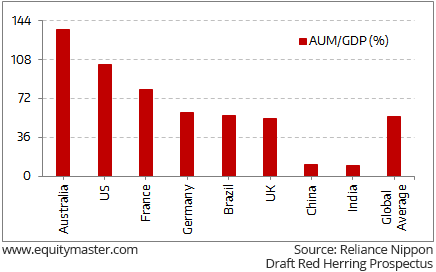 Also, the government's efforts to increase banking penetration through Jan Dhan Yojana and higher digitisation are also expected to boost financial savings. Factors such as favourable demographic profile with a young working population, rise in income levels, increasing financial literacy and retail participation and buoyancy in capital markets supporting equity AUM, are expected to drive the growth of the mutual fund industry in the long term. The mutual fund industry has grown at an annual rate of 18% in the past decade, and is expected to grow by 20% over the next five years.
With buoyant capital markets and the mutual fund industry on a roll, asset management companies are eager to unlock value through initial public offerings. And the first mover in this race is Anil Ambani promoted Reliance Nippon Life Asset Management Company that has lined up a Rs 15.4 billion offering.
The Bad Loan Burden Continues to Grow
No respite seems to be in the offing for the Indian banking system bogged down by the bad loan mess. After RBI recently reclassified eight consortium accounts of Axis Bank as non-performing, there have been growing concerns that the action may result in the banking system's overall bad loans to swell further by Rs 400 billion.
According to Axis Bank, the reclassified accounts were standard assets across most consortium banks with only 6% of the outstanding classified as non-performing. Among the reclassified accounts, three accounts amounting to Rs 16.8 billion pertain to the power sector whereas one account of Rs 11.3 billion belongs to the steel sector. Power, steel, road infrastructure and textile have been the major culprits for the bad loans in the banking system.
The reclassification of consortium accounts means that the consortium lenders will have to reconcile these accounts as non-performing sooner or later further adding to bad loan burden. At the same time, higher provisioning is likely to hit their earnings. As RBI gets stringent about bad loan resolution, the pain for banks is unlikely to end any time soon.
What the Markets Look Like Today
Indian equity markets opened the day in the green. At the time of writing, BSE Sensex was trading higher by 90 points and NSE Nifty was higher by 16 points. Both the mid cap and small cap indices are trading up by 0.2% and 0.4%, respectively. Stocks from the realty and metal are among the gainers.
Investment Mantra of the Day
"It's almost a mathematical impossibility to imagine that, out of the thousands of things for sale on a given day, the most attractively priced is the one being sold by a knowledgeable seller (company insiders) to a less-knowledgeable buyer (investors)." - Warren Buffett
Copyright © Equitymaster Agora Research Private Limited. All rights reserved.
Any act of copying, reproducing or distributing this newsletter whether wholly or in part, for any purpose without the permission of Equitymaster is strictly prohibited and shall be deemed to be copyright infringement
Disclosure & Disclaimer:
Equitymaster Agora Research Private Limited (Research Analyst) bearing Registration No. INH000000537 (hereinafter referred as 'Equitymaster') is an independent equity research Company. The Author does not hold any shares in the company/ies discussed in this document. Equitymaster may hold shares in the company/ies discussed in this document under any of its other services.
This document is confidential and is supplied to you for information purposes only. It should not (directly or indirectly) be reproduced, further distributed to any person or published, in whole or in part, for any purpose whatsoever, without the consent of Equitymaster.
This document is not directed to, or intended for display, downloading, printing, reproducing or for distribution to or use by, any person or entity, who is a citizen or resident or located in any locality, state, country or other jurisdiction, where such distribution, publication, reproduction, availability or use would be contrary to law or regulation or what would subject Equitymaster or its affiliates to any registration or licensing requirement within such jurisdiction. If this document is sent or has reached any individual in such country, especially, USA, Canada or the European Union countries, the same may be ignored.
This document does not constitute a personal recommendation or take into account the particular investment objectives, financial situations, or needs of individual subscribers. Our research recommendations are general in nature and available electronically to all kind of subscribers irrespective of subscribers' investment objectives and financial situation/risk profile. Before acting on any recommendation in this document, subscribers should consider whether it is suitable for their particular circumstances and, if necessary, seek professional advice. The price and value of the securities referred to in this material and the income from them may go down as well as up, and subscribers may realize losses on any investments. Past performance is not a guide for future performance, future returns are not guaranteed and a loss of original capital may occur. Information herein is believed to be reliable but Equitymaster and its affiliates do not warrant its completeness or accuracy. The views/opinions expressed are our current opinions as of the date appearing in the material and may be subject to change from time to time without notice. This document should not be construed as an offer to sell or solicitation of an offer to buy any security or asset in any jurisdiction. Equitymaster and its affiliates, its directors, analyst and employees will not be responsible for any loss or liability incurred to any person as a consequence of his or any other person on his behalf taking any decisions based on this document.
As a condition to accessing Equitymaster content and website, you agree to our
Terms and Conditions of Use
, available here. The performance data quoted represents past performance and does not guarantee future results.
SEBI (Research Analysts) Regulations 2014, Registration No. INH000000537.

Equitymaster Agora Research Private Limited (Research Analyst) 103, Regent Chambers, Above Status Restaurant, Nariman Point, Mumbai - 400 021. India.
Telephone: +91-22-61434055. Fax: +91-22-22028550. Email: info@equitymaster.com. Website: www.equitymaster.com. CIN:U74999MH2007PTC175407