On This Day - 7 NOVEMBER 2017
4 Traits That Can Make a Stock Go Up 10 Times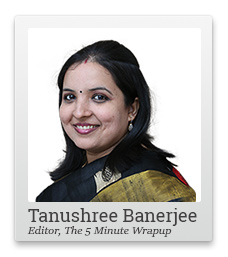 Where do you see yourself in ten years?
I'm sure you've answered this question countless times since you were a teenager.
And every time, the person asking you the question, will try to give you the recipe to make your next decade flawless. The secret sauce may range from a good education to a wonderful spouse to a job that you love... These are, pretty much, the tried and tested 'traits' that make a good life great!
But no one will tell you that your future depends on India's GDP growth, the RBI's interest rate policy, or who wins the next elections. We believe our future success depends on our individual traits - not the external factors of the world around us.
But when it comes to investing, the opposite is true.
We often find ourselves asking - where will the stock markets be in ten years? We believe that by knowing the answer to this question - we can predict whether our stocks will leave us richer by the end of next decade.
But what if I told you that you do not need to know the answer to this question.
That having such an insight is not necessary. Instead, some individual traits could turn your good stock portfolio into great. That you can look for such traits in individual stocks, rather than focusing on broader markets. Which, let's face it, no one can predict.
If you don't believe me, look at some of the stocks that have gone up much more than ten times over the past...not 10...not 20... but 25 years!
Stocks like MRF, Balkrishna Industries, Asian Paints, M&M, Hawkins and ITC created a ton of shareholder wealth since 1992.
These two and half decades saw three massive market crashes, epidemics like SARS, countless natural disasters and terrorist attacks.
Yet the stocks emerged winners and how!
All because of what I call - GRIP Traits.
Investors who bought into stocks with a strong GRIP, at the best valuations, never had a chance to complain.
Here's how GRIP works
Growth: comes easy only to the businesses that have lots of headroom in terms of product pipeline, customers and markets. Consider this example: McDonald's did about US$ 25 billion in sales last year. So, if it wants to double that number in three years, it would need to sell an extra 2 billion Big Macs each year for next three years - an extraordinary requirement. It's not that growth will not come easy to McDonald's because of its size. But it hardly has as many product varieties or customers to sell to, for achieving that kind of growth.
Now take the case of home loan provider HDFC Ltd. Even if HDFC lends for just a fraction of the 48 million housing units to be built as per the government's Housing For All plan, the upside is huge. Plus, HDFC's average loan per housing units keeps growing every year. So, despite being the largest housing finance company in India, HDFC grow comfortably for at least another decade.
Reinvestment of Profits: The difference between a decently profitable company and a potential 10 bagger is that the latter uses the high returns it makes year after year, to earn even higher returns. It's the magic of compounding, and leads to exponential growth. So, say, ROE of 20% adds Rs 20 to your capital of Rs 100 to make it Rs 120 in the second year. Now, you get 20% of 120, giving you Rs 24 this time. If you keep adding this 20% return back to your capital, each year, your return will grow exponentially. In ten years you will end up with five times the returns you started with.
Resisting Institutional Imperative: The trait of rejecting the 'way we do things' or what Warren Buffett calls 'institutional imperative' and the willingness to do things in a better, more effective rational way sets companies us for success. Buffett wrote in his 1989 letter to shareholders.
My most surprising discovery: the overwhelming importance in business of an unseen force that we might call "the institutional imperative." In business school, I was given no hint of the imperative's existence and I did not intuitively understand it when I entered the business world. I thought then that decent, intelligent, and experienced managers would automatically make rational business decisions. But I learned over time that isn't so. Instead, rationality frequently wilts when the institutional imperative comes into play.
The managements of well run businesses often end up mindlessly imitating what has happened before, and replaying past processes. Companies that can resist such behavior, and do things differently, create and preserve long term wealth.
Pricing Power: is one of the biggest virtues of a business. And for brands to have the ability to price things as they choose (not dictated by the market) for a prolonged period is the Holy Grail. At the 2011 (Financial Crisis Inquiry Commission) Buffett:
The single most important decision in evaluating a business is pricing power. If you've got the power to raise prices without losing business to a competitor, you've got a very good business. And if you have to have a prayer session before raising the price by 10 percent, then you've got a terrible business.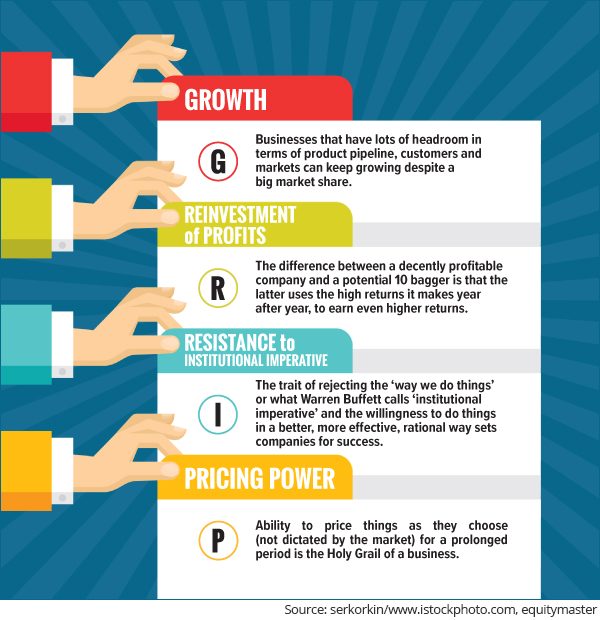 So, shut out the noise about the current market levels. Throw out the worries about its direction in ten years. And look for stocks with a strong GRIP. Even a few in your portfolio could do wonders.
Of course, you will have to be diligent in looking for them, and patient to buy them.
When in doubt, remember this - You are not looking to buy the market. You're looking to buy individual stocks. So the future of your portfolio does not entirely depend on the broader markets, economy or politics.
Just like you get through life with your individual traits, stocks with a strong GRIP could hand you 10 bagger returns, no matter what!
Editor's Note: That's your ten-year outlook covered. What about your ten-week outlook - must you ignore it? Not if we can help it. And we CAN help it. In fact, if you want to do buy a stock now - no matter what the market - and make money anyhow, this profit hunting strategy is for you.
A special report on guide on this strategy will be released today, make sure you sign up now to receive it.
Will Bank Lending Revive Manufacturing Activity?
Last week saw India jump 30 places to 100 in the World Bank's 'Ease of Doing Business' rankings. While the Indian government's efforts on this initiative are laudable, recent manufacturing activity data doesn't paint a pretty picture.
Slowdown in Manufacturing Activity Post GST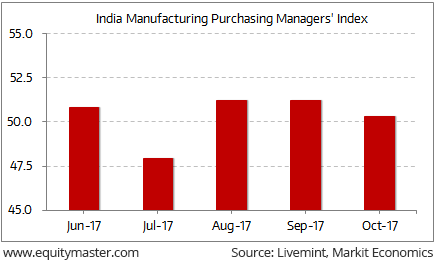 The Nikkei manufacturing index recorded a low of 50.3 in October 2017 as compared to 51.2 in the previous two months. Also, new export orders is at its lowest level since September 2013. The recent implementation of the Goods and Services Tax (GST) is mainly responsible for this slowdown in demand.
This data comes at a critical time after India posted its slowest GDP growth in 3 years in the April-June quarter. Also, business confidence is low due to uncertainties surrounding the implementation of GST.
While, businesses are hopeful of a revival once the teething problems of GST are eased, the Indian government continues to take a proactive stance.
The government unveiled the Rs 2.11 lakh crore public sector bank (PSB) capitalization plan on 24 October. This will be carried out over the next two years with maximum allocation in the current year.
Through this, the government aims to solve the dual purpose of reviving public sector banks and infusing liquidity into the system.
However, using recapitalisation bonds can only act as a short-term measure to the crisis afflicting Indian public sector banks today. Such a measure will not address the structural issue in the banking system, i.e. the poor standard of lending and poor governance system.
Also, a long term approach is absolutely necessary to revive the manufacturing sector; starting with ironing out the issues concerning GST implementation.
Are Price-fixing Allegations a New Concern for the Pharmaceutical Industry?
The Indian pharmaceutical industry has had a difficult couple of years. Price erosion in the export markets and drug price capping in the domestic markets have caused a steady decline in the pharmaceutical space.
The US has been at the forefront of price erosion since it is the biggest market for Indian pharmaceutical companies. While these woes haven't gone away, a new one is threatening to surface.
A large number of pharmaceutical firms are being investigated for allegedly keeping drug prices high. These Indian companies are accused of artificially inflating drug prices and of dividing the market to reduce competition.
While the manufacturers have refuted allegations, this is one story that needs to be kept an eye on.
Generic pharmaceutical companies are already reeling under the extreme price erosion due to consolidation of buyers in developed markets like the US. Also, the regulatory authorities have increased the pace of drug approvals in recent times. This has led to intense competition amongst generic drug companies.
In such a scenario, getting tangled up with regulatory authorities is surely something an Indian pharmaceutical company can do without.
Anti Black Money Day
After Panama, there is Paradise Papers. The list of black money hoarders gets bigger by the day!
But how about, you do your bit to make the world a better place? If you have 30 seconds to spare today, you can make our country a better place. A place where all people are treated equally. Where money doesn't flow from the corrupt to the corrupt. All you have to do is sign on the dotted line.
PS: This petition is only open until the 8th. So if you support it, this is your chance to show it. Click here now.
What the Markets Looked Like Today
Indian equity markets opened the day on a firm note. At the time of writing, BSE Sensex was trading higher by 91 points and NSE-Nifty was up by 24 points. Both the mid cap and small cap indices are trading up by 0.5%.
Investment Mantra of the Day
"It's far better to buy a wonderful company at a fair price than a fair company at a wonderful price." - Warren Buffett
Copyright © Equitymaster Agora Research Private Limited. All rights reserved.
Any act of copying, reproducing or distributing this newsletter whether wholly or in part, for any purpose without the permission of Equitymaster is strictly prohibited and shall be deemed to be copyright infringement
Disclosure & Disclaimer:
Equitymaster Agora Research Private Limited (Research Analyst) bearing Registration No. INH000000537 (hereinafter referred as 'Equitymaster') is an independent equity research Company. The Author does not hold any shares in the company/ies discussed in this document. Equitymaster may hold shares in the company/ies discussed in this document under any of its other services.
This document is confidential and is supplied to you for information purposes only. It should not (directly or indirectly) be reproduced, further distributed to any person or published, in whole or in part, for any purpose whatsoever, without the consent of Equitymaster.
This document is not directed to, or intended for display, downloading, printing, reproducing or for distribution to or use by, any person or entity, who is a citizen or resident or located in any locality, state, country or other jurisdiction, where such distribution, publication, reproduction, availability or use would be contrary to law or regulation or what would subject Equitymaster or its affiliates to any registration or licensing requirement within such jurisdiction. If this document is sent or has reached any individual in such country, especially, USA, Canada or the European Union countries, the same may be ignored.
This document does not constitute a personal recommendation or take into account the particular investment objectives, financial situations, or needs of individual subscribers. Our research recommendations are general in nature and available electronically to all kind of subscribers irrespective of subscribers' investment objectives and financial situation/risk profile. Before acting on any recommendation in this document, subscribers should consider whether it is suitable for their particular circumstances and, if necessary, seek professional advice. The price and value of the securities referred to in this material and the income from them may go down as well as up, and subscribers may realize losses on any investments. Past performance is not a guide for future performance, future returns are not guaranteed and a loss of original capital may occur. Information herein is believed to be reliable but Equitymaster and its affiliates do not warrant its completeness or accuracy. The views/opinions expressed are our current opinions as of the date appearing in the material and may be subject to change from time to time without notice. This document should not be construed as an offer to sell or solicitation of an offer to buy any security or asset in any jurisdiction. Equitymaster and its affiliates, its directors, analyst and employees will not be responsible for any loss or liability incurred to any person as a consequence of his or any other person on his behalf taking any decisions based on this document.
As a condition to accessing Equitymaster content and website, you agree to our
Terms and Conditions of Use
, available here. The performance data quoted represents past performance and does not guarantee future results.
SEBI (Research Analysts) Regulations 2014, Registration No. INH000000537.

Equitymaster Agora Research Private Limited (Research Analyst) 103, Regent Chambers, Above Status Restaurant, Nariman Point, Mumbai - 400 021. India.
Telephone: +91-22-61434055. Fax: +91-22-22028550. Email: info@equitymaster.com. Website: www.equitymaster.com. CIN:U74999MH2007PTC175407