Whether Going to a Pub or Buying a Bitcoin... Remember, Safety First!
Jan 9, 2018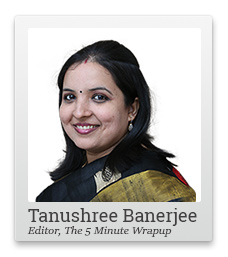 Wherever in the country you are, you could not have remained unmoved by the fire tragedy at two pubs at Kamala Mills, Mumbai. It's hard to believe that you could step out to a restaurant, and not come back.
It's possible the incident has tempered your eagerness to visit, or permit a visit to pubs. Many are already reporting a drop in their business since the incident.
This is not because we believe the chances of this happening again are high. It is because it is in our nature to give the highest importance to what is most recent, has high recall value, and is vivid in one's memory.
Personal experiences, or that of near and dear ones, are significant in our memory and hence easily recallable.
Vivid pictures and numbers also leave lasting impressions and influence our decisions for a long period.
We stay away from assets whose bubbles have burst - think internet stocks or tulip bulbs...
We vaccinate against the most dramatic diseases - Do you remember the 2009 swine flu pandemic that caused worldwide panic? An estimated 14,300 people died of this virus. More people die every year from seasonal flu, but the vaccine for swine flu remains a bestseller till date.
It is human nature that causes us to react a certain way, whether to fire tragedies, bubble bursts, swine flu...
And I'm talking about this because I see something similar happening right now. With the investment that outperformed every other by a huge margin in 2017. You guessed it... Bitcoins.
Bitcoins, and its cousin cryptocurrencies, are the hottest investment these days, and every owner of a fraction of a bitcoin is a rockstar.
That bitcoin could offer 1,400% returns and its crypto cousin Litecoin could offer 5,200% returns in a year was unfathomable this time last year. But make such predictions now and they would fly.
A psychologist would call this confirmation bias. And Charlie Munger would tell you that 'availability bias' tends to cloud investors' minds with wrong notions.
This bias is natural - even helpful - a mental shortcut that relies on immediate instances, and helps us make decisions.
But sometimes these decisions are not the most rational.
You shouldn't stop going out because of a fire tragedy. And you shouldn't ignore cryptos because of their past returns - no matter how crazy.
But, whatever you choose to do, do it with the necessary caution.
When it comes to cryptos, the good news is that help is at hand.
Prasheel Vartak and his guru Tama Churchouse, who have been researching cryptos for years, are on a mission to educate Indian investors about this enigmatic investment. You can join them here.
And remember, in investing, as also in life, put safety first.
Editor's Note: You are right to be cautious about investing in bitcoins - but are you well-informed or irrationally worried? Find out here.
Energy Subsidies - A Reality Check
The country's energy subsidy burden has come down over the past few years. As per a report by the International Institute of Sustainable Development, the value of energy subsidies the central government doled out declined by 38%, from Rs 2.17 trillion to Rs 1.35 trillion between FY 14 - 16.
Steady Decline in Energy Subsidies (in Rs billion)
During this period, India lowered its overall subsidy bill with a steep 70% cut in Oil and Gas subsidies.
The factors that partially made it possible were
Significant slide in global crude prices
The government's reforms such as direct benefit transfer scheme for LPG and targeted kerosene subsidy.
This is a welcome change. But the central government subsidies for transmission and distribution have recorded an over 60% rise in the last two years, making it the biggest beneficiary of India's energy subsidies in FY16. This excludes subsidies of Rs 1.7 trillion provided under the Ujwal Discom Assurance Yojana (UDAY) to bail out the cash-strapped State Electricity Boards.
Although subsidies given to the renewable segment have risen four folds, it still constitutes a miniscule 6.9% of the overall energy subsidies. This means that the lion's share of subsidies still favour fossil fuels rather than renewable sources.
However, electricity remains inaccessible to a sizeable population, and fossil fuel still dominates the energy mix in the country.
The pertinent question here is, how will India find the balance between fulfilling its energy needs while honouring its commitment towards global climate change?
Opportunity Knocking at NBFC Doors
As public-sector banks grapple with the bad loan crisis, non-banking financial companies (NBFCs) are having a field day.
This is evident from the doubling of their market share in the small and medium enterprise loan, wholesale loan, and other consumer loan categories in the past two years, as per an Assocham study.
However, if NBFCs want to fully optimise this opportunity and attract private equity investments to augment future growth, investments in analytics and the artificial intelligence to reach out to the new-age customer are necessary.
With rapid advancements in digitisation of the economy through Aadhar pay and Direct Benefit Transfer supported by a surge in smart phone / internet usage, NBFCs must evolve their business models. This will give them the leverage to cater to the hybrid world - digital and physical.
As per the report, NBFCs that can build scale through a focus on limited products, rein in costs translating into operational efficiencies, and control bad loans through strong underwriting are poised to attract private equity investments needed for the next leg of growth.
What the Markets Looked Like Today
Indian equity markets opened the day on a positive note. At the time of writing, BSE Sensex was trading higher by 88 points and NSE-Nifty was higher by 29 points. Both the mid cap and small cap indices are trading up by 0.2% each. Stocks from the metal and realty are among the gainers.
Investment Mantra of the Day
"You don't need to be a rocket scientist. Investing is not a game where the guy with the 160 IQ beats the guy with 130 IQ." - Warren Buffett
Recent Articles