Smallcap Rebound 2020: Here's What You Must Know Right Now
Feb 13, 2020
The rebound in small-cap stocks is one of the biggest themes of 2020 in the Indian stock market.
My colleagues and I have been talking about it for many months... and now it's happening right before our eyes.
For us, it was the most obvious thing.
Why?
We saw a clear imbalance in the markets.
For a long time, we saw just a very narrow group of large, bluechip stocks capture all the gains in the market.
The gap between this select group and the broader market of smallcaps and midcaps kept getting wider and wider.
And this wasn't sustainable.
We knew there would be a shift eventually.
The only question was - WHEN?
We could not answer that specifically. No one can predict the market.
From experience, we have learnt to be patient.
Yes, it can be very discomforting to see the markets not agreeing with your logic for a such a long time. It makes you wonder if you've got it all wrong.
But there's a way to deal with this. The key is to separate emotions from facts.
The facts told us that smallcaps were being cruelly hammered.
And while that really depressed the portfolios of many investors, we also knew that smallcaps were becoming increasingly lucrative long-term investments.
So, we weren't surprised when the smallcap rebound picked pace this year.
We were waiting for it. We knew this was going to be the next big theme for the markets.
But just knowing and believing it is not enough!
You must make the best of it.
So how should you be playing this theme?
--- Advertisement ---
One stock to add to your portfolio asap

Our co-head of research, Tanushree Banerjee, has uncovered this one stock, which she believes is a must have in your portfolio.

Tanushree is very bullish on this stock.

It could potentially multiply invested money 12 to 13 times over the long term.

Tanushree will reveal details of this stock at her upcoming special event.

You can click here to sign-up. It's free.
------------------------------
Yesterday, I was chatting with a friend about the stock markets, and specifically about the smallcap rebound.
He is a long-term investor. Well, at least that's what he says. So, I don't question that.
But he is also a keen follower of chart patterns.
Midway in our conversation, he sent me a snapshot of a one-year chart of the BSE Smallcap index.
I've recreated it for you...
BSE Smallcap Index Inching Close to a 52-Week High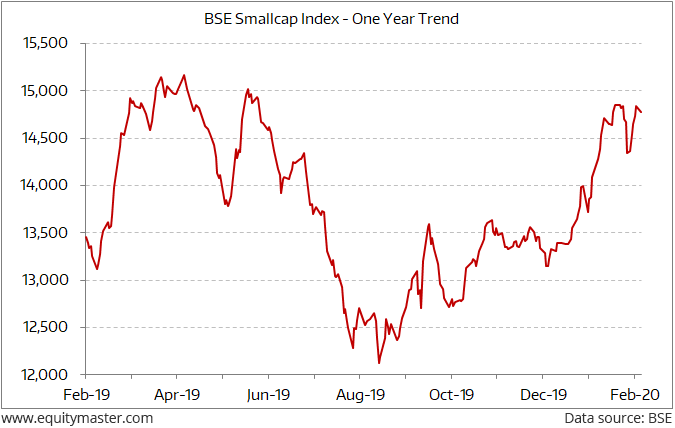 He said the BSE Smallcap index was approaching its 52-week high which would likely be a strong resistance level.
For those familiar with technical analysis, a resistance level is a prior high that becomes a psychological barrier for the subsequent up-move.
According to him, the smallcap rebound was likely to lose momentum and the best of 2020 was probably behind us.
Purely from a trading perspective, he could be right. Maybe the smallcap index goes through a correction. Or maybe it doesn't.
Like I said, nobody can predict the market.
But the most important question is - Are you looking at the smallcap rebound only from the perspective of 2020?
When I say that the smallcap rebound will be the big theme for 2020, I don't mean all the big gains will be made this year. I only mean 2020 marks the shift of investor's focus towards smallcaps.
So, my recommendation to you is, don't look at the smallcap rebound purely from a one-year perspective.
If you do that, you'll only be focused on the price action and judge the potential of smallcaps through a very narrow lens.
I want you to play the smallcap rebound from a much bigger perspective.
That's the key to make big long-term profits.
Chart of the Day
After the Budget, I wrote to you about the importance of looking beyond the here and now.
One of the key differences I've observed between small winners and big winners in the stock markets is the range of their vision.
The small winner is myopic - focusing mostly on the "here" and "now".
He's not truly a long-term investor. His mood, expectations, outlook, and investing decisions are mostly shaped by the recent market events and price movements.
On the other hand, the big winner in the stock markets, is looking where very few people are looking - at big, long-term trends and companies that are poised to be great value creators in the long run.
I also shared insights from some interesting interviews of stock market veterans like Ruchir Sharma and Aswath Damodaran.
Neither of them talked about what's going to happen in 2020. Their focus was not on the next four quarters, but on the next decade.
In fact, even Ruchir Sharma believes in the smallcap rebound for this new decade.
You will be surprised to know the kind of trend we saw in the Indian markets was not unique. Even in the US stock markets, a select group of large companies dominated most of the gains.
For instance, between 2010 and 2019, large companies gained 230% in market capitalisation. Small companies, gained only 110%.
The contrast in the Indian markets was even more stark. Between 2010 and 2019, while large companies gained 115%, small companies gained merely 6%.
Isn't the dichotomy shocking?
Smallcaps have rarely been so depressed compared to largecaps.
And according to Ruchir Sharma, small companies are likely to rebound in the US.
I see no reason why that will not happen in India. In fact, the market trend since the start of 2020 tells us, it's already happening!
Smallcaps Are Way Ahead of the Sensex in 2020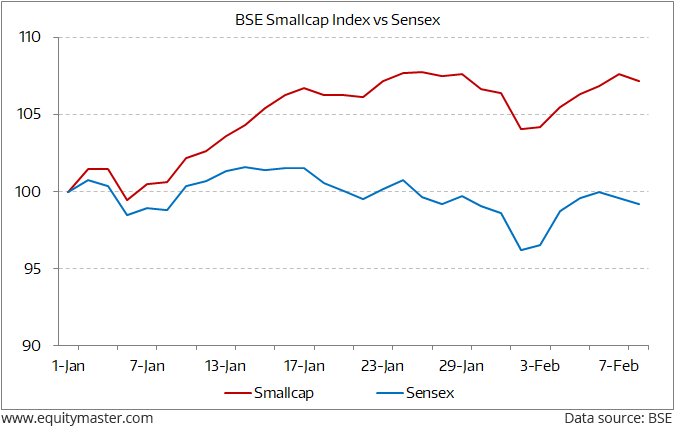 Since the start of 2020, smallcaps have beaten largecaps by a wide margin.
But this is just the start.
We believe smallcaps have a long way to go.
My colleague Richa Agarwal has nailed a high quality smallcap stock that could make big money for you in the ongoing smallcap rebound.
Are you ready to ride the smallcap rebound in this new decade starting 2020?
Warm regards,



Ankit Shah
Editor, Equitymaster Insider
Equitymaster Agora Research Private Limited (Research Analyst)
PS: Richa's One Stock Crorepati summit was a huge success. Thousands of her readers tuned in. If you missed it, you still have a couple of days to watch it. If you're interested in crorepati stocks, listen to Richa here.
Recent Articles