These Rebirth of India Stocks Are Raring to Compete with Tesla
Feb 17, 2020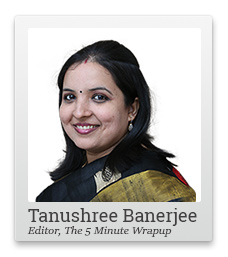 Can you guess the stock this price chart belongs to?
A colleague posed this question to our research team last week. My team member replied in less than few seconds.
Not because he had been researching the stock.
Not because it's a stock of a well-known Indian company.
This chart is all over social media. After all, how often do you find a stock rising 360% in 7 months?
In case you haven't guessed it yet, its none other than America's pioneering electric vehicle company, Tesla.
Tesla's Recent Meteoric Rise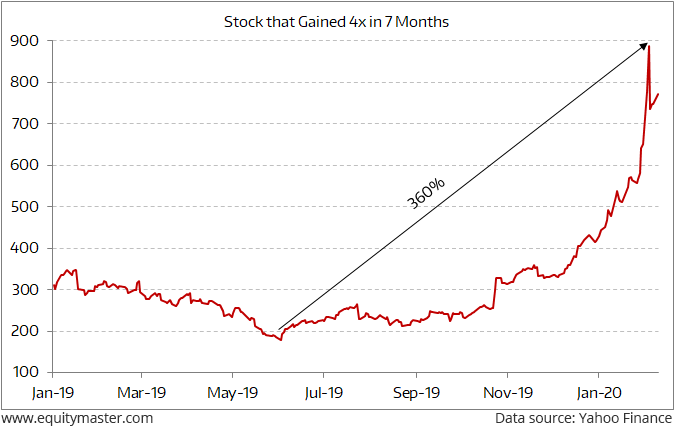 Now, Tesla is not the kind of stock that is a recent discovery. Nor is the potential for electric vehicles a recent revelation.
In fact, Tesla is far from making a dent in the affordable electric vehicle market. At least, it isn't there yet.
But the stock price surge shows the market's euphoria about Tesla's latest quarterly earnings.
The company did not just beat Wall Street expectations. It also vowed to increase its global production by almost 30% with its new Chinese gigafactory coming on stream.
Now, how is Tesla related to the Rebirth of India?
Well, Tesla's meteoric price rise may be related to an anticipated surge in sales and profits in the short term.
But the company will not be the sole beneficiary of the megatrend in demand for electric vehicles (EV). In fact, this trend will be even more benign to low cost EV producers and EV component suppliers.
It's well known that EVs require far fewer components than their internal combustion counterparts.
And EV companies will be far less dependent on their vendors for supplying components.
But when it comes to reducing the cost of the vehicles, a few Indian players will have a big role to play.
--- Advertisement ---
[Alert] Sell These 3 Stocks Immediately

These 3 stocks are ticking time bombs in your portfolio.

It is very likely that you could be owning these 3 overvalued... fundamentally weak... ready to crash stocks... in your portfolio today.

Because many stock brokers have painted rosy pictures of these stocks.

But the reality is starkly different.

If the market crashes, then these stocks could wipe out your wealth.

You should get rid of these stocks as soon as possible.

We are going to reveal details of these 3 landmines at our upcoming special event.

You can click here to sign-up in 1-click. It's free.
------------------------------
There are two such listed companies I am counting on.
They are not as high profile as Tesla. Nor do they have EV gigafactories... at least not yet.
But the Rebirth of India stocks I've identified, are set to leave their mark on the global EV revolution.
These stocks may not have the 4x vertical ride like Tesla within a few months. That's okay.
For patient investors, these are the stocks which will soar like Tesla, more gradually.
Chart of the Day
Now, there is yet another irreversible megatrend that is showing no signs of slowing down. It is the growth in the assets under management (AUM) of the Indian mutual fund industry.
After a few hiccups in the first half of this fiscal, strong inflows into mutual funds have taken the industry's AUM to a new high.
Can we call it a saturation point?
Far from it!
The total AUM of India's mutual fund industry is just about 13% of India's GDP.
This megatrend of financialisation of savings has a long runway ahead of it.
New High for Mutual Fund AUM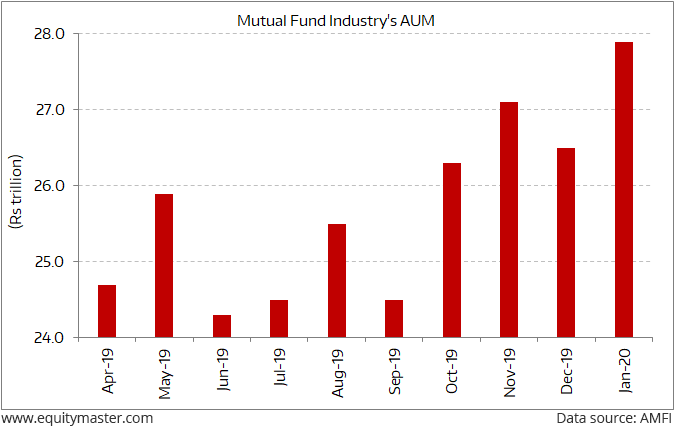 Warm regards,

Tanushree Banerjee
Editor, The 5 Minute WrapUp
Equitymaster Agora Research Private Limited (Research Analyst)
PS: I believe NOW is the right time to buy the 7 best stocks to profit from the Rebirth of India. Read about my top 7 stocks here.
Recent Articles