Is it the Right Time to Buy Mid and Small Caps Now?
Mar 6, 2019
Tanushree recently wrote about the shift from mid and small caps to large caps.
It is eerily similar to what happened in 2013.
Back then, investors exited mid and small caps in huge numbers.
At that time, there was uncertainty surrounding general elections of 2014.
The financial media advised everyone to adopt a wait and watch policy.
They told investors to buy stocks after the outcome of the elections.
How did that advice work out though?
Not very well would be an understatement.
From 8 Jan 2013 - 28 Aug 2013, the BSE Mid and Small Caps were down 29% and 33% respectively.
But in the next one year, these two indices were up massively - 78% and 99% respectively.
People who followed the herd were left watching from the sidelines.
Is history repeating itself now?
Corporate governance issues leading to auditor exits, the IL&FS impact, and upcoming elections have led to steep fall in mid and small caps.
And we have the mainstream media, once again, recommending moving out of these stocks.
What should you do?
I believe it's futile to time the markets.
The call to shift from mid and small caps to large caps and vice-versa is a difficult one to get right.
At Smart Money Secrets, our focus is on picking good businesses with strong fundamentals.
If the fundamentals are good, the index it belongs to hardly matters.
After all, we have our Smart Money ScoreTM to help us filter out the poor and average businesses.
It helps us evaluate every aspect from shareholding pattern, return ratios, cash flows, debt-to-equity, capital allocation, competitive advantage, scalability and a lot more.
It has helped us shortlist 17 stocks for Smart Money Secrets... all of which are a buy right now.
And only one of these belongs to the NSE Nifty50 Index.
The presence of a super investor in each of these stocks gives us additional comfort.
The last two weeks has seen a rally in mid and small caps. The indices are up by 7% and 10% respectively.
Does this mean the tide has turned?
We don't want to predict the market.
But we know that we have recommended a group of fundamentally strong stocks to our subscribers.
When the tide turns, they will benefit handsomely.
Chart of the Day
The current scenario in the Indian stock market looks very similar to what happened in 2013.
Back then, mid and small cap stocks witnessed a similar correction while the BSE Sensex stayed put.
Is It 2013 All Over Again?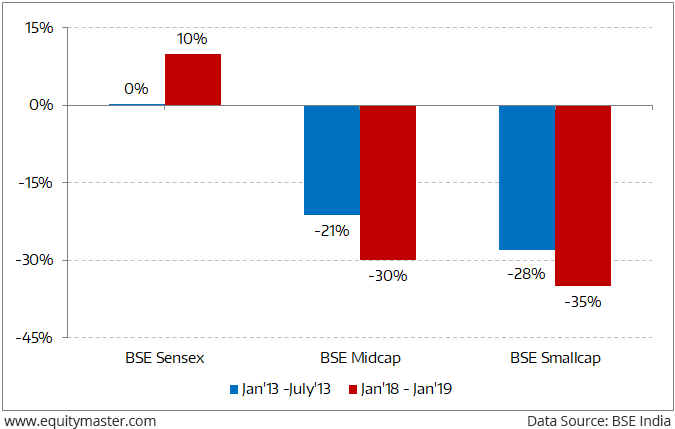 2018-19 has also followed a similar pattern.
Long term-capital gains tax was introduced in last year's budget. We've seen corporate governance issues leading to auditor exits and finally the IL&FS impact.
The rally that followed in 2013 was led by mid and small caps.
Will 2019 pan out the same way?
All you can do is control what can be controlled.
Pick up fundamentally strong stocks with an able management at the helm.
These are businesses that have delivered earnings even in tough times.
These stocks are most likely to lead the next leg of the market rally when it happens.
Regards,


Sarvajeet Bodas (Research Analyst),
Co-editor, Smart Money Secrets
PS: Get access right away to Sarvajeet and Radhika's top 'Smart Money' stocks to buy in 2019.
Recent Articles