Infosys, ICICI, Indigo and CEOs Without 'Skin in the Game'
May 4, 2018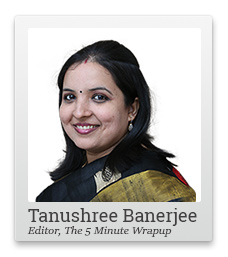 About a year back, the tussle with the founders led to Vishal Sikka's exit from Infosys.
Cyrus Mistry's exit from Tata Sons had happened a few months earlier.
The difference between these two high profile exits was the nature of the CEO's stake in the business. Or what my colleagues Richa and Kunal call - 'Skin in the Game'.
This term has become popular recently thanks to Nassim Nicholas Taleb's book of the same name
Unlike Sikka, Mistry's family is one of the largest shareholders in the company he was operating. Therefore, Mistry was an 'owner operator' or a CEO with skin in the game.
It's true that owner operators make a big difference to small caps. Richa's Hidden Treasure and Kunal's Smart Money Secrets give a big weightage to this factor.
In fact, Richa believes that owner operators go a long way in contributing to the success of small caps for three reasons....
CEO's incentives are not linked to short-term growth targets (which often leads to poor capital allocation decisions). Instead, real, long-term value creation drives business strategies.
Unnecessary conflicts and distractions are avoided.
The CEO's interest is naturally aligned with those of minority shareholders.
Contrast this with professional managers of large cap companies (blue chips).
First, they are under the spotlight from the day of appointment.
Second, they are burdened with expectations. Not only of the founder and minority shareholders but also of the stock market.
--- Advertisement ---


[BUSTED] The 'Hot Stock' Myth…

For the past 16 years, the Bombay Investing Society has stood against getting rich with the 'Next Hot Stock'…

And while maintaining its stand, has successfully guided over 7,000 of its members towards double, even triple digit returns!

Don't believe us?

Click here to know more…
------------------------------
In the age of quarterly results, professional managers are often in a hurry to prove themselves. Investors are impatient. They want to appraise the new CEO's performance within a few months. Also, most of their incentives are tied to quickly turning the company around and are short-term in nature.
So, the general perception is that it's always better to be invested in a company with an owner-operator for the long-term.
But this is not true when we talk about safe stocks.
You see, when it comes to blue chips, there's no denying that professional managers have done a brilliant job.
In fact, among the most consistent wealth creators over the past five years, only Kotak Mahindra Bank, has an owner operator at the helm.
The rest did perfectly well with professional managers who have been with the company for a long time.
Most Consistent Wealth Creators Over Past 5 Years
Why, in these cases, were the CEO's interests aligned with their companies' long-term goals?
Primarily because these CEOs are homegrown leaders. They have worked with the founders for many years. They understand the company culture very well and in many cases, have seen the company grow from strength to strength.
Most importantly, they had little incentive to prove themselves right away.
Nassim Nicholas Taleb writes about this in his book, Skin in the Game...
Plumbers, bakers, engineers and designers are judged by their clients. Doctors by their patients and small-town mayors by their constituents. The works of mathematicians, physicists, and scientists are judged according to rigorous and unambiguous principles. These are experts, plus or minus a margin of error. Such selection pressures from skin in the game apply to perhaps 99% of the population. But it is hard to tell if macroeconomists, behavioral economists, psychologists, political scientists and commentators, and think-tank policymakers are experts.
So, the way professional CEOs are judged makes a big difference to their capital allocation decisions.
Despite not being owner operators, they ensure that their decisions serve the long-term goals of the business.
My key safety filter for judging the managements of blue-chip stocks is the amount of time the CEO has spent with the company. And the key decisions made during the tenure.
Even for new managements that show promise, I wait a while before recommending the stock.
The potential exit and actual exit of the CEOs of ICICI Bank and Indigo (Interglobe Aviation) respectively rattled markets lately.
But I had some sense of the management's track record in these two cases.
So, unlike Richa and Kunal, I am all for CEOs without skin in the game. As long as they have a good track record, I believe they won't compromise the safety of the stock.
Chart of the Day
Mind you it is not always that smaller companies with owner operators do a better job of creating shareholder wealth.
Rather, I believe this advice from Warren Buffett is most suited to small owner operator companies.
You should invest in a business that even a fool can run, because someday a fool will.
Take the case of Titan and PC Jeweller.
Titan has been professionally managed for decades. PC Jeweller is more of an owner operated company.
Investors treated the two stocks very differently post the Nirav Modi - PNB scam and the Vakrangee scam. If nothing else, the management transparency and corporate governance of Titan won it the confidence of investors and steep valuations.
PC Jeweller, meanwhile, has lost 70% of its market cap in past three months.
Investing in safe stocks is not as easy as it looks.
Did Skin in the Game Matter for These Jewellery Stocks?
Warm regards,


Tanushree Banerjee (Research Analyst)
Editor, The 5 Minute WrapUp
PS: Have you heard about the Bombay Investing Society? It's a 16-year old society that has given more than 7,100 members stock recommendations with a success rate of more than 74%. And now this exclusive society is accepting new members. You too can join by clicking here...
Recent Articles