Is Warren Buffett Secretly Planning to Invest in India?
May 10, 2018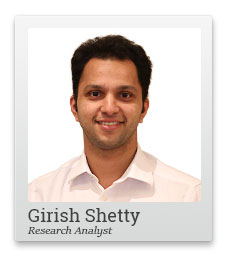 Berkshire Hathaway Annual General Meeting (AGM). The event the whole investor community waits for. The who's who of the investing world land up in Omaha every year.
Why?
It's a once in a lifetime opportunity to see two of the greatest gurus of the modern investing world - Warren Buffett and Charlie Munger in the flesh.
Not surprising then, that we see a lot of Indian investors land up religiously at the AGM year after year. This year was no different.
But a strange thing happened this year.
Warren Buffett consciously or otherwise, blanked out 'India'. No mention of 'India' or anything related in the Q&A session that lasted more than five hours.
On the other hand, there was a lot of talk about China. Here's Buffett in his own words...
'In August, I will be 88, in a year that ends in an 8. Eight is a lucky number in China. ... The United States and China are going to be the two superpowers of the world, economically and in other ways for a long, long, long time. We have a lot of common interests and like any two big economic entities there are times when there will be tensions. But it is a win-win situation when the world trades.'
He also had this to say on his plans for major acquisitions outside the United states...
'Charlie keeps pushing me to do more in China.'
Berkshire had bought 10% of a Chinese car battery maker in 2008. That investment worth US$ 230 million then, stands at US$ 1.7 billion today. A 7x return over a decade.
--- Advertisement ---


Your Invitation to Join the Bombay Investing Society…

For over 16 years, the Bombay Investing Society has guided over 7,000 of its members towards a financially sound future…

This is your invitation to join these 7,000 members, and begin your journey, today.

Click here to do so right away…
------------------------------
No doubt this is an exceptional return. But wouldn't he get similar returns in India? Or better?
Many Indian stocks have gone up more than 7x in the past 10 years.
Why then is Buffett shying away from India?
It's not like he hasn't been to these shores before. In 2013, Berkshire India had entered a tie-up to sell general insurance through Bajaj Allianz in India. It closed in 2015 as the business failed to pick up as expected.
But are we seeing signs of interest after a three-year hiatus. Recent events certainly seem to suggest so.
Last year, Berkshire got clearance to open its reinsurance business in India. Once established, it also plans to expand into the health and life insurance markets.
Berkshire Hathaway is also sitting on a lot of cash. US$ 116 billion. Even a fraction of that amount will have a huge impact on Indian markets.
But this huge size is also a problem. More than Buffett's interest in India, the sheer scale of his company is the issue.
TCS, India's biggest company, recently hit US$ 100 billion in market capitalisation. A small amount for Berkshire, say US$ 5 billion, would be enough to acquire a 5% stake in India's largest company.
Also, India's age-old perception, as a difficult place to do business, doesn't help.
But what even Buffett can't ignore is India's future potential.
Consider India's rural population. It is largely untapped. Be it in banking, insurance, or consumption, the potential is huge.
In a few years, it won't be a surprise to see other major companies join TCS in the US$ 100 billion category.
That would give Berkshire plenty to think about. A lot of quality options to choose from.
Just imagine what that would mean. US $20-30 billion of fresh money coming into the markets. Berkshire's entry could open the floodgates for other marquee investors to enter.
But how does this impact the Indian investor?
The BSE Sensex has moved 10 times from 2002 to 2018. It has gone up 4 times in the last 10 years. The jump to Sensex 100,000 can happen quicker than we think.
Chart of the Day
There are no prizes for guessing today's headline news story.
Walmart is expected to close out a deal with Flipkart worth US $16 billion.
Post the deal, Walmart will own 77% of Flipkart. The rise has been staggering for India's largest start-up which started with a modest capital of US$ 6,000 in 2007.
Rise of India's Biggest Start-up
Flipkart's story resembles that of its global counterpart Amazon although at a smaller scale. Walmart's deal highlights India's increasing importance in the start-up space.
It also brings to the fore the importance of disruptors in an eco-system. Flipkart incurred losses of US$ 1.35 billion in FY17. Despite this, it is valued at a premium mainly due to its future potential. About two years ago, we asked a question - Are You Interested in Buying Shares of Flipkart? We now know Walmart's answer. But what about you?
Regards,


Girish Shetty
Research Analyst, StockSelect
PS: Have you heard about the Bombay Investing Society? It's a 16-year old society that has given more than 7,100 members stock recommendations with a success rate of more than 74%. And now this exclusive society is accepting new members. You too can join by clicking here...
Recent Articles