Here's a Way to Generate 17.28% Profit in Days
May 13, 2017
In this issue:

» New IIP and WPI series: Realistic or Rosier?
» NPA Crisis: The Worst May Not Be Over Yet
» A roundup of the week's stock market action
» ...and more!
The Sensex touched 30,000 for the first time on 5 April 2017. In an earlier 5 Minute Wrapup edition I showed you how one can balance risk and rewards and generate solid returns.
In this article, I showed you how I am picking stocks for my Swing Trader subscribers based on the flag pattern.
A flag is a short-term continuation pattern that marks a small consolidation before the previous up move resumes.
Simply put, price moves up quickly. The rally is almost vertical. This is followed by sideways movement for a few days. Eventually, the price moves out of this range and the uptrend resumes. You have to get in just before the price breaks out of the range.
Today, I am glad to inform you the pattern has done extremely well for us over the last few days. It's done so well that most of the stocks that we are picking are based on it. And many of these stocks have generated good returns.
Here is one example of how it worked for my subscribers...
9.09% Gains in RCF
I have plotted the flag pattern in the above chart of RCF. I recommended it to our subscribers on 4 May after spotting a breakout from the flag pattern with good volumes.
Our trade went live on 5 May 2017 at a price of 88 with a target of 96 and stoploss of 84. The stock immediately picked up momentum and achieved its target price within three trading session on 10 May 2017. We closed the trade with gains of 9.09%.
Here's another example of a stock I identified for my members - Motilal Oswal Financial Services...
11.41% Gains in Motilal Oswal
When markets are at an all-time high, one sector you can't miss is the brokerage and financial services space. Motilal Oswal jumped 50% in February 2017. It consolidated in a range of 700 and 750 in March. And broke out of this range on 3 April.
I recommended the stock at a price of 754 with a target of 820 and a stoploss of 720 on 4 April. The stock hit a high of 819.85 on 10 April. I figured the momentum was still strong and the stock could rally further, so I revised our target up to 840, which was achieved on 21 April. This trade generated a return of 11.41%.
Here's an example of PVR. It is our biggest winner so far in 2017. In an earlier newsletter, I showed you how I revised our stoploss and target to generate a return of 17.89%. It wouldn't be possible without the flag pattern.
17.89% Gains in PVR
Our trade went live on 8 March at a price of 1,330 with a target of 1,500 and stoploss of 1,250. The stock was up about 7% within three days of going live. The stock consolidated in a narrow range for a long time until 3 April.
This consolidation was in the form of a flag pattern. It looked like the stock was near the end of consolidation and ready to resume its uptrend once again. I revised the target and stoploss higher (to 1,600 and 1,400 respectively) on 3 April.
The stock shot up about 9% the next day. The flag formation suggested there was still more upside left in the stock. So we stayed with the trend. Eventually, we closed this recommendation on 3 May with gains of 17.89%.
So you can see that this pattern has a lot of potential to generate good returns in a short time. I strongly believe that an investment in knowledge pays the best interest. And I believe this could be the best time to study as markets are giving so many opportunities.
When I shared this whole idea and development with my publisher, he immediately recommended we share full details about it with you, dear reader.
So, I have just released a special video where I talk in detail about this pattern and even show you how to set stoploss and targets based on it. And that's not all.
In this video, I also show you stocks which are consolidating in a flag pattern right now and could breakout any moment for a quick profit opportunity.
The stocks I am looking at right now have the potential to generate returns like 17.28% and 14.13% within days to weeks (sometimes longer like in the case of PVR).
To get instant access to this special video, just click here...
--- Advertisement ---
16,000+ Copies Downloaded...

The Super Investors of India - our latest special guide, has already been downloaded by more than 16,000 readers...

And that number is going up rapidly as we speak. So, if you still haven't claimed your copy...do not delay.

It's absolutely FREE. Click here to download...
------------------------------
02:00

Chart of the day

Around two years ago, the Government came up with a new methodology to calculate GDP. This exercise did little to change things on ground level. However, it did help the Government's report card look good. The GDP growth numbers as per new calculation were higher than as reflected by earlier method. Even RBI had trouble digesting this artificially inflated performance. In the monetary policy report dated April 2015 and released on April 7, the central bank said: "The new GDP data...came as a major surprise as it produced significantly higher growth at constant prices."

Cut to 2017... Something similar is happening to inflation data (WPI) and industrial production data (IIP). The Government has launched an updated series for both. And the new numbers suggest better factory output growth and lower price pressure as compared to old numbers.
New WPI Series Paints a Rosier Picture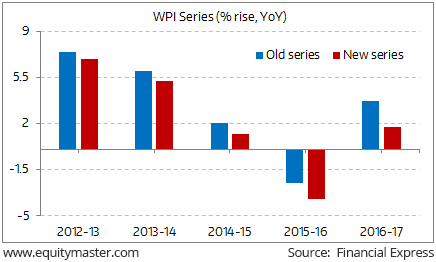 Note: New and old series data not comparable due to changes in base year, method of calculation, items and composition
The boost in the performance is the result of change in base year, change in items and their weightages and calculation methodology...An academic exercise at best and has nothing to do with anything real. It even manages to write off the impact of demonetisation. In the coming days, it could influence monetary policy as well.
For those investing based on macro clues, these are times to be a little skeptical. What you see could be too good to be true. And could be a very slippery premise for one's investment thesis. Ask superinvestors who have consistently beaten benchmark indices. A US study examines the record of every large investor who has outperformed markets from the start of 2001. One thing that it finds common in all these superinvestors is they ignore macro forecasting. Trying to estimate macro data is waste of time for them- an exercise that offers no edge.
But then what exactly are they doing differently to have such glowing track records? Is it possible for a retail investor to replicate this performance?
My colleagues Kunal and Rohan have been working on a project to answer this. They have travelled the length and breadth of the country to interview a bunch of value-oriented investors who've had tremendous success with investing.
Who are these super investors? And more importantly, how do they pick stocks? Which stocks are they picking?
To get an insight, download your free copy of The Super Investors Of India today. Over 15,000 readers have already claimed their free copy of Rohan and Kunal's new guide. If you are really serious about investing in the stock market, I strongly suggest you do too.
Speaking of Indian economy and big investors, just yesterday, we wrote to you about how we aren't as optimistic about bank reforms as CLSA's Christopher Wood.
It's true that the central bank's asset quality review has brought to light a massive pool of decaying loans. The RBI mandated banks to disclose additional gross NPA exceeding 15% of the published figure. And also provisioning that exceeds 15% of FY16 profits. With that, skeletons started tumbling out of the cupboard. Yes Bank and ICICI Bank's recent NPA numbers paint a grim picture of the divergence in asset quality disclosures. Yet, stocks of these private sector banks continue to enjoy premiums they hardly deserve. What investors are yet to realise is that the bad loans would eat into the banks' networth. This would shrink their capital adequacy as well as hurt their return ratios.
The asset quality review could certainly go a long way in cleaning up the NPA mess in the sector. But a lot would depend on whether the bank reforms put in place better lending practices for corporate loans. Meanwhile, investors would be better off looking at what we call the banks' price to adjusted book value. This is nothing but the book value adjusted for net non- performing assets. A good sense of this valuation can help avoid overpaying for bad banks.
Global financial markets ended the week on a positive note with a boost from emerging markets. The share markets of Brazil, Hong Kong and Japan were up 3.8%, 2.8% and 2.2% respectively. However, share markets in United States and France were down marginally by 0.5% each.
The Brazilian markets were up on the expectation of the economy exiting deep recession. The Brazilian economy grew in the first quarter. Finance Minister Henrique Meirelles listed metrics such as steel output and car sales to illustrate how the economy was exiting a deep recession. Gross domestic product (GDP) data for the first quarter will be released on June 1.
US markets ended the week lower by 0.5% this week. This was on the back of soft retail sales and monthly inflation data that raised concern about slow economic growth. Further, it also raises question about whether the Federal Reserve could maintain its aggressive outlook for interest rates this year.
The Bank of England said on Thursday that it may raise interest rates before the end of 2019. With just a month before Britain's general Election, the BoE said the short-term squeeze on households from inflation since June's Brexit vote would be more severe than it predicted in February.
Performance During the Week Ended 13th May, 2017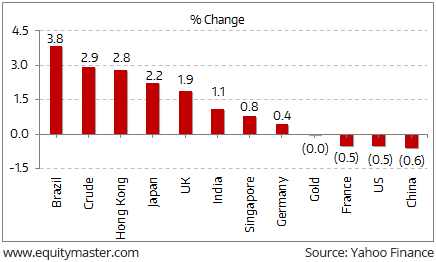 Back home, Indian stock markets closed higher by 1.1% over the last week. The markets saw a record closing high during the week. Stocks from realty, telecom and auto sector rallied during the week after some good results and positive management commentaries for Fiscal 2018.
04:56

Investment Mantra of the Day

"To invest successfully, you need not understand beta, efficient markets, modern portfolio theory, option pricing or emerging markets. You may, in fact, be better off knowing nothing of these. That, of course, is not the prevailing view at most business schools, whose finance curriculum tends to be dominated by such subjects. In our view, though, investment students need only two well-taught courses - How to Value a Business, and How to Think About Market Prices." - Warren Buffett

This edition of The 5 Minute WrapUp is authored by Apurva Sheth (Research Analyst).
Today's Premium Edition.
Today being a Saturday, there is no Premium edition being published. But you can always read our most recent issue here...
Recent Articles