A Parable for Today's Heady Markets
Jun 5, 2017
In this issue:

» Is the worst case scenario priced into pharma stocks
» Our special guide on the upcoming IPOs in 2017
» Market roundup
» ...and more!
Today, I want to share with you a story Professor Sanjay Bakshi told in his virtual class room (i.e. his twitter account!).
It was published a while back and every time I re-read it, I find something new. It's particularly relevant during these heady times in the stock market.
Without further ado, please enjoy The Parable of the Mexican Fisherman.
A boat docked in a tiny Mexican village. An American tourist complimented the Mexican fisherman on the quality of his fish and asked how long it took him to catch them. The fisherman said...

Not very long.

Well, then, why didn't you stay out longer and catch more?

Because this is sufficient to meet my needs and those of my family.

But what do you do with the rest of your time?

I sleep late, fish a little, play with my children, and take a siesta with my wife. In the evenings, I go into the village to see my friends, have a few drinks, play the guitar, and sing a few songs, and socialise with my friends... I have a full life.

The American interrupted and said I am an MBA and an investment banker and I can help you! You should start by fishing longer every day.

You can then sell the extra fish you catch. With the extra revenue, you can buy a bigger boat. With the extra money the larger boat will bring, you can buy a second one and a third one and so on until you have an entire fleet of trawlers.

Instead of selling your fish to a middle man, you can negotiate directly with the processing plants and maybe even open your own plant. You can then leave this little village and move to Mexico City, Los Angeles, or even New York City! From there you can direct your huge enterprise.

How long would that take?

Twenty, perhaps twenty-five years.

And then what after that?

After that, you can live like a king in your own house, and when the time is right, you can go public and float your shares in the stock exchange. By then, you will be rich. Your income will be coming in by the millions!

Millions? Really? And then what after that?

Ah, that is the beauty part of all this. After that you'll be able to retire, live in a tiny village near the coast, sleep late, play with your children, catch a few fish, take siestas with your wife, and spend your evenings playing the guitar, singing a few songs, drinking, and socialising with your friends...
Notice how the fishermen kept asking and then what?
It's easy to get lost without second level thinking...
In investing, it's not about the certainty of answers. It's rather about the uncertainty that questions bring about.
The super investors of India have a natural curiosity. Like the Mexican fisherman, they ask questions till clarity is achieved. Continuous learning through questioning till you arrive at the right answers remains the most important aspect in investing.
And then what? You may ask...
Well, for today at least, you could learn more about the super investors of India.
03:30

Chart of the Day

Markets are in a punishing mood towards export-oriented sectors right now. Most of these sectors seem to be facing some headwinds. It looks like their growth story has come off the rails. They seem to be Megatrends in reverse. Take the case of pharmaceuticals sector in India.

Now, wearing the questioning hat we borrowed from our Mexican fisherman story. Girish, our pharma analyst dug deeper. We wrote about some of his views on pharma sector in general in our recent edition of Research Digest (subscription required).
Is the Worst Over for all the Pharma Stocks?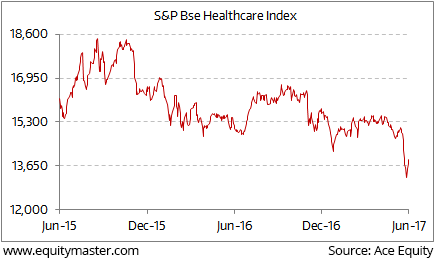 There's price control regulations in many countries to worry about. There's the well-documented USFDA issues. Then there's something you've probably not heard about yet...

Did you know pharmacies in the US are consolidating? That is, they're getting bigger through mergers and acquisitions? This has resulted in greater bargaining power when buying drugs from pharma firms.

The list of pharma sector woes is long. Is there light at the end of the tunnel? Girish thinks there is.

It doesn't make sense to paint all pharma stocks with the same brush. The leaders of the industry will certainly survive this phase. And just like IT, there are interesting, niche pharma stocks that are worth your attention.
His deduction was markets are irrationally punishing everyone. Such gloom and doom scenarios are bound to create opportunities in select stocks. The prudent thing to do is to remain focused and patient for both opportunities to come as well as to play out completely.
IPOs continues to galore in 2017 as well. Per the latest available information, at least four companies are ready to tap the secondary market in the June month itself. Reportedly these would be trying to garner around Rs 50 bn. The frantic mad dash of road shows seems to be in full swing. According to reports from livemint, eight companies have managed to raise Rs 63 bn through their public listings so far in 2017. Last year saw 26 companies raised around Rs 265 bn through this route.
We have come out with a special report titled, How to Get Rich with IPOs. It is a comprehensive report that aims to cut through all the hoopla surrounding IPOs. It talks about spotting the rare good profitable companies. It also talks about in great detail on tell-tale signs of IPOs that need to be avoided. Claim your free copy of the report here.
Share markets in India have opened the day on a flat note. The BSE Sensex is trading lower by 27 points and the NSE Nifty is trading higher by 4 points. Barring FMCG stocks, metal stocks and information technology stocks, all sectoral indices have opened the day in green with consumer durable stocks and realty stocks leading the gainers.
04:55

Today's Investing Mantra

"Someone's sitting in the shade today because someone planted a tree a long time ago." - Warren Buffett

This edition of The 5 Minute WrapUp is authored by Rohan Pinto (Research Analyst).
Today's Premium Edition.
How to Clone India's Super Investors
Two indicators that can help track the investment activity of superinvestors in India.
Read On... | Get Access
Recent Articles