Caution! The Great Indian Clean-Up Is Underway
Jun 24, 2019
When I was washing my hands this morning, my gaze fell on the index finger of my left hand. I noticed that there was just a faint hint of the voter's ink left now.
Just how quickly time passes...
The next thought that passed my mind was that the voter's ink on the Indian stock markets has also had a similar journey.
The excitement and jubilation that market participants displayed at the time of the exit polls and the thumping victory of the BJP-led NDA has given way to fear and panic.
A slew of bad news has been pouring in from every quarter of the economy.
While there is hope and optimism that Modi 2.0 government will take big steps to fix the economy and give it the much-needed fillip, there's growing nervousness and anxiety among market participants.
To be honest, I'm myself worried, seeing all the bad news and disconcerting data coming out.
---

Advertisement

---
The New India Is Here…This Book Reveals How to Potentially Profit From it!
The New India is already here. We see change happening all around us every single day.

Sadly, most people don't know the full story, and are hence missing out on a once-in-a-lifetime opportunity.

That's the reason our Co-Head of Research, Tanushree Banerjee, decided to write a book on this transformation. And to show people how to potentially profit BIG from it.

And for a limited time, you could get a copy of this book worth Rs 1,950 virtually FREE.

Nearly 2,000 copies of it have been claimed already. So don't delay.

Click here to find out how to get this book virtually FREE…
------------------------------
It would be extremely foolish to simply write off all concerns as short-term blips.
The problems and risks facing the economy are real.
The wealth being lost in the stock markets is real.
But it also doesn't serve to take all the bad news at face value and turn ultra-pessimistic about the Indian stock markets.
So, what to make of what's going on? And how to invest during such times of heightened uncertainty and pessimism?
Let me offer one perspective on what's happening in the economy right now...
The Great Indian Clean-Up
Being a journalism graduate, I've closely studied how the news industry functions. So, I never take news and mainstream views at face value.
Secondly, instead of getting more and more perplexed at every piece of bad news, I try to connect the dots and see the big picture pattern underlying them.
You see, the Indian financial system seems to be crumbling under the weight of NPAs and the liquidity crisis. There is a loss of confidence and there are growing concerns that the contagion could spread further and make matters worse in an already slowing economy.
But it's also important to understand that the mess we're seeing now is a result of the mistakes, failures, excesses, and scams of the past. Much of the malaise in the banking system is a legacy issue.
What I'm seeing is that the Indian economic engine is going through a massive clean-up. And while it may take some time to clear this current mess, there are signs that the ongoing clean-up is laying the foundations of solid, sound growth in the coming years.
Here are some telling signs that a clean-up is underway...
Auditors Are Running Helter-Skelter

Corporate frauds are often perpetuated because of the neglect or connivance of auditors.

If you've been following the news, it's clear that the auditors are now in the line of fire and they're running for cover.

The government has come down heavily on auditors in the aftermath of the Infrastructure Leasing & Financial Services (IL&FS) default.

In fact, the government is seeking to ban Deloitte Haskins Sells and KPMG affiliate BSR & Associates for five years. As per more recent updates, these big audit firms also face the possibility of their assets being frozen.

This has triggered a wave a panic among auditors and prompted a spate of resignations from big audit firms such as PwC and Deloitte.

Willful Defaulters Are Being Named and Shamed

Never before in my career I've seen willful defaulters being named and shamed publicly.

Just the other day, I read a news report that said that Kolkata-based public sector lender UCO Bank published the name of Yashovardhan Birla, along with his photograph, in newspapers as a wilful defaulter because of his firm Birla Surya failing to repay Rs 67.65 crore.

In fact, banks are looking to intensify the drive to name and shame more wilful corporate defaulters after the Supreme Court said a person had no right to be represented by a lawyer in in-house proceedings initiated by banks or financial institutions to declare him or her a wilful defaulter.

Rating Agencies Better Wake Up Now

The credit rating agencies have had a terrible track record of detecting defaults or near-defaults.

The defaults by Infrastructure Leasing and Financial Services Ltd (IL&FS) that led to a liquidity crisis among NBFCs in India has brought the credibility of credit rating agencies under serious scrutiny.

According to The Hindu dated June 12, 2019, credit rating agencies have downgraded 163 credit facilities in 2019. That's a 51% increase in the total tally for the last four years.

In just a matter of few months, "AAA" rated papers (so-called top-quality papers) got downgraded to "D" (Default).

The rating agencies completely failed to warn investors about the looming defaults.

The capital market regulator has taken the IL&FS fiasco seriously and immediately swung into action. It's nudging credit rating agencies to modernise their corporate structure and improve governance practices.

Recently, SEBI directed credit rating agencies to start disclosing the probability of default for the issuers they rate.

Capital market regulator's recent attempts to tighten up screws around credit rating agencies may bring in more discipline and transparency in the credit rating processes.
So, these are just a few big clean-up trends that I'm observing in the Indian economy right now.
But there's more underway...
Over the last few years, the Modi government has initiated several radical reforms to clean up the big mess and inefficiencies in the Indian economic system - Insolvency and Bankruptcy Code, 2016 (IBC), Real Estate (Regulation and Development) Act, 2016 (RERA), Goods and Services Tax (GST), giving teeth to the Benami Transactions Act and the crackdown on shell companies, rule-based auctions, the various drives against black money, and so on.
But if the clean-up is really happening, then why are we seeing the mounting mess right now? I'm sure some of you may have this doubt.
I see the current clean-up in the Indian economy that way I see my mom's Diwali clean-up of our apartment.
Before Diwali every year, my home goes through a rigorous clean-up, one room at a time. All the furniture, shelves and wardrobes are cleaned and rearranged. Useless, old things are discarded.
Right when the clean-up is happening, my home looks like the messiest place on earth because a lot of dirt that usually hides from common sight suddenly comes to the fore. For a few days, it's difficult to live in the house.
But once it's done, there is a freshness and vitality in the apartment that makes the clean-up worth it.
Likewise, I believe that the ongoing clean-up in the Indian economy is not only throwing up great long-term investing opportunities, but also laying the foundations for a sound, robust economy in the future.
Do you agree with me that the mess we're seeing in the Indian economy is a result of the clean-up that's underway? Do you believe that Modi 2.0 will be successful in clearing the economic mess and steering India to growth and progress?
I'm curious to know what you think. Write to me here...
Chart of the Day
When a crisis strikes a segment of the economy, many small investors paint the entire sector with the same brush.
Take the NBFC crisis for instance...
The liquidity crisis, a slew of corporate defaults, and the bloodbath in many stocks has left investors in deep fear and panic.
But I've often noticed that this blanket approach doesn't work too well.
Through these years in the stock markets, I've come to realise that somebody's pain could become somebody's gain.
The chart of the day will tell you what exactly I mean...
NBFC Crisis - Top Gainers and Losers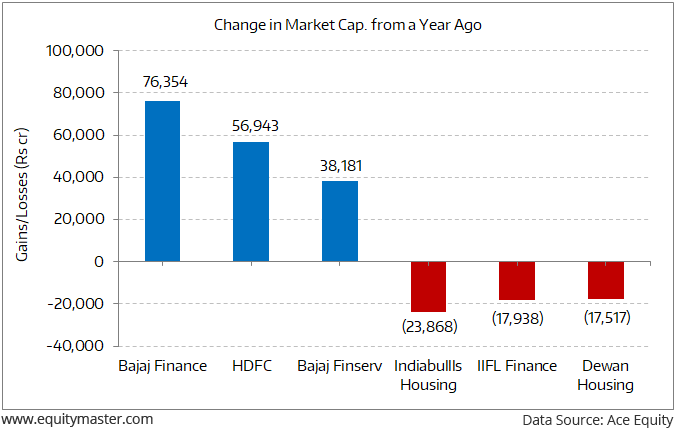 In today's chart, I've picked the top three NBFC gainers and losers (in terms of market capitalisation) over the last one year.
While several NBFCs have suffered badly and destroyed investor wealth, there have also been quality NBFC stocks that have been wealth creators.
So, the key takeaway here is to never write off an entire sector and to always stay on the lookout for quality stocks in sectors going through temporary headwinds.
In fact, in my premium newsletter Insider, one of my cherry-picked housing finance stock has performed quite well despite the NBFC crisis.
Warm regards,



Ankit Shah
Editor and Research Analyst, Equitymaster Insider
PS: If you want a simple and fast way to keep up with the markets and don't want to miss out on a potential double or triple-digit idea because you didn't have time to read our reports... Ankit Shah's Equitymaster Insider is perfect for you.
Recent Articles