What the Cricket World Cup and Tanushree's Top 7 Stocks Have in Common
Jul 11, 2019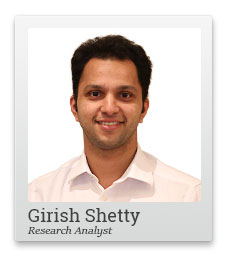 The cricket world cup has reached its final stages. We are down to three teams from the original ten.
And for us cricket crazy Indians, the bad news is our team isn't one of them.
Yesterday's unexpected loss has meant India's world cup journey has ended. But overall, we have had a decent run.
There was a lot of excitement before this world cup. The Indian Cricket team after a long time were one of the favorites to win.
--- Advertisement ---
The Next Big Wealth Generation Opportunity

With billions of dollars pouring into their industries...

These 3 cutting edge stocks could create a wave of Indian millionaires.

Today, very few people know about the exponential growth potential of these stocks.

But once the broader market gets a whiff of it... there is no limit to how high their stock prices may rise.

Get the details before others...
------------------------------
As usually happens in India, everyone has an opinion on cricket. Me and my friends had one too. As a friendly bet, each of us had to predict who will be the four semi-finalists. While most of us were sure about India and England, the other 2 could be anyone's guess.
I went for India, England, Australia and New Zealand. My friends mocked me for my boring choice. The reasoning was everyone expected these teams to qualify. They had done well in the year before the world cup. Whereas, a sport like cricket is unpredictable. Most of their picks included Pakistan or West Indies. Two teams known for their unpredictability. Plus, there is a certain excitement to pick an unexpected team and see your guess go right.
They were right in a way. On their day, Pakistan or West Indies could beat any team. But I fancied my chances mainly due to the format of this tournament. This was a long tournament where each team would play nine matches in the group stage. Consistency rather than one-off performances would matter more.
And that is how it has turned out. The top four semi-finalists are the ones which have been the most consistent in the previous year. They have continued to do well even now.
That is how I look at the stock market too.
Rather than looking at short-term exciting stocks, I focus on safe stocks.
These are blue chips with an established track record. Businesses that look boring but have been resilient across market cycles.
I believe, these businesses will trump fancy growth stocks over a long period.
Look at megatrends that will play out in India over the next decade. Then, look at stocks that will benefit from these megatrends.
The stocks you shortlist should have all characteristics of a safe stock. A robust business model, competent management, and it should be available at attractive valuations.
If you get the megatrends and stock combination right, you are bound to do well.
My colleague Tanushree has shortlisted 7 stocks that i believe fits into this combination. These stocks will do well when the megatrends play out.
Like the top four teams in this world cup, I expect these 7 stocks to also deliver solid, consistent performance in the long run.
--- Advertisement ---
Finally! Here's How You Can Get 1 FREE YEAR of Our Bestselling Smallcap Service...

Ever since the coronavirus crisis abated, and the markets settled down...

Smallcaps have shown great rebound possibility.

That means if you buy the right smallcaps at the right time, you could potentially build LIFE-CHANGING WEALTH over the long-term.

Good News: Righ now, we're offering a select group of readers 1 FREE YEAR of our proven smallcap service...

so that they could take advantage of this rebound opportunity.

Click Here to Know How to Get Your FREE YEAR
------------------------------
Chart of The Day
If there are two things most discussed right now in India, it must be cricket and budget.
The post-budget reaction saw a negative reaction from the market.
There was also debate around the tax for the super-rich which was increased. Also, for the market, buybacks will now be taxable which was also a surprise.
Before any for or against argument against the tax, it is important to understand how government earns its revenue.
Is this Budget A Step Towards India's March to the Rs 5 Trillion Mark?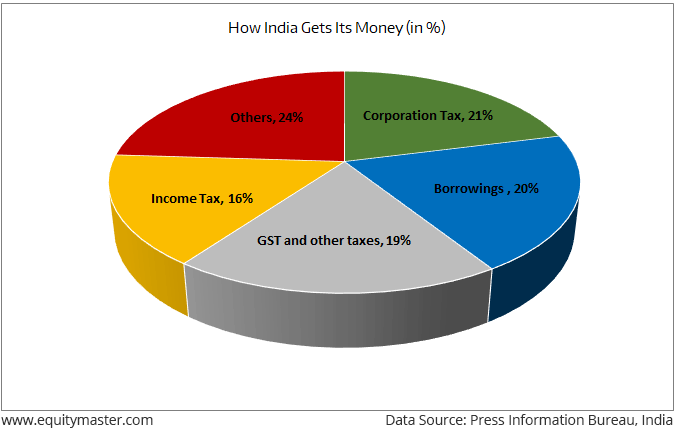 Corporate taxes contribute the major chunk to India's revenues. This is followed by borrowings and GST.
Non-tax revenues currently contribute to 9% of overall revenues. Non-tax revenues include dividends that the government receives from PSUs or any other divestment that it does.
Focus on economic growth will mean revenue from corporate taxes will be an automatic by-product.
The modi government has reduced corporate tax rates to 25% for firms with turnover up to Rs 4 billion. We believe many such measures are needed for India to become a Rs 5 trillion economy in the next 5 years.
Warm regards,



Girish Shetty
Editor and Research Analyst, ValuePro
PS: Dear reader, Tanushree believes this is the right time to buy the best 7 stocks in the market before they run up. Read more about these 7 stocks here...
Recent Articles