Contrarian Investing: Make Money the Smart Way
Sep 14, 2017
In this issue:

» IPO back in demand
» Life Insurance companies line up for public listing
» Market roundup
» And more!
The best thing that happens to us is when a great company gets into temporary trouble... We want to buy them when they're on the operating table. - Warren Buffett
A quick history lesson...
In 1963, the world's largest credit card company, American Express, was involved in the 'salad oil scandal'.
AmEx had just created a warehousing division to make loans to businesses using inventory as collateral.
A commodities trader (and known swindler) named Anthony 'Tino' De Angelis saw an opening for a massive fraud.
He began stockpiling his warehouses with tanks of soybean oil. He then used warehouse certificates from American Express as collateral to borrow heavily from American Express and as many as fifty other lenders.
When American Express sent inspectors to check De Angelis' inventory, they did not notice that - except for the thin layer of oil floating on top - the tanks were filled with water.
When the fraud was finally exposed, AmEx stock crashed more than 40%. The eventual damage to the company would be US$175 million.
At the height of the fallout, an unknown 35-year-old fund manager from Omaha decided to bet big on American Express, putting 40% of his fund's money into this one stock.
His name was Warren Buffett, now the world's richest and most famous investor.
Buffett knew the brand power and consumer business of American Express would survive the scandal. The company's prospects were as bright as they were before the scandal. It was a play on rising affluence levels worldwide.
More importantly, the stock was available at a bargain price. Buffett was only too happy to lap it up.
Within a year, AmEx had rebounded more than 40% and has been a compounding machine ever since.
No wonder Buffett says he likes to buy great companies when they're on the operating table!
What can we learn from this?
Whenever you find a stock that's been beaten down due to one specific problem in the business, ask yourself the following questions...
Will the core business survive? In the case of American Express, the answer was yes. People were still going to use traveller's cheques and credit cards.
Can the balance sheet withstand the hit? Having analysed the financials, Buffett knew American Express could.
If the answer to both questions is yes and the stock has already fallen about 40%...then you might just have a big winner on your hands.
Keep the American Express example in mind when you read through this month's Hidden Treasure report. We believe this could be a case of history repeating itself.
Editor's Note: Warren Buffett is known as a value investor. And for good reason, as we saw today...
But that bold move back in '63 would also put Buffett in the category of 'contrarian investor'.
Why?
Because he was making a bet few others had the gall to make. As the markets panicked, Buffett loaded up.
This is what smart contrarians like Buffett (and Soros and Templeton and Rogers) do. These guys make it look easy, but contrarian investing...smart contrarian investing...requires a level of discipline and fortitude that most investors simply lack.
Do you think you have what it takes to follow in their footsteps?
Beginning next week...more on how to approach the markets like a smart contrarian.
Stay tuned...
02:30

Chart of the Day

One space which tests the investor's contrarian philosophy is the IPO space. The demand for IPO's has reached sky-high levels. Avenue was the first company this year to cross the 100 time subscription mark swiftly followed by CDSL and Dixon technologies lately.
IPO Subscription Times (2017)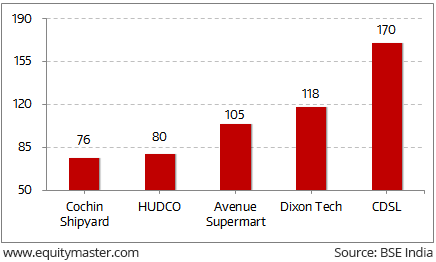 The market euphoria is something similar to what was seen in 2007-08. When everyone around you is clamoring to get a piece of the IPO pie, it makes sitting tight difficult. And, why should you sit tight when stocks like Avenue Supermart lets you pocket a cool 100% gain from day 1 of the listing?
History suggests that these cases are few and far between. More than 70% of the IPOs listed in 2007 and 2008 are in the red, even today when the Sensex is at an all-time high.
This allows us to stay on the fence when it comes to investing in IPOs. But it doesn't make sense to completely ignore this space. For every Reliance Power-like issue, there have been issues like Maruti, TCS, and Jubilant Foodworks Ltd (with returns over 4,000%, 1,000% and 500% respectively) that have created immense wealth for shareholders.
A merit-based selection primarily including valuation, business, and management quality is the logical way to go about it. If it means going against the herd, so be it. And going by recent past, this strategy has been proven to be successful more often than not.
One industry that is trying to capitalise on this IPO frenzy is the life insurance industry. Since the listing of ICICI prudential, a lot of life insurance companies are rushing to take their company public.
SBI Life will be the second life insurance IPO with its Rs 84 billion public offering set to launch on 20th September. HDFC standard life has filed its papers for the launch of its IPO as well.
Once the industry opened up, private sector companies managed to break the stronghold of Life Insurance Corporation (LIC) of India through prompt and better quality of service. The industry is also tightly regulated these days, and cases of misselling as compared to previous years have significantly reduced.
In India, however, the life insurance space is still at a nascent stage. According to CRISIL Research, Life insurance industry report, July 2016, the new business premium for Indian life insurance companies is expected to grow at a CAGR of 11-13% over the next five years. Low insurance penetration in India as compared to other countries makes it a lucrative business option for financial institutions. Market share of private insurers has risen to 52% in FY-16 as compared to 38% in FY-15.
The sector has the potential to be a mega-trend in the future. Going forward, we are likely to see a lot of activity in this space.
At the time of writing, share markets in India have opened the day on a positive note. The BSE Sensex is trading higher by 105 points while the NSE Nifty is trading higher by 31 points. The BSE Mid Cap Index and BSE Small Cap index both opened the day up by 0.8%.
Barring metal stocks and information technology stocks, all sectoral indices have opened the day in green with energy stocks and healthcare stocks leading the pack of gainers.
04:56

Investment Mantra of the Day

'Be fearful when others are greedy. Be greedy when others are fearful. - Warren Buffett

This edition of The 5 Minute WrapUp is authored by Richa Agarwal (Research Analyst) and Girish Shetty (Research Analyst).
Recent Articles