A Rare Opportunity to Buy the Top 5 Stocks in the Market
Sep 16, 2019
Over the years, my husband and I have become addicted to online shopping.
Our buying patterns differ. He scours Amazon for deals on gadgets and electronics. Being an avid reader, I look for books.
My husband, especially, loves deals. He is disciplined that way and quite clear he will buy an item he likes only if it's more than 40-50% off.
Most of the time, these items get added to his wishlist. This a list full of potential future purchases at the right price...
--- Advertisement ---
FREE Event on Equitymaster's New Project

On May 17, we are holding a FREE event to reveal Equitymaster's Great Indian Wealth Project.

At this event, we'll reveal the details of your first stock for a potential Rs 7 crore in long-term wealth.

Seats for this event are filling up fast.

Since there are limited seats, we urge you to register at the earliest.

Click here for free sign-up
------------------------------
...And the right price, more often than not, comes during periodic sales.
But why restrict ourselves to online shopping?
When you roam in so many malls, sprung up all over India, you will see they are most crowded when the sale season is on.
Who doesn't like a good bargain?
Believe it or not, the same logic applies when shopping for stocks.
You don't want to buy stocks when markets are in a frenzy and the prices are exorbitant.
You want to buy them when markets are depressed, when markets are continuously falling - Precisely the situation we are in now.
This may be hard to digest, but believe me it is true.
Learn: How to Potentially Accumulate Rs 7 Crore in Wealth Over the Long-term
If you look at the stock market returns over the years, you will see that the markets have never moved in a linear fashion.
What do I mean by that?
It has never been a one-way street - only up or down.
Stock markets have always moved in cycles.
The Time to Buy Stocks is Now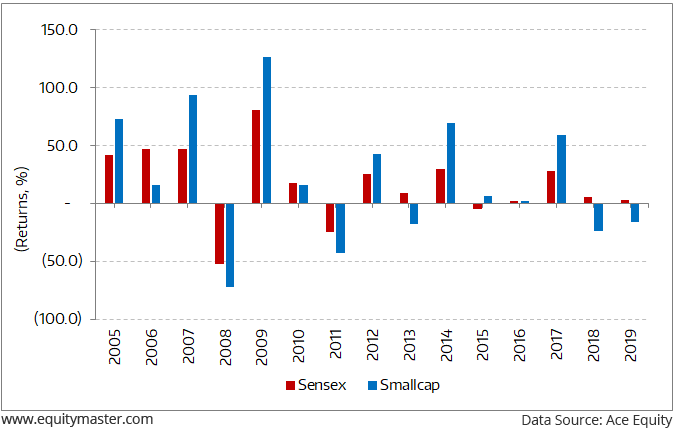 If you would have bought stocks when either the Sensex or the Smallcap index was in a downturn, you would have made big returns once the cycle turned and the bulls took over.
Sarvajeet and I believe we are seeing a similar situation currently.
--- Advertisement ---
How to Earn a Fortune in Gold, the Smart Way

Gold is on 'the verge of a decadal run' says Vijay Bhambwani, India's #1 Trader and Editor of Fast Profits Daily at Equitymaster.

He says gold has the potential to generate staggering gains in the coming years...And those who are betting on gold right now will hit the jackpot.

But wait.

While gold is an attractive investment destination, there's a very specific way to play this opportunity...

A way that ensures you rake in maximum profit and perhaps hit the jackpot...while minimizing potential pitfalls. Thankfully, Vijay - India's #1 Trader - can guide you step-by-step in the upcoming gold rush and help hit the jackpot just at the right time.

Sure, you don't want to be an average trader. That's not how you make a fortune.

Here's how you can get Vijay's guidance...
------------------------------
The economic slowdown does not herald the end of the world or for that matter the end of India. It's a phase and like all phases - This too shall pass.
The real question is - Are you taking advantage of these price declines to buy quality stocks?
I believe you should.
Here's what Sarvajeet wrote just a few weeks ago:
We humans are emotional creatures.

When we feel positive, we extrapolate good times far into the future.

On the other hand, we are in fear mode, we think like the world is going to end.

This swing of the pendulum creates price declines.

But this also creates an opportunity.
Look at what India's super investors are doing.
Some of them, who we track for our Smart Money Secrets subscribers, are buying more of the stocks already in their portfolio. Some are picking up new ones.
Sarvajeet and I are also finding some compelling buying opportunities in these markets and have recommended an increased exposure to 5 high-quality stocks.
We have been quite busy over the last few days writing to our subscribers that they should be buying more of these stocks.
These are stocks of companies with robust business models, healthy balance sheets, and strong management teams.
These stocks have corrected, not because there is anything wrong with them but due to the overall weakness in the market.
Just as in any sale, these stocks are now available at discounted prices.
And so, Sarvajeet and I have recommended an increase in exposure in these 5 high-quality stocks from 50% to 100% to our subscribers.
We published a premium report about these 5 stocks just two days ago.
If you have subscribed to Smart Money Secrets, you can click here to download the report.
If you haven't subscribed to Smart Money Secrets yet, you can sign up here.
Happy investing!
Warm regards,



Radhika Pandit
Co-editor and Research Analyst, Smart Money Secrets
PS: Are you ready for Rahul Shah's first video class on how to double your income? It is happening tomorrow! Get the details here.
PPS: Sarvajeet and I have published a premium report on the Top 5 Stocks to Buy. Get access to these stocks here.
Recent Articles