The Next Smart Money Stock That's Coming Your Way
Sep 28, 2018
With each passing day, stocks are getting cheaper. This means, you're getting better opportunities to buy good quality companies at the right prices.
But finding these good quality companies is a challenge, dear reader.
Not because there is a shortage of such companies. The challenge lies in finding those stocks that aren't obvious to everyone else.
For me, the solution is simple: Annual General Meetings (AGMs).
Sarvajeet and I have been busy these last three months attending many AGMs.
The last day to hold an AGM is usually 30 September. So, the 'AGM season' this year is at an end.
I am going to miss it. This year, I met managements who usually don't talk to analysts.
I also interacted with some big investors. Some of them have been with the company through thick and thin. Their insights are helpful.
This year Sarvajeet and I attended more than ten AGMs. The last one was in Chennai. We met the management of a company that's one of our Smart Money Secrets recommendations.
Our Last AGM for the Year
We met local folk as well, many of whom are long-term employees and shareholders.
They helped us understand the culture of the company. We were very pleased to hear things like this...
'I have been with the company for 21 years and expect to retire from here'.

'This was my first job and I never thought of changing it'

'I have seen this brand grow in last ten years and we want to grow it pan-India now.'
--- Advertisement ---


We're Running Out of Copies…

Scores of copies of Equitymaster's Secrets: 2018 Limited Edition are being claimed every single day – and there's no saying when we'll run out.

We would urge you to claim your virtually free copy before it's too late.

As soon as you claim your book, we'll dispatch it to your home address…anywhere in India. And you don't have to pay anything except postage and handling charges.

Click here to claim your book.
------------------------------
These 'softer' issues are often found only if one pays a visit to these companies. Mind you, some companies are in remote places in the country.
I must say, this consumer company has grown its brand quite well over the last ten years. And from what I've seen, it's all set for another decade of high growth.
The promoter has appointed professional management (with equity ownership) to run the business under his guidance.
I like such companies where the management's incentives are aligned with that of the shareholders.
The AGM season may have come to an end but our quest to find the best quality companies for our subscribers has not.
This month I recommended a pharma company for the first time.
For next month's recommendation, the AGM season has helped me shortlist three stocks.
These stocks have fallen from their peaks in the ongoing market correction. Their valuations look attractive now.
Of these three, Sarvajeet and I have already met two and we expect to meet the last one in a couple of weeks.
I like all the three candidates. But only one will make the cut.
It will be the one with the most attractive valuations and the highest smart money score.
Stay tuned.
Chart of the Day
Talking about finding quality companies in this market correction, you should note that foreign investors continue to sell Indian stocks and bonds.
Foreign investors have been dumping Indian financial assets - both equity and debt - for a while now.
In the month of September, foreign investors have been net sellers of debt and equity to the tune of Rs 81.6 billion and 41.6 billion, respectively.
Ankit Shah, editor of Equitymaster Insider, recently pulled out an excellent chart that he calls - 'A True Picture of the Ongoing Market Correction'.
He showed the level of correction that stocks listed on the NSE have seen from their 52-week highs.
Benefit from the Deep Correction: Buy Some of These Stocks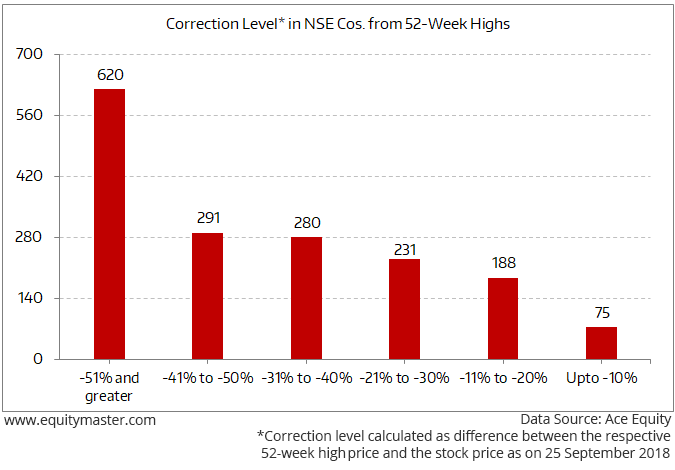 More than 600 companies have fallen more than 50% this year. That's a massive correction.
While many of these companies never deserved the kind of valuations they got in the first place, some have been victims of an over-reaction in the market.
At Smart Money Secrets, I recommend a company when it scores high on the smart money score and trades at reasonable valuations.
Robust Smart Money Score + Compelling Valuations = Smart Money Secrets Recommendation
I have many companies in my watch list. Many of them score high on the smart money score but I won't recommend them due to their high valuations.
But for my next recommendation, I've narrowed down my list to just three stocks.
With the ongoing correction in the market, I believe I can recommend one of these high-quality companies to my Smart Money Secrets subscribers.
Regards,



Kunal Thanvi (Research Analyst)
Editor, Smart Money Secrets
PS: Kunal Thanvi, editor of Smart Money Secrets, is the Sherlock Holmes of investing. He is on a mission to reveal the top picks of India's best investors to you. For clean, high quality stock recommendations that won't put your wealth at risk, subscribe to Kunal's Smart Money Secrets.
Recent Articles