Don't be a Dinosaur. To Build Wealth with Stocks, First Survive the Ongoing Extinction
Nov 1, 2018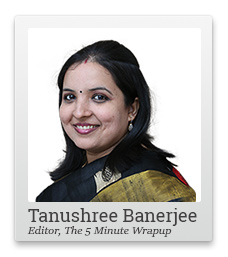 65 million years ago, a large rock believed to be 180 kilometers wide - either a comet or an asteroid - crashed into Earth from space.
This impact wiped out most species from the face of the Earth.
The Dinosaurs which had ruled planet Earth for millions of years were no match for the unimaginable heat generated from this impact.
But how did the mammals - of which we Humans are a part - survive this great extinction when the mighty dinosaurs did not?
Research says the lifestyle and adaptability of mammals gave them an advantage.
Living in underground burrows and in aquatic environments helped mammals survive the drastic rise in temperature.
The large dinosaurs had no place to hide and were completely exposed to the heat.
Once Earth's temperature returned to normal, mammals flourished. Despite most animals and plants being destroyed, they survived on insects and aquatic plants.
There is an important lesson in this for investors.
--- Advertisement ---


Tanushree Banerjee's 7 STOCKS To Turn This Market Crash Into a Money Spinner

What if one could potentially make double, triple or four digit gains without taking on a lot of risk?

Sounds unreal, right?

But it's TRUE, we have found 7 stocks which could potentially help one buy that dream home, support your children's education or build a retirement nest-egg.

Click here for full details on these stocks.

These 7 companies have withstood the test of time, and proven their mettle over the years…

And now the market has pushed their price down to incredible valuations!

This may not last very long…

So before the word is out, here is your CHANCE to access the special report with full details on these 7 stocks.
------------------------------
As you read this, the heat is rising in the Indian stock market as well. This has been a year of constant impact events.
Long term-capital gains tax was the first to strike in the Union Budget.
Then we had corporate governance issues leading to auditor exits. Weak small-cap species went extinct.
Then came a giant impact in the form of IL&FS and brought with it the risk of contagion. NBFC's and housing finance companies were the species that bore the brunt of this impact event.
Now, we hear the government's battle with the RBI is turning into another fireball.
We had the deputy RBI governor warn the government against meddling in the regulator's affairs.
Yesterday, we had speculation around the centre using the never before invoked section 7 of the RBI Act. This gives the government power to issue directions to the RBI governor on matters of public importance.
If this issue drags on, it might have far reaching implications.
The heat is likely to persist till the upcoming General Elections next year.
And make no mistake; it will take down certain Dinosaurs in the stock market.
The companies which are able to adapt will survive. Also, once everything cools down, these will do even better with a lot of their competitors extinct.
The same goes for investors as well. Investors unable to bear this pain will move out of the stock market. The ones that survive will do very well for themselves when the tide turns up.
My upcoming ValuePro recommendation is going through some troubles of its own. I believe it is a short term blip. It is one of the rare global brands coming out of India backed by a strong management.
Given its impressive track record, the current issues surrounding the stock give you a good opportunity to consider this stock recommendation.
Chart of the Day
One sector which is increasingly looking like a dinosaur is India's oil and gas sector. India's crude oil production was lower by 4.2% in September 2018 as compared to last year.
The worrying factor is this was the lowest production this year.
India's Increasing Crude Oil Demand Supply Gap
Comparing domestic production with the crude oil processed by refineries gives an idea of the demand supply gap. Low domestic production as compared to the demand for crude oil places a huge burden on India's import bill.
Rising crude oil prices could have severe implications. Rising inflation. Rising interest rates. Pressure on the government to cut excise duty, thereby impacting its revenues.
We have seen some of this play out. With elections around the corner, expect a lot of subsidies on fuel prices. This is bound to worsen India's fiscal deficit further.
Warm regards,



Tanushree Banerjee (Research Analyst)
Editor, The 5 Minute WrapUp
PS: Tanushree Banerjee, the editor of StockSelect is giving away a FREE report containing 7 stocks that could potentially build a solid retirement nest egg to her loyal readers. Click here for details.
Recent Articles