The One Modi Government Reform Which Can Give a Big Boost to the Rebirth of India
Nov 28, 2019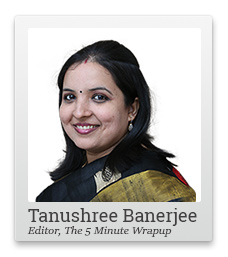 Many a times, important things go under the radar. You are so distracted by trivial things that you tend to miss out on ones that matter.
Think of the time you lost something important in your house. A car key for example.
You search the whole house and can't find it for hours. You ask your spouse or parents for help. They find it immediately. It was right in front of you, but you missed it somehow.
Something similar is happening with our economy. A lot of important reforms are taking place right before our eyes.
But somehow, it is going under the radar. The mainstream media's focus is on other things. They're busy telling you why rating agencies have downgraded India. Or why the Indian economy is facing a slowdown.
Take the recent reform push by the Modi government. It's one which can go a long way in improving the ease of doing business in India: Labor Reforms.
It's a key factor which made foreign companies think twice about setting shop in India. It's also a factor which stopped domestic entrepreneurs from growing big.
Think about this...
The Factory Act comes into play when you go from 19 to 20 employees. Similarly, another act when you employ 50 people and another one when you employ 100. If you are a manufacturer and employ more than 100 people, you come under the Industrial Disputes Act. Under this act, you need government approval if you are thinking about downsizing your workforce!
All this has meant our entrepreneurs are happy staying small rather than get into all these hassles. The magic in a business happens once you reach a certain scale.
A bigger size firm enjoys economies of scale. Your sales increase at a faster rate than expenses. Also, the bigger and more established you are, the easier it is to get new clients.
Yesterday, I wrote to you about the privatisation efforts undertaken by the Modi government. Now it's the labor reform push. Before these moves came the corporate tax cut. We're are seeing a series of measures to improve the productivity of the Indian economy.
This will make India a much better and easier place to do business.
--- Advertisement ---
The Smallcap Fortunes Summit

Join us on the evening of 16th March to learn,

• Why despite rallying over 100% since March-2020 lows... small-cap stocks are set for a massive rally over the coming months and years
• Details of our top 3 stocks to capture potentially huge gains from this upcoming small-cap rally
• And how to spot opportunities, even in the current market, with potential to generate 200%, 400%, and even 900% long-term gains

Plus there is a lot more that we are going to cover.

The summit is free to attend for Equitymaster readers.

But since there are limited seats, we would recommend you to register at the earliest.

Click here to register. It's free
------------------------------
That's what I'm betting on: The Rebirth of India as these reforms start showing results.
The Rebirth of India is my central thesis from which I pick stocks for the long-term.
That includes my best 7 stocks to buy in the market today.
I strongly believe this transformation in the Indian economy will eventually reflect in the Indian stock market and will take share prices much higher.
Chart of the Day
An entrepreneur before starting a manufacturing business has many questions on his mind.
Who are my target customers? Which geography should I sell to? How do I improve my business? How do I improve my manufacturing processes?
But an Indian manufacturer always has one question in his mind. How will I handle my work force? A look at strikes and lock-outs data in India certainly paints a grim picture.
Labor Reforms -Need of the Hour in India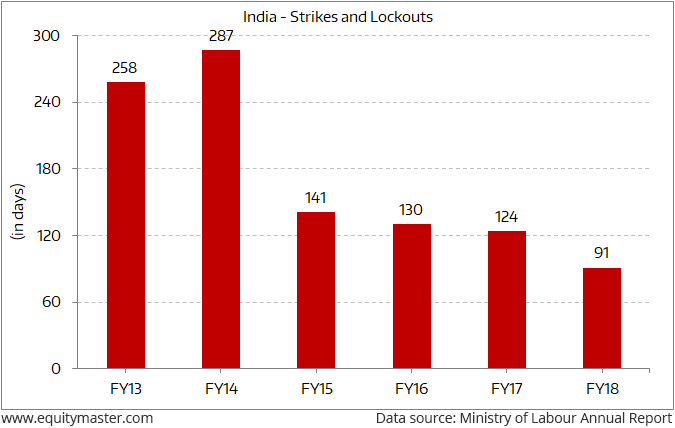 While the number has been on a decline in the past few years, there is still a lot of room for improvement.
I believe, the recent labor push by the Modi government is a step in the right direction.
Such reforms are the need of the hour in India's journey to become a US$ 5 trillion economy.
Warm regards,

Tanushree Banerjee
Editor, The 5 Minute WrapUp
Equitymaster Agora Research Private Limited (Research Analyst)
PS: More than 5,000 tuned in for the Weekly Cash Summit and heard Vijay Bhambwani talk about making regular cash with profitable trades. They received an exclusive invitation to try out Vijay's trading strategy. If you missed the summit, the video is still available but only for a very short time. I strongly recommend you watch it before it is taken down. Watch Vijay Bhambwani's Weekly Cash Summit here.
Recent Articles