Stocks that Can Outperform No Matter what the RBI Does Today
Dec 5, 2019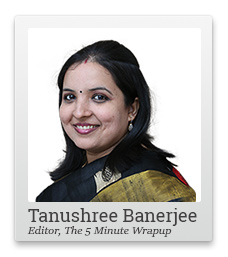 The Union Territory of Ladakh is now accessible in all weather conditions thanks to National Highway 1.
And I am not talking about the monstrous trucks used by the army to permeate the frozen desert.
You can easily drive yourself down to Ladakh via a double-lane picturesque road from Manali in Himachal Pradesh via Zanskar in Kargil district.
The highway to Ladakh is just one of the examples of India's ambition towards superior connectivity across the length and breadth of the country.
India's highway infrastructure has grown by leaps and bounds in the past decade.
Did you know, under Modi 1.0, India became the world's fastest highway building economy?
In the last five years, India constructed approximately 39,000 kms of highways. That is a jump of nearly 60% from the 2009-2014 tally.
The NHAI achieved the pace of building highways at 32 kms per day in FY19. Its target for FY20, 40 kms per day, is almost 25% higher!
Now, I do not expect the 25% jump in road building to come in one fiscal. However, it is important for this trend of improvement in execution to continue.
It could be a big tailwind for many companies. Ones that provide the resources and even the ones that execute the infrastructure projects.
Like cement companies.
The last time such a trend showed up, investors in cement stocks made a killing in just three to four years.
Look at the performance of cement stocks between 2002 and 2006.
Gains Between 2002 and 2006 (%)
Data source: Ace Equity
--- Advertisement ---
You Missed This Yesterday

Our urgent mega summit 'Rebound Riches' went LIVE yesterday.

For those who missed the summit, we've made the replay available for a limited time.

Watch as we reveal the details of 3 high potential stocks to buy for exponential gains.

Potentially 200%, 400%, or even 900% in the coming years.

Click here to watch now...
------------------------------
Ironically, the cement sector was facing exactly the same problems its facing today back in 2002. We also wrote about it back then.
A slow economy had left a lot of cement capacity underutilised. Cement companies faced a lot of pressure on pricing. Lower profits impacted the return ratios.
And markets wrote off cement stocks thinking the low returns were here to stay.
They couldn't have been more wrong.
Investors who bought the best cement stocks at the cheapest valuations got handsome returns.
And rightly so.
Few sectors are as closely linked to the real economy as cement. Every upturn in the economy brings in big gains.
So, the talking heads on TV and investors around you may be talking about India's low GDP growth. Their focus will now shift to whether the RBI's rate cut will translate into better economic activity in the near term.
Like this chart shows, RBI rate cuts have always had a big gap with bank lending rates. It will be a while before lower lending rates stoke the economy.
Yet Another RBI Rate Cut May Not Result in Lower Lending Rates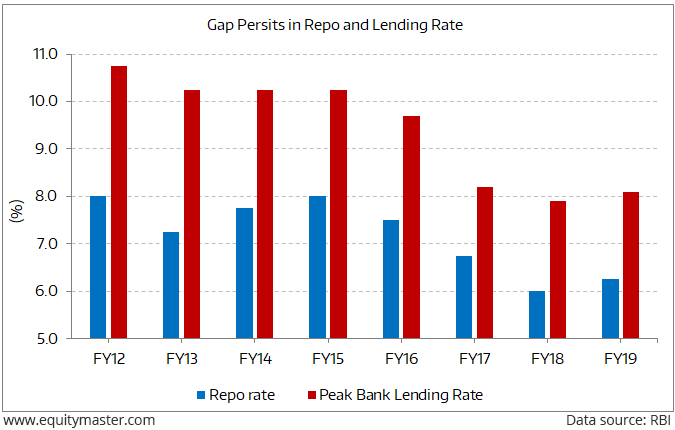 Therefore, hoping for an immediate revival in the economy is futile. The RBI has no magic wand to do this.
Rather look for stocks that can outperform irrespective of the RBI policy.
I believe the cement sector may be a good place to start.
One of my recent recommendations from the sector is a typical Rebirth of India stock.
And I won't be surprised if it repeats its 2002-2006 performance.
Warm regards,

Tanushree Banerjee
Editor, The 5 Minute WrapUp
Equitymaster Agora Research Private Limited (Research Analyst)
PS: To read about my top 7 stock picks for 2020 and beyond please click here.
Recent Articles