On This Day - 14 MAY 2019
The Bitter Pill that Will Lay the Foundation for Sensex 100,000


Editor's note: Dear reader, the Rebirth of India MEGA summit is only 2 days away! A big thank you to more than 14,000 of you who have signed up for it. At the summit, Tanushree will reveal the historic Rebirth of India opportunity to make generational wealth for yourself. Download Tanushree's special report - Rebirth of India - and block your seat for the summit at 5 P.M on Thursday, 16 May. Reserve your seat here...
---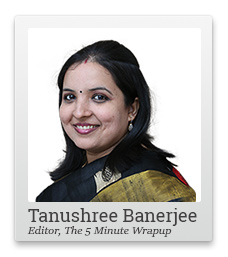 It took the Sensex just four years to double from 10,000 in 2009 to 20,000 in 2013.
However, over the next five years, every time the index raced ahead, there is one concern that could hold it back.
I'm talking about the rise of bad quality loans in the Indian banking and financial sector.
There is no denying that Indian financial entities have earned a terrible reputation in recent years. India holds the dubious distinction of the worst NPA ratio among the world's major economies.
We surpassed Italy's US$ 200 bn in bad loans recently.
That's not all.
I expect the RBI's latest NPA recognition norms to spike the accumulation of bad loans this year as well.
then there are schemes like the Universal Debt Waiver.
It could only delay the process of tightening India's NPA recognition system.
So, could the crises like PNB and IL&FS continue to haunt Indian stock markets in the coming decade?
The truth is, the quality of loans in the Non-Banking Finance Company (NBFC) sector is far from acceptable.
--- Advertisement ---


Start Your Sensex 100,000 Journey Today

We're probably one of the few who have predicted Sensex could cross well over 100,000.

After researching the Indian economy for more than 23 years, we have solid evidence that this is going to be a reality sooner or later.

We are at the cusp of taking a giant leap forward…that would result in better jobs, bigger salaries, and more financial security than ever before.

But for a small group of Indians, which we believe you belong to, the potential riches could be even bigger...

With a few well-placed investments, one could potentially make generations of wealth over the next 5-10 years.

We know it sounds crazy, but you have to see it to believe it.

If you're willing to join thousand other Indians who're looking to skip the rat race, then click on the link below and register for this MEGA Summit for free.



Block Your FREE Seat Now (in Just 1-Click)!
1-Click Sign Up! No Forms to Fill.


------------------------------
After the IL&FS debacle, the NBFC sector is in a liquidity crisis. The housing finance regulator, National Housing Bank, has also restrained some entities from lending.
So, the quantum of funds as well as the cost of loans have both shot up.
Smaller public sector banks are struggling to keep themselves afloat.
The few good quality private sector banks are only lending to retail clients, most cautiously.
Banks are Lending Only to the Aam Aadmi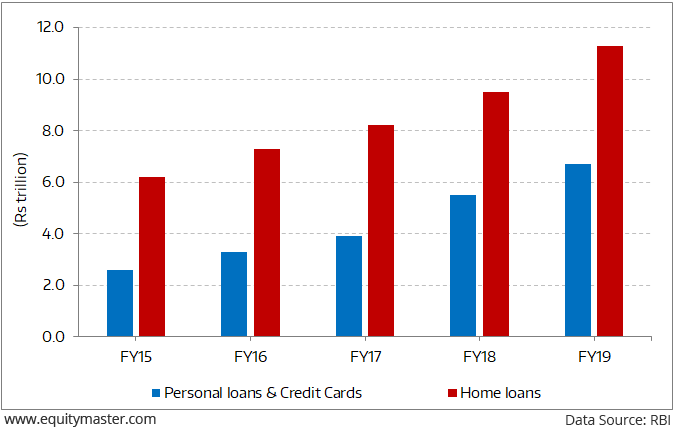 No wonder funding to corporates for capex has come to a standstill.
Amid this it is difficult to expect Indian companies to increase their capacities. Thus, their earnings may not grow at a fast clip.
And sooner than later their valuations will also succumb to a reality check.
But there is a silver lining to this cloud.
The stricter credit norms are making corporates less dependent on bank lending for their capex.
The new NPA recognition norms and insolvency process could put an end to willful defaults.
The cleanup of India's financial sector may be long drawn.
But it will, once and for all, rid the economy of a big growth hurdle.
It won't matter if oil prices keep spooking India's consumer inflation.
It won't matter if domestic interest rates remain steep.
--- Advertisement ---


"In 10 Years We Will Surpass Walmart's Sales"

When Alibaba was young, a Walmart executive congratulated its founder, Jack Ma, on doing a good job.

Jack Ma told him, "In 10 years we will surpass Walmart's sales".

It wasn't a reckless bet. Jack Ma knew he could win. To add 10,000 new customers, Walmart needs to set up a new warehouse. All Jack Ma needs is two servers.

In 2016, it surpassed the US $482.1 billion revenue reported by Walmart Stores Inc.

Alibaba is now the world's most valuable retailer but they have ZERO inventory of their own. All due to a secret 'click-of-a-button' strategy.

This strategy has changed industry dynamics.

This strategy has redefined the way of doing business.

And this strategy has crushed some of the oldest and biggest companies all over the world.

Want to know which Indian companies are using this strategy?

Believe me, knowing this could help you retire early and wealthy.

Click here and see yourself…
------------------------------
Indian companies will be in a position to manage their cash flows and debt obligations across cycles.
The leaner, well capitalised financial entities will benefit the most.
They could fund the fastest growing companies to Sensex 100,000.
At the heart of all this, is the transformation I call - Rebirth of India.
Companies that are able to latch on to this trend will create multibagger opportunities for investors.
The good news is that you don't need to wait to act on the Rebirth of India.
I've identified seven actionable stocks you could consider buying right away!
For details, join me and Rahul Goel, CEO of Equitymaster on Thursday, 16 May, at 5 P.M for the Rebirth of India MEGA summit.
I look forward to sharing all my research with you.
In case you haven't signed up for the summit, download my special report - Rebirth of India. Your seat will be booked when you do.
Warm regards,



Tanushree Banerjee
Editor and Research Analyst, The 5 Minute WrapUp
PS: Dear reader, at 5 P.M on 16 May, Tanushree Banerjee will reveal the Greatest Money-Making Opportunity very few Indians know about! Get the details of this event here.
Copyright © Equitymaster Agora Research Private Limited. All rights reserved.
Any act of copying, reproducing or distributing this newsletter whether wholly or in part, for any purpose without the permission of Equitymaster is strictly prohibited and shall be deemed to be copyright infringement
Disclosure & Disclaimer:
Equitymaster Agora Research Private Limited (Research Analyst) bearing Registration No. INH000000537 (hereinafter referred as 'Equitymaster') is an independent equity research Company. The Author does not hold any shares in the company/ies discussed in this document. Equitymaster may hold shares in the company/ies discussed in this document under any of its other services.
This document is confidential and is supplied to you for information purposes only. It should not (directly or indirectly) be reproduced, further distributed to any person or published, in whole or in part, for any purpose whatsoever, without the consent of Equitymaster.
This document is not directed to, or intended for display, downloading, printing, reproducing or for distribution to or use by, any person or entity, who is a citizen or resident or located in any locality, state, country or other jurisdiction, where such distribution, publication, reproduction, availability or use would be contrary to law or regulation or what would subject Equitymaster or its affiliates to any registration or licensing requirement within such jurisdiction. If this document is sent or has reached any individual in such country, especially, USA, Canada or the European Union countries, the same may be ignored.
This document does not constitute a personal recommendation or take into account the particular investment objectives, financial situations, or needs of individual subscribers. Our research recommendations are general in nature and available electronically to all kind of subscribers irrespective of subscribers' investment objectives and financial situation/risk profile. Before acting on any recommendation in this document, subscribers should consider whether it is suitable for their particular circumstances and, if necessary, seek professional advice. The price and value of the securities referred to in this material and the income from them may go down as well as up, and subscribers may realize losses on any investments. Past performance is not a guide for future performance, future returns are not guaranteed and a loss of original capital may occur. Information herein is believed to be reliable but Equitymaster and its affiliates do not warrant its completeness or accuracy. The views/opinions expressed are our current opinions as of the date appearing in the material and may be subject to change from time to time without notice. This document should not be construed as an offer to sell or solicitation of an offer to buy any security or asset in any jurisdiction. Equitymaster and its affiliates, its directors, analyst and employees will not be responsible for any loss or liability incurred to any person as a consequence of his or any other person on his behalf taking any decisions based on this document.
As a condition to accessing Equitymaster content and website, you agree to our
Terms and Conditions of Use
, available here. The performance data quoted represents past performance and does not guarantee future results.
SEBI (Research Analysts) Regulations 2014, Registration No. INH000000537.

Equitymaster Agora Research Private Limited (Research Analyst) 103, Regent Chambers, Above Status Restaurant, Nariman Point, Mumbai - 400 021. India.
Telephone: +91-22-61434055. Fax: +91-22-22028550. Email: info@equitymaster.com. Website: www.equitymaster.com. CIN:U74999MH2007PTC175407