Shocking! Small-Cap Czar Admits Mistake After 80% Stock Plunge
Jan 14, 2019
In a recent editorial that I penned on the last day of 2018, I took you through the key factors and events that shaped the year for Indian investors. And I offered you my five top investing tips for 2019.
Today I want to go a bit further... I want to share something that kept bothering me yesterday.
The news that triggered a chain of thoughts in my head was about well-known Indian investor and fund manager Porinju Veliyath apologising to his investors.
Porinju is known as the maverick, flamboyant investor making big gains out of high-risk penny stocks.
One of his quotes makes his ideology clear: "If you invest in companies with clean balance sheet, honest management and clear business visibility, even bank FD will beat your portfolio returns."
Some of his audacious penny stock picks were often criticized. But the bull run in small-cap stocks ensured Porinju had the last laugh and an enormous fortune.
Porinju enjoys quite a cult following among penny and small-cap investors.
His stock picks are closely monitored. And some of his ardent fans even blindly mimic his portfolio.
Coming to his latest apology...
On Friday, he is reported to have written a private letter to his investors as they have witnessed their wealth erode by 43.7% in the nine months of the financial year 2018-19 (April to December 2018). He admitted that investing in LEEL Electricals Ltd (formerly Lloyd Electric & Engineering) was a mistake. The share price of LEEL was nearly 80% below cost in most of his PMS accounts. It is reported that EQ India Fund and PMS clients of Equity Intelligence India Pvt Ltd held 8.38% stake as the end of September 2018.
--- Advertisement ---


13 Stocks to Buy in 2019…

Sarvajeet and Radhika, co-editors of Smart Money Secrets, track down the investments of 40+ of India's most successful investors, and share the best of these stocks with their subscribers…

They have identified 13 stocks (which you could consider buying right now) – for huge potential profits.

Click here to see how these stocks are identified – and how you could get access to these 13 stocks.
------------------------------
Imagine you ride high on the stock market boom and then you have a wipeout year when your portfolio witnesses a massive erosion. The superlative returns of the earlier years get slashed down.
What is even worse is that many new investors entered the markets in 2018 hoping to see a replica of 2017. And they got slaughtered.
When I read this, I felt compelled to share some notes and reminders with you so that you don't end up with a similar fate.
Before I share my takeaways, I'd like to draw your attention to the fact that our Smart Money Secrets team actively tracks the investments of more than 40 super investors. But they managed to steer clear of Porinju's loss-making investments and many other 'hot stocks' that had big names behind them.
Having said that, here are some important notes that I want you to remember in 2019 and beyond...
Return of Capital vs Return on Capital

There is no doubting the fact that you're investing your money in stocks to earn handsome returns on your capital. But in pursuit of high returns, never forget that capital preservation (return of capital) is even more important.

From time to time, you'll most likely have a couple of duds that may crash 40%...60%...and in some extreme cases like LEEL Electricals even 80%.

No amount of research and filtering can save you from occasional investing failures and mistakes. That's part and parcel of the game. You don't shun stocks because of that.

Then how do you resolve this conflicting situation? On one hand, you need to take risk to earn high returns. And on the other hand, you want to ensure capital preservation.

The best way to solve this problem is through optimal portfolio allocation. If you're entering a high-risk, high-return space, manage your overall portfolio risk by limiting your exposure to individual stocks.

Imagine an investor loading up his portfolio with penny and small-cap stocks at the start of 2018. What would his portfolio look like today? Not pretty, I bet.

What Do You Prefer - Sachin Tendulkar or Team India?

Being in the field of investing, I speak to many investors from time to time.

The one thing that often puts me off is the obsession for that "one, winning multi-bagger stock". We hope that there will be one Sachin Tendulkar who will hit a century and win the match for the entire team.

What I often find lacking is the team or portfolio mindset. Instead of hoping that one of your stocks will be like Sachin Tendulkar, why not build a solid, winning team that does not have to rely on the genius of Tendulkar alone?

Some of you who are ardent cricket fans will agree that there have been several occasions when Sachin scored a century, but India ended up losing the match.

The same logic applies to your stock portfolio too.

Focus on the performance of your overall portfolio, and not just a few individual stocks.

Evaluating Your Stock Returns through the Entire Market Cycle

Now, coming to the portfolio...

I'm sure most of you ended the turbulent year 2018 with negative returns (If you ended the year with gains, please write to me. I'd like to know what portfolio strategy you followed).

It is important to remember that stock market returns are never linear. This means that each year you could have widely varying returns. One year you may have average gains, followed by a year of handsome gains, followed by a year of losses, and so on.

So, don't be overwhelmed by the performance of a single year. What matters really is your performance through an entire bull-bear cycle.

Let me offer you a very simple illustration.

In the table below, I have shown the returns of five different portfolios, compounding at different rates over a five-year period.

Portfolio Returns through a Market Cycle

Year
1
2
3
4
5
Avg CAGR
Annual Return
15%
15%
15%
15%
-15%
8.3%
Rs 100 Invested...
115
132
152
175
149
Annual Return
20%
20%
20%
20%
-20%
10.7%
Rs 100 Invested...
120
144
173
207
166
Annual Return
30%
30%
30%
30%
-30%
14.9%
Rs 100 Invested...
130
169
220
286
200
Annual Return
40%
40%
40%
40%
-40%
18.2%
Rs 100 Invested...
140
196
274
384
230
Annual Return
50%
50%
50%
50%
-50%
20.4%
Rs 100 Invested...
150
225
338
506
253

In each case, the portfolio compounds at a certain rate for the first four years, and falls by the same rate in the fifth year.

What is the effect on the average return of the entire period?

For instance, take the case of the portfolio that compounds at 30% for four years followed by a 30% fall in the fifth year. The 30% decline in the fifth years slashes the average rate of return for the five-year period to 15%.

So, the key takeaway here is to understand the non-linearity of stock returns and the consequence of steep portfolio erosion on long-term average returns.
--- Advertisement ---


Get Details Of Solid Small Caps In Your Inbox For Just Rs 245 A Month

A year's subscription to our hugely popular small cap recommendation service, Hidden Treasure, costs just Rs 2,950.

Rs 2,950 for a year comes to just Rs 245 per month.

That is an extremely small price to pay for details of high-potential small cap stocks in your inbox every month. In fact, there are some stocks you could consider investing in right now too.

So hurry, click here to grab this offer before it closes!
------------------------------
Chart of the Day
2018 was a turbulent year for the Indian stock markets. Foreign investors dumped Indian equities worth Rs 33,014 crore and debt instruments worth Rs 47,795 crore. In fact, they have continued to be net sellers in Indian stocks even in 2019. So far in January 2019, they have sold equities worth Rs 2,675 crore.
Had it not been for the solid participation from domestic investors, the Indian markets would have witnessed a much steeper fall.
The chart of the day puts things in perspective.
The Rapid Growth of the Indian Mutual Fund Industry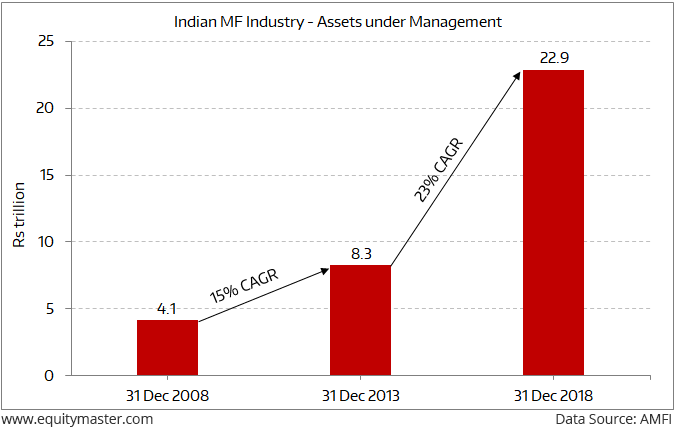 Ten years ago, the total assets under management (AUM of the Indian mutual fund industry were Rs 4.13 trillion (1 trillion equals 1 lakh crore) as on 31 December 2008.
Over the subsequent five years, the industry grew at a compound annual growth rate (CAGR) of 15% to take the total AUM to Rs 8.2 trillion as on 31 December 2013.
Thereafter, the Indian mutual fund industry took off like never before, compounding at 23% CAGR, and taking the total AUM as on 31 December 2018 to Rs 22.86 trillion.
In just 10 years, the AUM of the Indian MF Industry has multiplied 5.5 times, compounding at 19% CAGR.
The total number of mutual fund folios as on 31 December 2018 stood at 8.03 crore (80.3 million).
Happy Investing,



Ankit Shah (Research Analyst)
Editor, Equitymaster Insider
PS: Ankit Shah, editor of Equitymaster Insider, is one of our best analysts. He has access to the investing Ideas from across the Equitymaster research network. Every day the markets are open, Ankit cherry-picks best investing idea of the day and shares it with the astute investors on his Insider list. You can join this exclusive group here...
Recent Articles