Vijay Bhambwani on How to Trade for Instant Income
Jan 24, 2020
Editor's note: On Tuesday 21 January, thousands tuned in to watch India's #1 trader, Vijay Bhambwani, share his secret trading strategy at the Instant Income Summit. Thanks to your support, the summit was a great success. The video of Vijay's summit is still available but it will be taken down later today. I recommend you watch it here.
In today's edition of The 5 Minute WrapUp, I'm sharing Vijay's introductory video about his Instant Income strategy. I'm sure you will find it as useful and interesting as I did.
---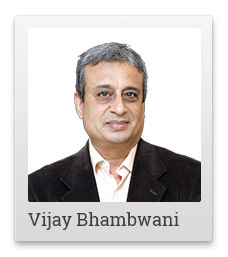 Hi, this is Vijay Bhambwani.
Today, I want to share with you what I believe is the most profitable kind of trading.
It might come as a surprise to you that you already do this!
I don't want to spoil the surprise.
Enjoy the video!
Hi, this is Vijay Bhambwani and I'm with you today to discuss about a very funny aspect of life. Why, without knowing it, we are actually all options traders.
Yes. You may not really realise it but you're actually trading options, even if you have nothing to do with the financial markets. Let me explain to you how.
Once you're a commercially viable entity, somebody who's earning a little bit of money, you've settled down in a job or a business or any profession, you start to treat yourself as a commercially viable or a commercially valuable entity and therefore you want some safeguards and peace of mind.
So you go out there and buy a life insurance policy. The concept of life insurance policy is for example, if you are taking a 25-year old policy, maturity will be after 25 years, and hypothetically for every Rs 1 lakh of insurance amount that you take, you will be paying Rs 6,000 as annual premium.
Now, what you're actually doing, is passing on the risk of an untimely death onto the insurance company. So even though you have not paid your 25 years of annual premiums, if God forbid, you were to have an untimely death, your family would give the entire some assured from the insurance company.
Without actually knowing it, you have bought a put option on your life and death, and the insurance company is now your counter party and they have sold you the put option, which means they are the seller of the option and you are the buyer of that put option.
Believe it or not, the insurance guys are the only people, along with the income tax guys, who want you to live long and in the case of the insurance company, continue to pay the premium, so that they do not suffer a loss.
The IT guys, on the other hand, want you to keep earning money, so they can get their fair share of your profits or your salary.
So as long as you're alive, which we all want to be, you will continue to pay premium on the insurance policy. Even though you're safeguarding yourself and your family from an untimely death, you will want to remain alive and continue to pay the premium. In the bargain, you're actually making profits for the insurance company.
So this is one example of an options trade. The other example is a real estate deal.
What if you are looking for an apartment and you happen to like one particular apartment. Lt's say the hypothetical value of that apartment is Rs 1 cr.
You don't have the entire money up front. Therefore, you signup a pre-purchase agreement with the seller that you will give the seller a token amount of Rs 1lakh as earnest money deposit or token or deposit whatever you want to call it.
He holds that apartment for you for 90 days. He is bound to give you that apartment at the rate of Rs 1 cr for that apartment and not sell it to anyone else.
You will forfeit your deposit of Rs 1 lakh if you do not put up the remaining Rs 99 lakhs. So what you have done is buy a call option on that apartment, which is worth Rs 1 crore, by paying a fraction of that amount as token money of Rs 1 lakh.
Now, this token amount is actually the option premium. By paying Rs 1 lakh, you've blocked an apartment for 90 days, worth Rs 1 crore.
Here again without knowing it, you've entered into an option agreement. Now here, if you actually sit down and think about it, what is actually happening from the point of view of the seller of that apartment is, if you manage to put up the remaining Rs 99 lakh, he is happy that he got Rs 1 crore which was his asking price for the apartment and all is well.
If in the other case, you do not manage to rustle of the remaining money, in that case, he keeps the apartment as well as the Rs 1 lakh token amount which you forfeit. So not only has he got to keep his apartment, but his also got Rs lakh for nothing.
Now, this is money for jam. Which should actually get you thinking that option writing is actually more lucrative and a win-win situation provided you do it right as compared to option buying.
Let me go a little bit further and if you get this, you're an expert at option trading before you've even started!
What if you were to collect Rs 1 lakh as token money for an apartment which you want to sell for Rs 1 crore.
The buyer is naive enough or simple enough, simple minded enough, to agree to a one crore price and therefore, pay token of Rs 1 lakh but at a later date, realises that the apartment is actually having a fair market value of Rs 75 lakhs. In that case, what does the buyer do?
Does it make sense to forfeit that Rs 1 lakh or does it make sense to arrange the remaining Rs 99 lakh buy a Rs 75 lakh apartment for one crore?
Obviously, it makes more commercial sense to write of that Rs 1 lakh. So to that extent, he has bought a mispriced asset, which is an apartment, at Rs 1 crore whereas the fair market value was Rs 75 lakh, realised his mistake and therefore forfeited that Rs 1 lakh.
Which brings me to the second aspect of option writing. What if you could possibly sell a mispriced option strike price which you know will not trigger in the coming derivative cycle?
You collect a premium which the option buyer is paying you and sit quiet till expiry. This is money for jam.
And if at all, these mispriced options, obviously, from your point of view as an option writer, overpriced options, which is a scientific method of ascertaining, which we at Equitymaster will do for you in the instant income product.
We will identify mispriced options or overpriced options, give you a suggestion to write them so that you can ride the option premium till expiry and collect this payout.
So, doing this, you actually can monetise the market's imbalance or disequilibrium, or the mistakes made by others, to turn it into a profit for yourself.
As we all know, the markets are a zero-sum game. So somebody's gain is equal to somebody's loss.
You basically, are trying to exploit the mistakes made by other traders, which would then result in a loss for them, so that it becomes a profit for you.
The idea is to take money out of their pocket, through the trading terminal, in exchange recognised product, and put it in your pocket and turn it into good profits for yourself.
Now this is the best example that I can think of in option writing. Although the product is mathematically intricate but equitymaster.com can do all the leg work for you and this is what, in essence, is the instant income product.
Before I sign off, let me remind you to like this video. In the comments section, tell me what you think about this video and what else you would want me to cover in my next videos for you.
Also, do not forget to share this video with your friends and family. Till the, take very good care of your investments and trades.
This is Vijay Bhambwani signing off for now.
Thank you.
Have a profitable trading day!
Warm regards,

Vijay L Bhambwani
Editor, Fast Profits Daily
Equitymaster Agora Research Private Limited (Research Analyst)
PS: We received a tremendous response to Vijay's Instant Income Summit. Thousands tuned in to watch Vijay share his 3 cash codes for instant income. The video of the summit is being taken down today. I strongly recommend you watch it here.
Recent Articles